Schedule: Starts September 7, 2021 - All activities on Main Arena Ice
Monday
Tuesday
Wednesday
Thursday
Friday
Saturday
Sunday

12:00–1:00 pm
Noon Hour Hockey

12:00–1:00 pm
Parent & Tot

12:00–1:00 pm
Noon Hour Hockey

3:45–4:45 pm
Public Skate

12:00–1:00 pm
Sticks & Pucks
12:00–1:00 pm
Noon Hour Hockey
12:30–2:00 pm
Public Skate
12:30–2:00 pm
Public Skate
Download a PDF of this schedule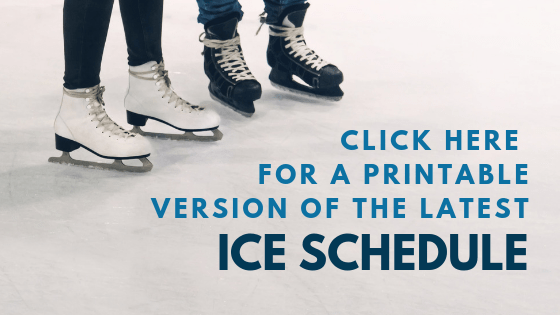 Ready to sign up?
Or call 250-615-3000
About Our Skating Sessions
*Please check schedule for current availability.*
Parent and Tot – This is a great opportunity to bring your little one on the ice to learn how to skate, without the hustle and bustle of a crowded rink. Strollers are welcome on the ice, as long as the wheels are clean. Little ones must wear helmets, even if strapped into the stroller, and adults are encouraged to wear them as well. Adult registers and child skates for free. Adults and children 5 years max.
Noon Hour Hockey – An option for all skill levels to come play hockey over their lunch. No referees: non-contact and no slap shots allowed. Full gear is required. Everyone pays, including goalies. The first 20 skaters and 2 goalies to sign up will be permitted. Registration opens at 8:30 am on the day of the activity. Goalies must call the Sportsplex to register. Ages 18+.
Adult Laps – No sticks or pucks, just a leisurely skate. Helmets are recommended. Ages 16+.
Public Skating – Come skate laps. All ages welcome.
Sticks and Pucks – Practice makes perfect! Sharpen your stick handling and shooting skills using the provided foam pucks. Please note: real pucks are prohibited due to safety and insurance; anyone caught using real pucks will be asked to leave. The session does not allow goalies. Ages 16+.