3100 Kalum Street, Terrace, BC V8G 4L1
Phone: 250.615.4030
Email: mpucci@terrace.ca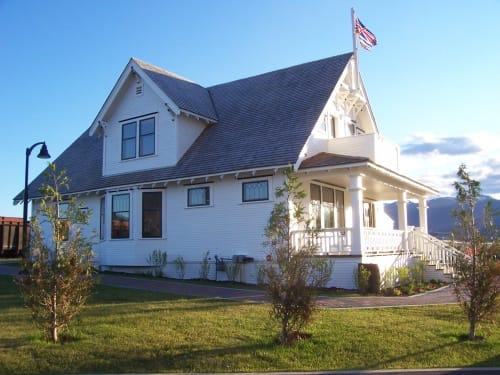 George Little is the man that most people refer to as "The Founder of Terrace." In 1912 he had his townsite surveyed and he gave the Grand Trunk Pacific Railway 9 acres of land to ensure the railway company would build a train station in his new community. With the coming of the railway, Terrace soon became a busy commercial hub. In 1914 George Little built his own permanent home for his family only a few blocks north of the station. He decided the best place for this home would be in the heart of the new and burgeoning town. Generations of Littles have fond memories of their time spent in this family home, and many community members retell stories of visiting and celebrating. As Terrace grew, the house was eventually sold and moved from its original downtown location.
For a number of years, the house was located on Hall Street south of the railway and owned by the Ksan House Society. In 1982 the City of Terrace designated the house as a heritage site. Years later, sitting empty and badly in need of refurbishing, the Ksan House Society donated the house to the City of Terrace. In 2004 the house was relocated to its current location on Kalum Street, north of and directly adjacent to the railway tracks, only two short blocks from its original location. Moving the historic house to this location was part of a plan to create a cultural district that would draw people into the downtown core to fully appreciate all that Terrace has to offer. With its rich in history and old-world charm, what better way to pay homage to the founder of Terrace than to move his home back to the centre of town and use it as a focal point and gathering place. In 2005, with assistance from a senior government grant, the house was restored to its original historic charm.
Since its move, the house has been the site of the VIA Rail train station for passenger service. It had also acted as the host of many Terrace history celebrations and a place for local artists to sell their wares. More recently, it has transitioned to a quaint café and coffee shop, while still maintaining the train passenger service. This stunning, two-storey heritage home is hard to miss at the end of Kalum Street in downtown Terrace and is a must-see for anyone visiting our town.
Learn more about the history and heritage designation of George Little House.
Learn more about other City of Terrace heritage sites on our Heritage Sites page.