How to Pay Your 2020 Property Taxes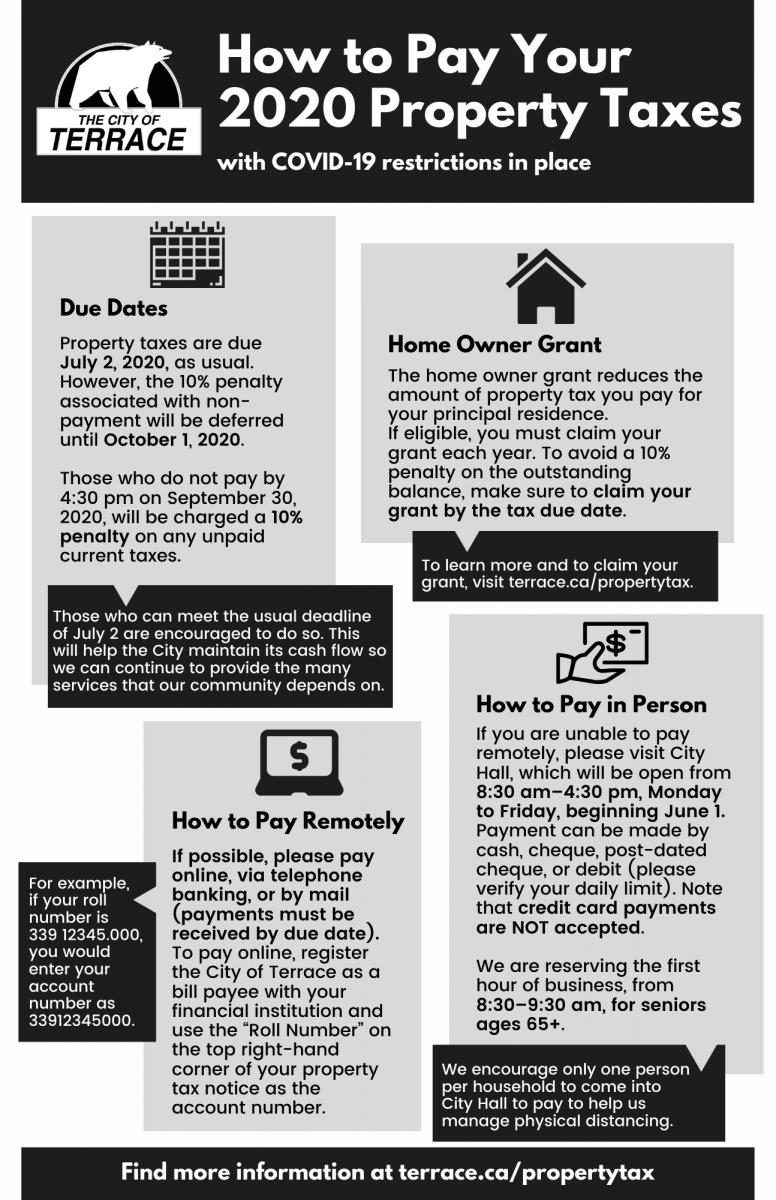 The final deadline for property taxes for 2020 is approaching. If you had a balance outstanding as of August 31, 2020, you should have received a letter from the City of Terrace to remind you. Please call City Hall at 250-635-6311 if you are unsure of your balance outstanding.
Property tax notices mailed out earlier this year contained an insert explaining all the information below. Download a digital copy here.
Due Dates
Property taxes are due July 2, 2020, as usual. However, the 10% penalty associated with non-payment will be deferred until October 1, 2020. Those who do not pay by 4:30 pm on September 30, 2020, will be charged a 10% penalty on any unpaid current taxes.
> Those who can meet the usual deadline of July 2 are encouraged to do so. This will help the City maintain its cash flow so we can continue to provide the many services that our community depends on.
---
Home Owner Grant
The home owner grant reduces the amount of property tax you pay for your principal residence. If eligible, you must claim your grant each year. To avoid a 10% penalty on the outstanding balance, make sure to claim your grant by the tax due date (September 30). Learn more about the grant here. 
You can claim your grant in several ways, including filling out the form at the bottom of your property tax notice and returning it to City Hall with your payment in person or by mail. However, the easiest way to claim your grant is online.
How to apply online:
Log in on your desktop computer, tablet, or mobile device. Google Chrome, Opera, Mozilla Firefox, Microsoft Edge, and Safari are recommended browsers.
To apply, you'll need your roll number and access code, both of which are on the top-right corner of your notice. Please note: your role number is prepopulated with "339" so you just need to type the next 5 digits, a period, and 3 more digits ► #####.### (It will not work if you do not insert the period.)
Once you've claimed your grant, the amount you owe will be reduced and you can pay that reduced number shown on your property tax notice (in column B., if you are under 65 years old, or column C., if you are 65+ or meet other criteria). Remember to retain the confirmation number after claiming the grant.
---
How to Pay Your Property Taxes Remotely
Once you have claimed your Home Owner Grant (see above), please pay your property taxes via one of the methods below. If possible, please pay remotely by:
Online banking

To pay online, register the City of Terrace as a bill payee with your financial institution and use the "Roll Number" on the top right-hand corner of your property tax notice as the account number. For example, if your roll number is 339 12345.000, you would enter your account number as 33912345000.

Telephone banking
Mail
> Please note payments must be received by the due date to avoid late penalties.
---
How to Pay Your Property Taxes In Person
You may also pay in person by:
Cash
Cheque
Post-dated cheque
Debit (please verify your daily limit)
> Please note that credit card payments are NOT accepted.
City Hall is open:
Monday to Friday
8:30 am–4:30 pm
---
Additional Resources and Assistance
Please feel free to contact City Hall with any questions about property taxes by calling 250-635-6311 during regular business hours.
Return to the main Finance page for forms for pre-authorized payments, permissive tax exemptions, the tax deferment program, and more.