Terrace, the regional business centre for the area, is located approximately 550 air miles northwest of Vancouver. The City is located on a series of natural flat benches, or terraces (hence the name) within the broad Skeena River Valley. The proximity to the ocean (approximately 60 kilometres - 37 miles), the low altitude (60 metres - 196 feet above sea level), and its location within the shelter of the Coast Mountains has created a natural "greenhouse" effect. Rainfall is less than half of that found on the coast and temperatures are moderate - warm enough to permit the growing of fruit orchards and specialty crops, including peaches, for those with a green thumb and some TLC.
Kermodei (Spirit) Bear: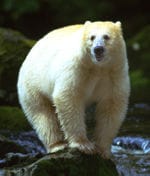 The Kermodei (pronounced Kerr-mo-dee) is indeed a separate and distinct member of the black bear family (for you Latin buffs, that's Ursus americanus Kermodei).  Kermodeis tend to be a bit larger and, of course, truly a bear of another colour, ranging from a light chestnut blond (or red) to a shade of steel blue-grey (which are also called glacier bears).  They were first identified as a new and distinct species by the director of the B.C. Provincial Museum, Francis Kermode, in 1905. It took over 20 years before Dr. Kermode was able to obtain a live yearling cub, to observe and study. From this work, he finally concluded (in 1928) that indeed the Kermodei was not an albino, but an extremely rare sub-species of the common North American black bear.
The Kermodeis generally average about 113 - 158 kg. (250-350 lbs.), although an occasional male may exceed 226 kg. (500 lbs.) Their body length averages 1.5 - 1.85 metres (5-6'), although when they stand on their hind legs, they would tower over most of us at 2.5 - 2.7 metres (8-9'), and are usually full-grown after four years.  Their eyes are small; ears small and rounded; and they have an excellent sense of smell.  Their natural diet comprises of wild fruits, berries, insects, small game, and salmon - in which they quite enjoy rolling when in a ripened stage.  The female usually gives birth in late fall, with one or two cubs being common; the cubs stay with their mother until they are about a year-and-a-half.  The cubs are sometimes black in colour.
The bears like the mountainous terrain, lush forest growth, mild climate, productive salmon streams and rivers offered in the natural sanctuary around Terrace and on the small islands in the Douglas Channel.  In the past, trophy hunters and headline seekers have reduced the small population of white Kermodeis.  Now, strong Provincial protection regulations and enforcement, along with a prohibition on their killing, have helped stabilize their numbers.  No one knows for sure how many Kermodeis live around the Terrace area today.  Local residents have shown an increased interest and concern for the Kermodeis' well-being and preservation.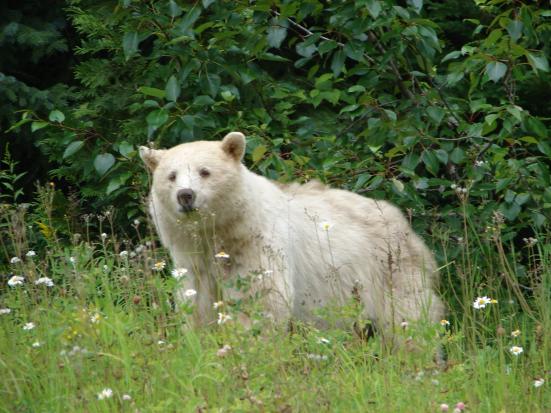 Kermodei Bear - Photo Credit M. Chevrier
The City is proud of the Kermodei Bear that graces the City's official Corporate Seal. Its picture and silhouette can be seen on numerous signs, brochures and vehicles around the municipality.
As with all wild creatures, bears must be treated with the utmost respect. Please keep your distance if you come upon a bear, and do not attempt to feed or approach them.  Mothers are extremely protective of their cubs and there should never be any move made towards the cubs.  When in the wilds, ensure that you are heard, so that you do not stumble upon wildlife.  For further information on bears and wildlife, please contact the Ministry of Environment