What is a property assessment and how does it affect your property taxes?
This page explains how property assessments work and what the numbers mean for your property taxes.
Property Assessment Notices
BC Assessment Notices are delivered to homes in the first few weeks of January. You can also find the most recent data online at any time at https://www.bcassessment.ca/.
On July 1 of each year, BC Assessment provides an assessment value on all properties in the province. For example, the July 1, 2021, assessment is what is reflected in the assessment notice received in January 2022. You can find more information about the assessment process on BC Assessment's page, Understanding the Assessment Process.
Anyone can look up any address in the province using the website. You can also create an account and log in for more features including property comparisons, a map view, and more.
If you have any questions regarding your assessment, please contact BC Assessment directly (rather than the City of Terrace) using one of the options on their Contact Us page.
If you feel there is something incorrect about your property assessment, the deadline to appeal is January 31.

How Property Assessments Affect Property Taxes
"A common misconception is that a significant change in your assessed value will result in a proportionately significant change in your property taxes," according to BC Assessment. "The most important factor is not how much your assessed value has changed, but how your assessed value has changed relative to the average change for your property class in your municipality or taxing jurisdiction."
By law, municipalities are not allowed to collect more property tax revenue than what is needed for a balanced budget. Therefore, the City of Terrace finance team will recalculate the tax rate each year for each property class, ensuring that only the tax revenue that is needed is collected, taking into consideration the change in the assessed value.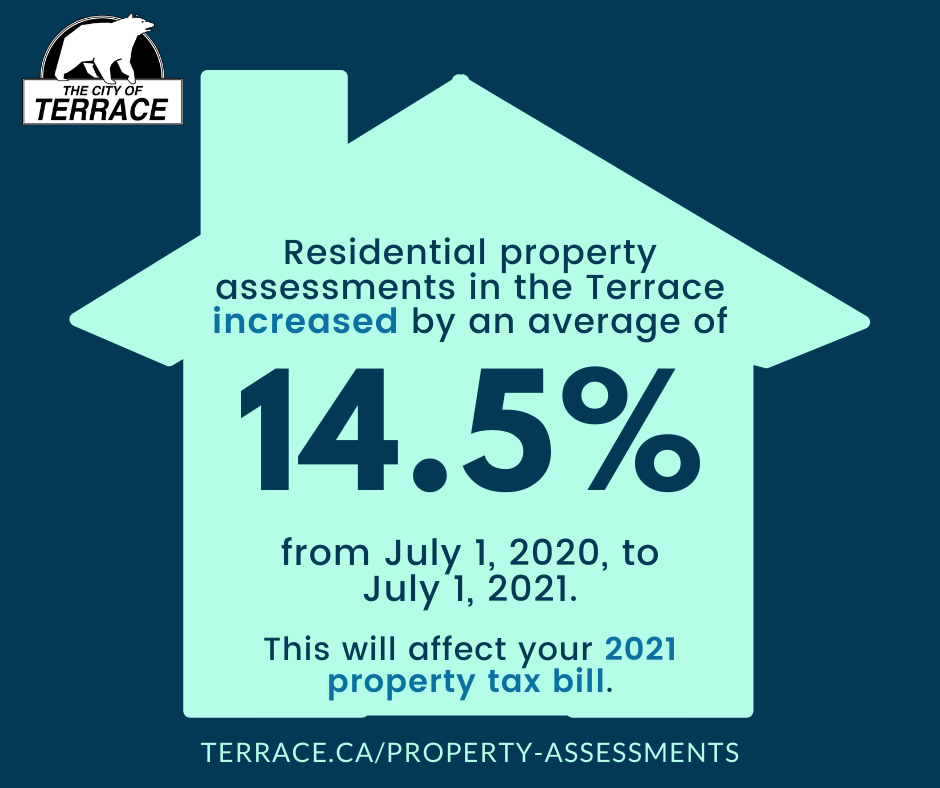 In Terrace for 2022, the City of Terrace's total assessment base increased, with residential property values going up by an average of 14.5%.
For your 2022 assessment, if your residential property's assessment value increased from July 1, 2020, to July 1, 2021, by the City's average of 14.5%, the municipal portion of your property taxes should only increase by the proposed tax increase for 2021. However, if your property assessment value is higher than the average (for example, 18%), you would see a slightly higher increase in taxes versus last year; likewise, if your property assessment value is lower than the average (for example, no increase, or -5%), you would see a lower tax increase or even a decrease.
WATCH NOW: This video from the City of Richmond simplifies the relationship between the assessed value of your property and the resulting property taxes.
How a Tax Increase or Decrease Affects Your Property Tax
Your Property Tax Notice is a document that the City of Terrace sends each year to property owners within City limits. Please note this does not include Thornhill, which is not part of the City of Terrace.
In addition to collecting municipal property tax, the City of Terrace also collects taxes on behalf of other agencies. Your Property Tax Notice includes provincial government tax (schools), regional district tax, BC Transit Authority tax, and a variety of others.
When the City of Terrace adjusts its property tax rate, the only one of these types of property tax that is affected is the municipal property tax. Therefore, for 2022 taxes, if your bill total is $3,000, but the municipal portion is $1,000, any proposed tax rate increase would only be applied to the $2,000 portion of the bill.
WATCH NOW: This video from the City of Vernon explains how property taxes are put to work, and would be similar to how the City of Terrace puts your property taxes to work.
Questions?
If you have questions about your property assessment, please contact BC Assessment rather than the City of Terrace. For other questions about property taxes, please contact City Hall:
250-638-4700
3215 Eby Street
Terrace, BC V8G 2X8