Reserve Your Swim or Gym
Registration is now required for anyone wishing to use the Terrace & District Aquatic Centre pools and gym. No drop-ins will be permitted. Please register online or by phone.
All patrons must create an ActiveNet account and will register online or over the phone with a credit card.
Or call us:
Terrace & District Aquatic Centre: 250-615-3030
Terrace Sportsplex: 250-615-3000
Browse available activities here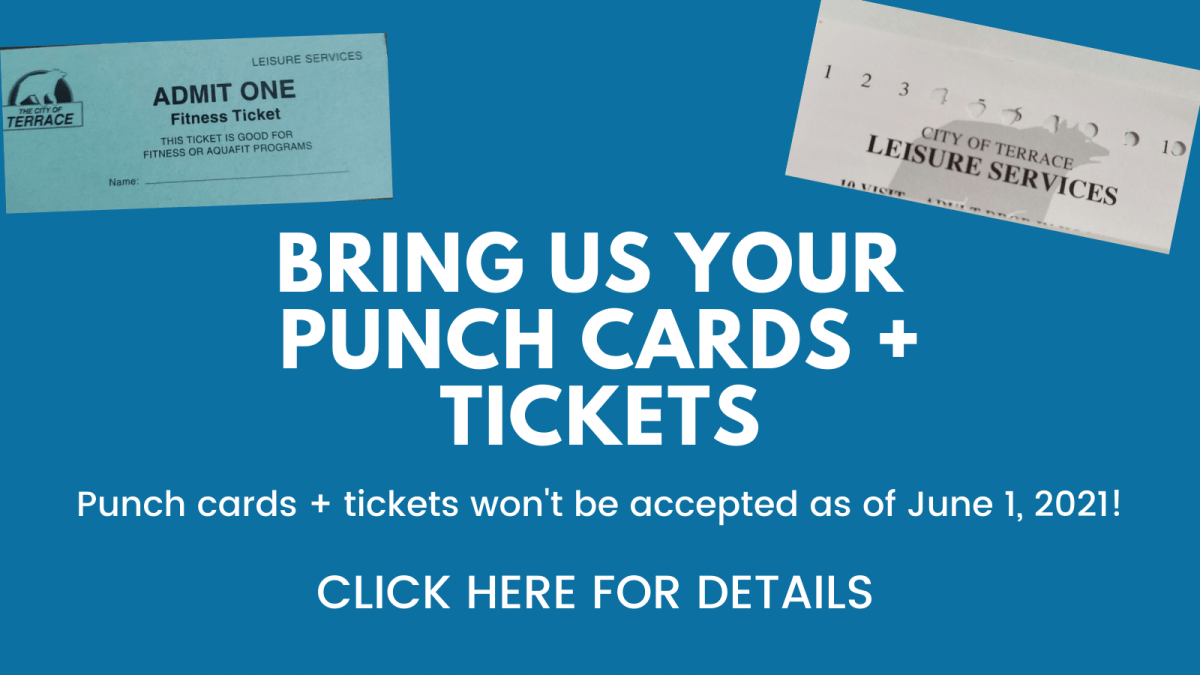 Important update: Please note that we will be unable to hold aquafit classes due to the latest Provincial Orders since aquafit is considered a high-intensity activity. As of Monday, November 23, we have cancelled aquafit classes until we are given the green light to hold them again. In place of aquafit in our schedule, we will now hold a regular length swim. Thanks for your understanding.
Reservations required
You must reserve a swim or gym time  prior to your visit. No drop-ins are allowed. Reservations open 1 week before the swim time at 6:00 am. Online reservation closes at 6:00 am on the day of the swim.
Come swim-ready or gym-ready
Doors will open 5 minutes before a scheduled swim/gym time. You are encouraged to arrive swim-ready or gym-ready. In addition, all patrons must be out of the facility within 15 minutes of the end of the swim time.
Masks required
Wearing a mask in the facility is required, except while on the pool deck or in the pool. While using the weight room, you must wear a mask when moving between pieces of fitness equipment. In addition, please follow all signage, use provided hand sanitizer, and maintain physical distancing from other patrons whenever possible.
Using both the pool and the gym
You can use both the pool and the gym during your visit; please book as a swim patron. (Gym bookings do not grant you space for changing in the change rooms.)
Using gym equipment
In the gym, all equipment is colour coded—if a colour is in use, you may not use another piece of adjacent equipment of that same colour. Patrons will be issued a spray bottle to clean on and clean off their equipment. Please ensure you maintain a distance of 3 metres, or 10 feet, from other patrons while using the gym.
Using pool equipment
To make sure our many pieces of pool equipment are properly disinfected, please request kick-boards and pull-buoys from the front desk upon arrival. Life jackets will be available on the pool deck and arranged by weight. Other equipment (pool noodles, flippers, barbells) will generally not be available but may be provided at the shift supervisor's discretion. For specific requests, please ask on arrival or talk to a lifeguard on the pool deck. You're also welcome to bring your own equipment to use during your visit!
Current capacities
The gym permits 8 patrons, length swims permit 12 patrons, and our Friday night Public Swim permits 31 patrons. That means more space for you to work out, get in your laps, or enjoy a fun evening with your family, while also enhancing your safety and the safety of our staff, too.
Please review all our guidelines by following the link below:
You can also view the Recreation Facilities COVID safety plan here.
COVID-19 Admission Prices

Child 

$2.75

0 to 14 years of age

Student

$3.25

15 to 18 years of age

Adult

$5.25

19 to 64 years of age

Senior

$3.25

65 years of age or older
*Please note the family rate is not currently available.
One-month memberships are available that allow access to the pool and gym. You must purchase a membership by phone or in person at the aquatic centre; however, due to the pandemic we encourage purchasing by phone rather than visiting in person. Membership renewals may also be done by phone or in person.
If you still have an existing key tag, you can continue to use this key tag. New key tags are $5.00.
One-month membership fees:
Adult: $52.50
Child: $27.50
Student/Senior: $32.50
You still must register in advance to reserve each visit (online or by phone).
Call 250-615-3030 now to sign up!
Leisure Access Card Program
The City of Terrace offers the Leisure Access Card Program to individuals and families who are on social assistance from the Ministry of Employment and Income Assistance Program administered by the BC Ministry of Social Development or Canadian Pension Plan (CCP) benefits administered by Service Canada. Individuals and families are also eligible if they are designated as a "Person with Disabilities" (PWD) and are receiving PWD benefits under the Ministry of Employment and Income Assistance Program. 
The Leisure Access Card will allow guests to access the pool and gym for $2.00 per adult and $1.00 per child per visit. The 10-visit passes or discounted memberships we offered in the past are not currently available.
Please reserve your spot online or by phone.
VIDEO TUTORIAL: Learn How to Create an ActiveNet Account and Book an Activity Online
VIDEO: COVID Rules at the Pool
Learn more about the rules and regulations for our safe reopening in our video. Please note that several regulations regarding masks and change rooms have been adjusted since this video was produced. Check our brochure for updates.
Health & Safety Guidelines
Click below to learn more about the reopening of our facilities.
Questions? Please contact us at 250-615-3030.