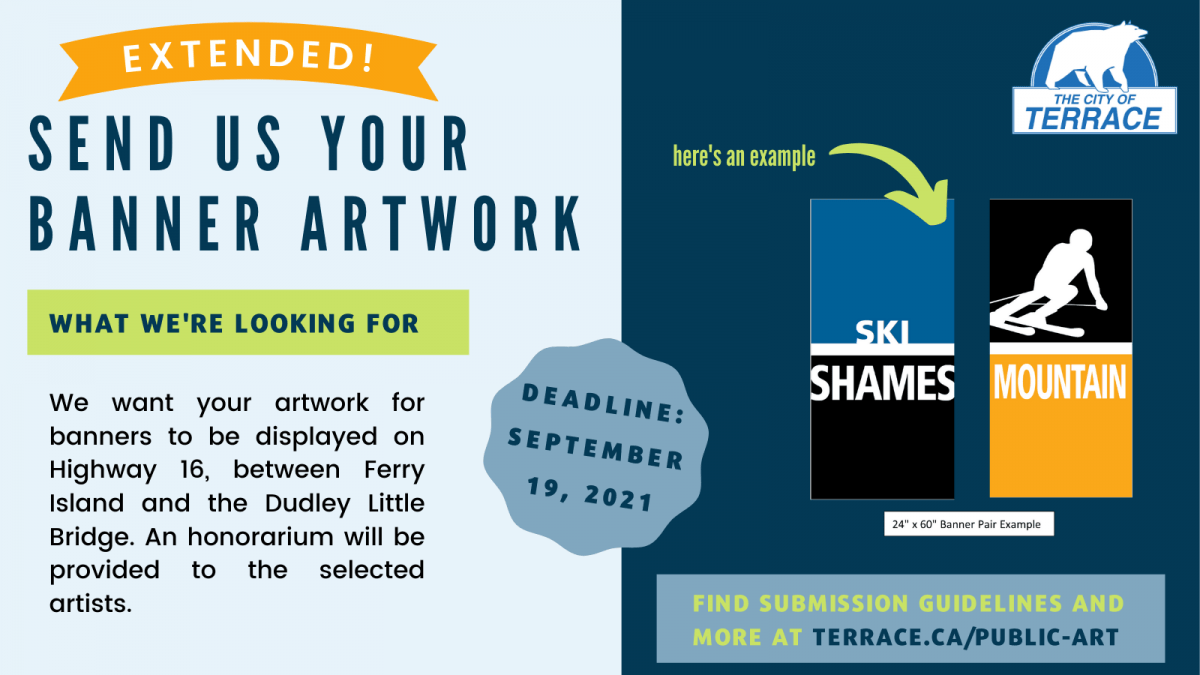 2021 Call for Submissions: Banner Artwork
WHAT WE'RE LOOKING FOR
We want your artwork for banners to be displayed on Highway 16, between Ferry Island and the Dudley Little Bridge. An honorarium will be provided to the selected artists.
As the artist, you will retain the original artwork and all rights. However, the City retains the right to use the banner image for future promotion activities.
SUBMISSION GUIDELINES
Successful submissions will be printed on two 24" x 60" banners. Your submitted digital artwork must be square (1:1 ratio). This aspect ratio, and how the artwork looks split between the two banners, are key deciding factors for the selected artwork.
Please also consider that the images are displayed on light standards that will be viewed briefly by motorists and admired at distance by pedestrians. Artwork that is bold and brightly coloured will present well on banners. Check out the sample on the right showing our planned layout.
HOW TO SUBMIT
Please send the following information to jcherniawsky@terrace.ca:
Artist name and contact information
High-quality digital image/file of your artwork (JPG, TIFF, or PDF)

Digital artworks do not have to be photographed but do need to be supplied in a print-ready format.

A short artist statement (under 100 words)
DEADLINE
September 19, 2021
Successful applicants in the 2021 intake will be contacted following the September 19, 2021, submission deadline.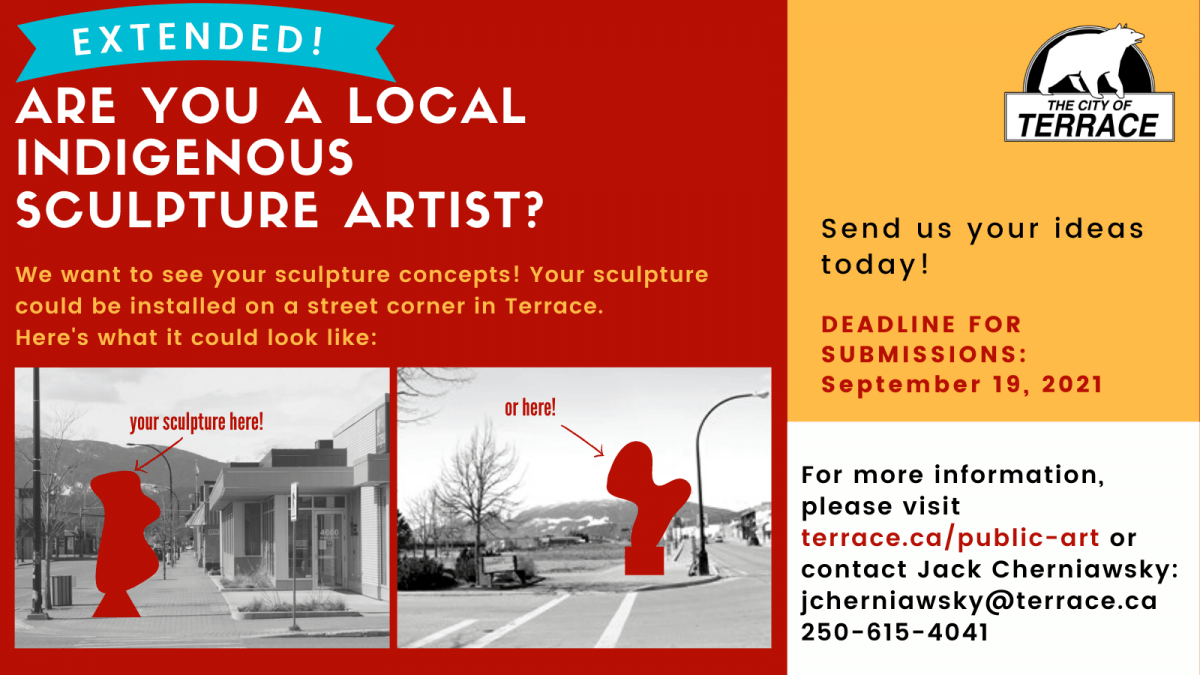 Call for Expressions of Interest: Sculptures by Indigenous Artists
WHAT WE'RE LOOKING FOR
The Public Art Advisory Panel is seeking expressions of interest from local Indigenous artists for one sculpture to be installed in downtown Terrace. The sculpture is intended to be sited on highly a visible and trafficked public area such as a street corner. City staff will determine an exact location in collaboration with the selected artist.
WHAT TO SUBMIT
Please submit an expression of interest, which should contain:
Artist name and contact information
A brief background on the artist's practice and previous experience
A concept sketch of the intended sculpture that identifies potential subject matter and a short written explanation of any broad themes the artist wishes to explore with the piece
The selected artist will be compensated to complete a detailed design and for the assembly of the sculpture.
DEADLINE
September 19, 2021
For more information, please contact:
Jack Cherniawsky
jcherniawsky@terrace.ca
250-615-4041