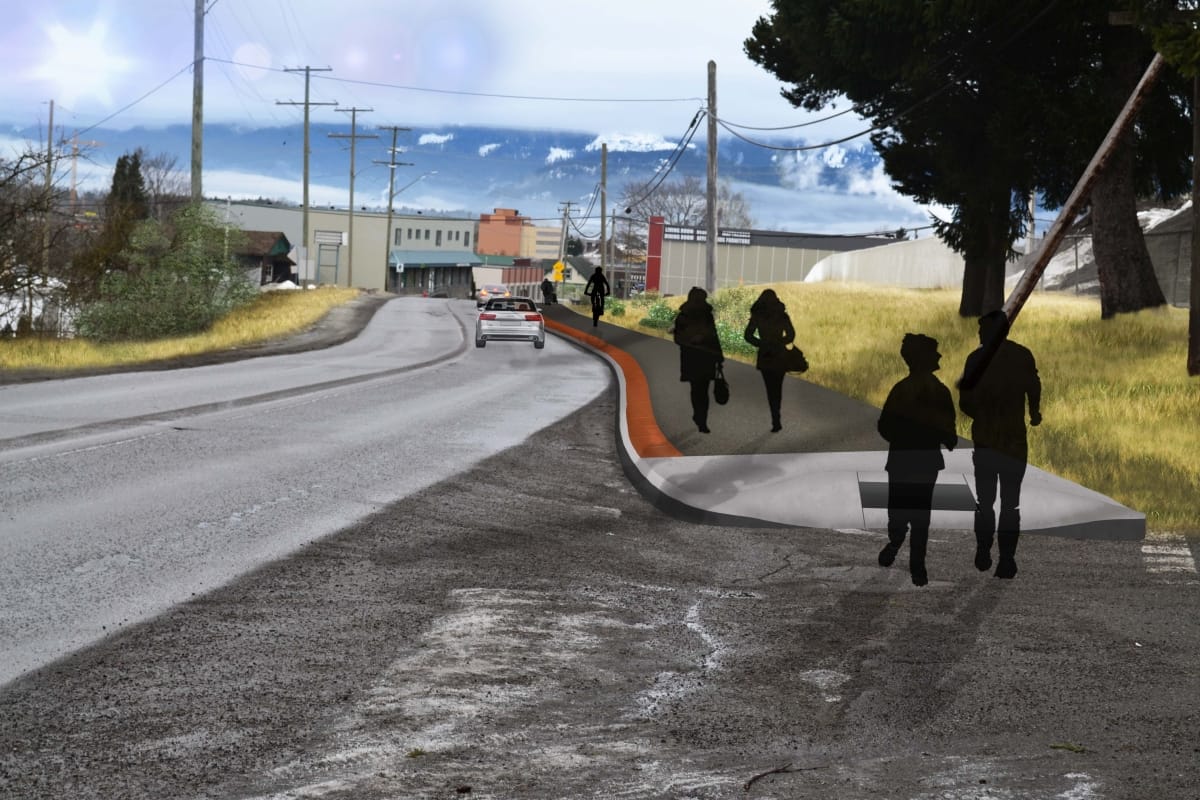 The Lakelse Gateway Connection Project will more safely connect Terrace to Thornhill and beyond via a 1-kilometre multi-use pathway on the north side of Lakelse Avenue. The project will upgrade the existing gravel shoulder to a separated, safe, and accessible 3-metre wide asphalt pathway, and complete related required roadworks. This pathway will span from the historic Old Skeena Bridge at the east end to the entry into downtown Terrace at Apsley Street. At Apsley Street, the pathway will terminate at a small gateway feature—likely including signage, landscaping, and a resting area—marking the entrance into downtown Terrace.
A gateway project was included in our 2018 Downtown Action Plan as one of "Ten Big Moves," a series of catalyst projects to accelerate a more dynamic downtown for Terrace. This project will significantly enhance this key gateway into Terrace while also completing a recreational connection to existing hiking and cycling trails and the Skeena River. It will serve the needs of residents and provide a recreational amenity for visitors to our community.
Click to view this image as a PDF: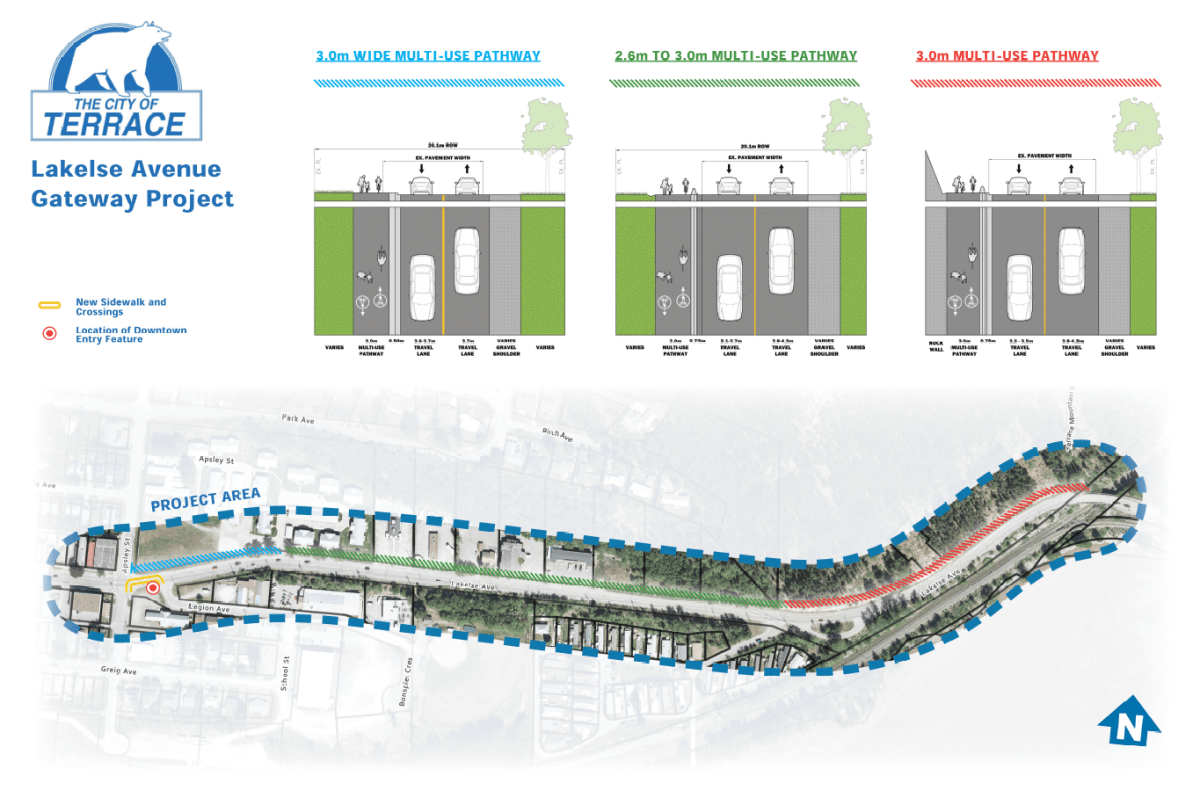 Latest News
Invitation to Tender: Lakelse Gateway Connection Project – Civil Works
We require construction of a 3-metre wide asphalt multi-use pathway, including excavation, placement of sub-base and base gravels, drainage installation, concrete sidewalk, preparation for concrete curbing, preparation for asphalt paving, and other related works on Lakelse Avenue between Apsley Street to the Skeena River Bridge.
This opportunity closes on Friday, April 22, at 3 pm.
Learn more on our procurement page, or check BC Bid.
We have received 70% design submission and are working towards finalizing the design of the pathway to 90% in early March. Public consultation is still in progress; contact Jennifer MacIntyre, Planner III, at the bottom of this page for more info.
We also finalized the geotechnical assessment for the project.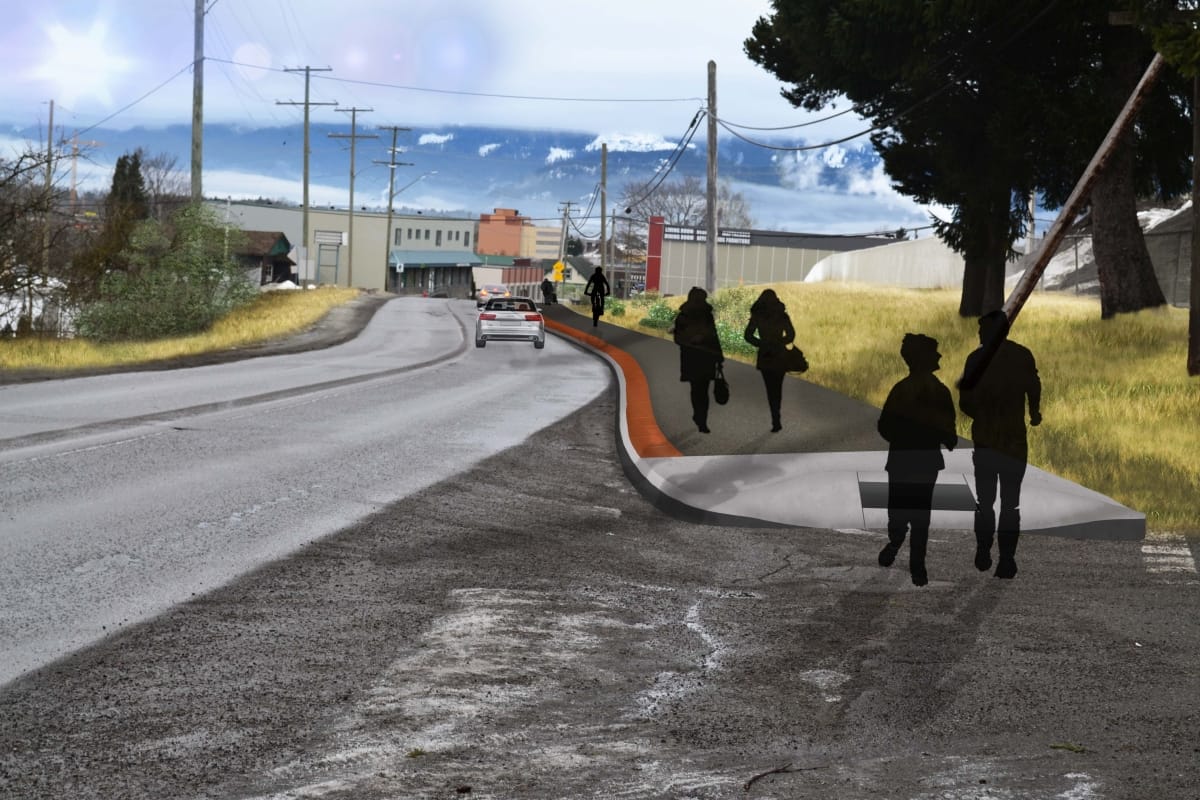 We have now received the 30% detailed design submission for civil and landscaping works and expect the remaining 70% detailed design submission in the next month or so.
In addition, all property owners adjacent to the project area will be receiving a notice in the mail that explains how to set up a meeting with City of Terrace planning staff to learn more or ask questions about the project:
During the month of February 2022, City of Terrace Planning Staff will be scheduling meetings with property owners adjacent to this project to present and discuss project details. If you have an interest in learning more about the project, or have questions or concerns regarding the project, please contact Jennifer MacIntyre, Planner at (250) 615-4032 or by e-mail at jmacintyre@terrace.ca, to set up a meeting.  Meetings can be held on site at your property, in-person at the City of Terrace's Public Works Building located at 5003 Graham Avenue, or held via phone conference, or online by desktop computer/mobile device using MS Teams.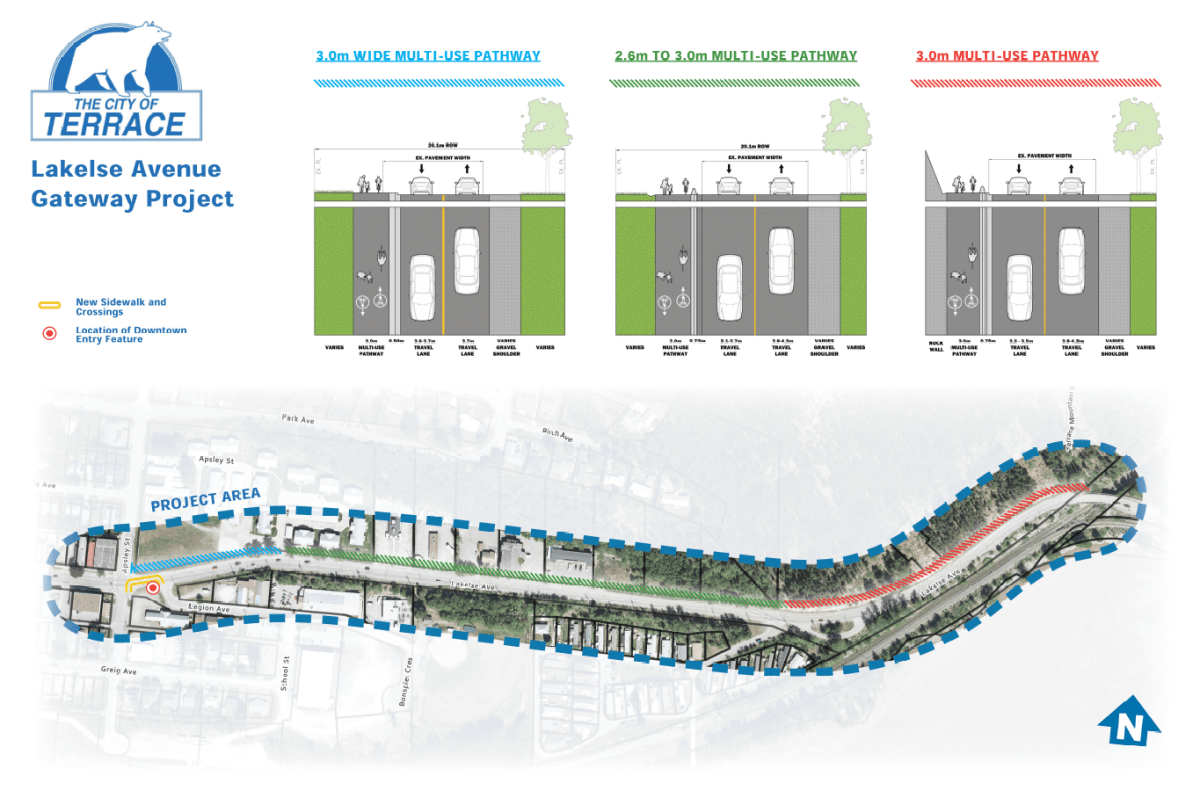 In November 2021, we released a request for proposals for design services for this project. We are now pleased to announce that Urban Systems Limited has been awarded with this contract. Urban Systems will be completing a final design by March 2022.
Concept designs: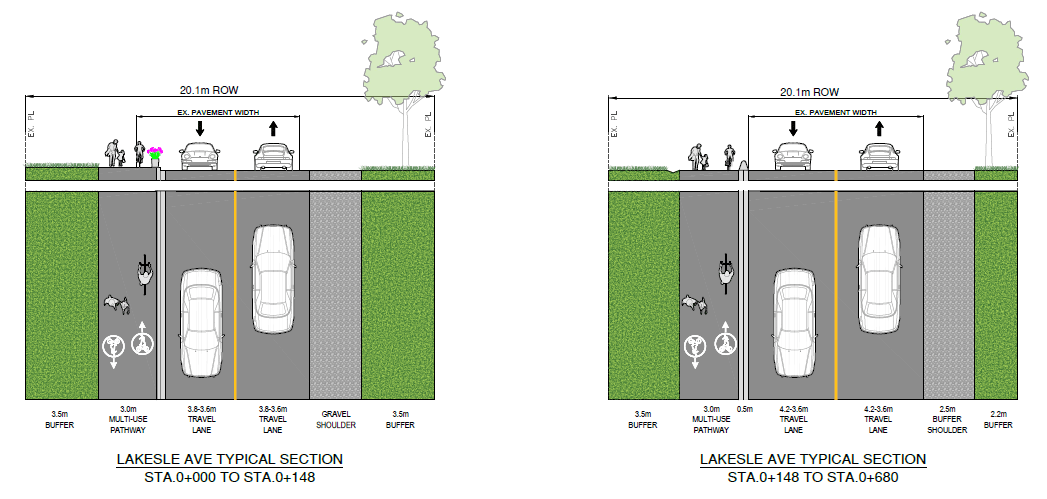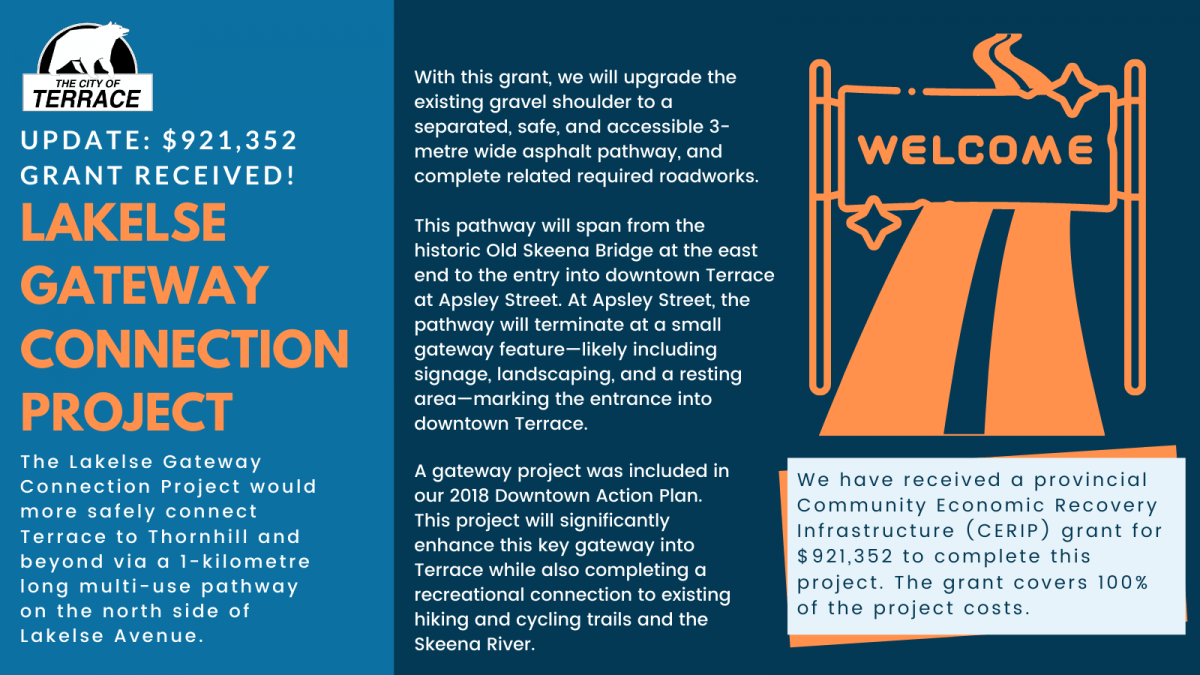 In February 2021, the City of Terrace received a provincial Community Economic Recovery Infrastructure (CERIP) grant for $921,352 to complete the Lakelse Gateway Connection Project. This grant covers 100% of the project costs.
CERIP grants are fully funded provincial grants to support economic resilience, tourism, heritage, and urban and rural economic development projects in communities impacted by COVID-19. The province has committed up to $90 million for projects across BC. Find the full list of recipients here. The City of Terrace extends its thanks to the Province of British Columbia for the grant.