When are the Council Meetings held?
Council Meetings are held every second and fourth Monday of the month, commencing at 7:30 pm in the Council Chambers in City Hall at 3215 Eby Street. The agenda is posted on our website. Also, check the schedule of Regular Council meetings, as some meetings may be rescheduled to Tuesday evening, if the Monday is a holiday.
How do I get listed on the Council agenda?
What if I have a comment to make, but I don't want to attend the Council meeting?
If you would like make a comment but do not wish to attend a Council meeting, you are welcome to write to Mayor and Council at The City of Terrace, 3215 Eby Street, Terrace, B.C. V8G 2X8.  If your questions/comments/concerns are regarding a specific City department, please contact the respective department directly during regular working hours. If you are calling to report an after-hours problem, call 250-638-4744. You are welcome to email comments to cityhall@terrace.ca as well.
What happens to my correspondence to Council?
Correspondence addressed to Mayor and Council will be forwarded and reviewed. At Council's discretion, items that meet the criteria will be added to a Council meeting agenda.
How do I contact the Mayor or a Councillor?
How do I make arrangements for the Mayor or Council to attend a special event or function on behalf of the City of Terrace?
Contact the Council's Executive Assistant at 250-638-4724 to advise the City regarding your special event. Every effort will be made to ensure that someone is in attendance representing the City of Terrace; however, depending on schedules this may not always be possible. In order to ensure that Mayor and Council are reminded of your event, please do not contact them directly to make arrangements for their attendance, as this may result in your event not being noted by the Executive Assistant, who is responsible for arranging Council's schedule.
How do I participate in a Council meeting?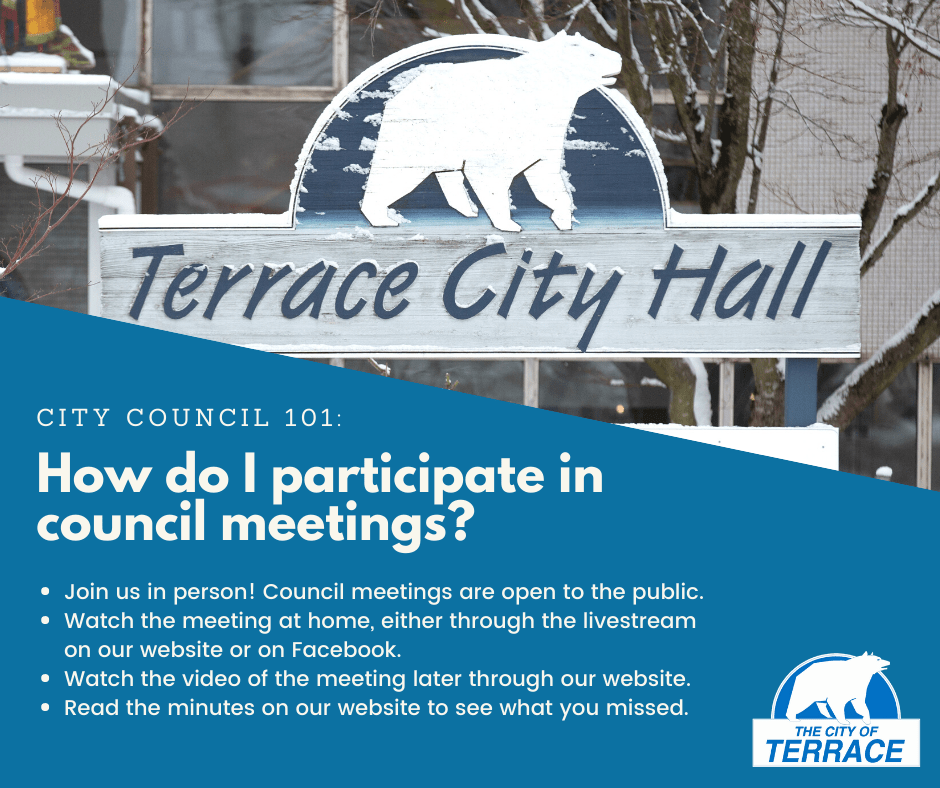 COVID-19 Precautions In Place:
The City of Terrace holds regular council meetings in the Municipal Council Chambers at City Hall on alternate Mondays. Want to join us? There are many ways to keep informed about what's happening with your local government, despite the COVID-19 pandemic:
Watch in Council Chambers (Mondays at 7:30 pm)
Public attendance in Council Chambers will be limited to just two individuals due to the size of this room and our commitment to maintaining physical distancing.
No open beverages will be permitted in Council Chambers at this time—closed water bottles and mugs are permitted.
The Council Chambers are cleaned before and after a meeting and high touch surfaces such as the podium will be cleaned between speakers.
As normal, you have the opportunity to speak directly to Council during a public hearing or during the Questions from the Media and Audience section at the end of a regular council meeting. Be prepared to switch out of the room with other members of the public who may wish to speak. (See below.)
Watch at City Hall via livestream (available during public hearings and regular council meetings)
We are also opening up a room downstairs in City Hall where we will livestream the webcast for anyone interested in attending (room will be set up to maintain physical distancing). Anyone watching in this room may also participate by rotating with those members of the public viewing the meeting in Council Chambers when they have a comment to make, which is permitted either during a public input hearing or during the Questions from the Media and Audience section at the end of a regular council meeting. A staff member will be onsite to assist with this.
Watch via livestream (available for public hearings, committee of the whole meetings, and regular council meetings)
Public meetings continue to be livestreamed through:

the City of Terrace Facebook page: Watch for the notification that the "City of Terrace is live now." Please note comments are not always monitored during the webcast.
the City of Terrace website Webcasts page.
Watch or read later
Present to Council
If you're interested in being a delegation on a council agenda, please contact Ashley Poole at apoole@terrace.ca or 250-638-4724.
If attending a meeting in person, be sure to follow all guidelines in place at City Hall upon your arrival. Please do not consider attending a meeting in person if you are unwell.
We will continue to review our open meeting procedures to ensure best efforts are continuing to be met. If you have any concerns or suggestions regarding open meeting procedures, you are invited to contact Alisa Thompson at athompson@terrace.ca or 250-638-4721.
We look forward to having you join us—virtually or in person!
What's on the list for the next council meeting? Find the latest agenda here.
What is a Committee of the Whole meeting?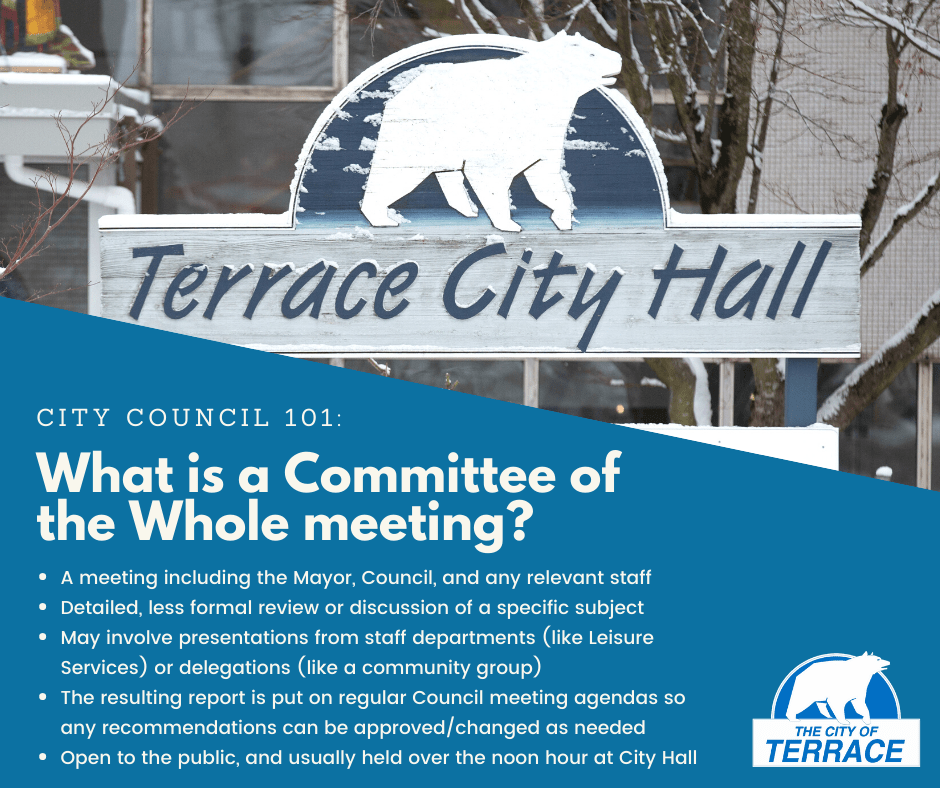 Committee of the Whole meetings allow for a detailed, but less formal review or discussion of a specific subject matter. They may involve presentations from staff departments (like Public Works or Leisure Services) or delegations (like community groups, companies, or citizens). Just like in a regular council meeting, the Mayor sits as the Chair of the Committee of the Whole, and Council members and relevant staff members are also present. Committee of the Whole meetings can either be scheduled within a regular Council meeting, or scheduled independently (usually held over the noon hour).
A motion is required to move from Regular Council into Committee of the Whole. (What's a motion? It's just a fancy term for a formal proposal.) After staff or delegations have completed have completed their presentation, Council will discuss it. If there is a decision to be made as a result of the presentation, the committee discusses it and can make a recommendation, but nothing is official until it has been adopted by Council in an official Council meeting. For this reason, the reports from the Committee of the Whole meetings are put on Council agendas and the recommendations can be approved or changed as needed at that time.
Once the minutes (the written record) from the Committee of the Whole meeting are adopted into the regular Council meeting, Council can act on this recommendation or just record it for information only.
Committee of the Whole meetings are open to the public for observation, just like regular Council meetings (see question above for health and safety protocols for attending during the COVID-19 pandemic).
To learn more about local government, the Union of BC Municipalities has some excellent Fact Sheets to explore. Click here to find them on the UBCM website.