UPDATE for 2020:
The Skeena Valley Farmers Market is up and running! Please note that not all usual vendors and activities may be available. When you visit the market, follow all onsite guidelines for health and safety. Do NOT visit the farmers market if you are unwell.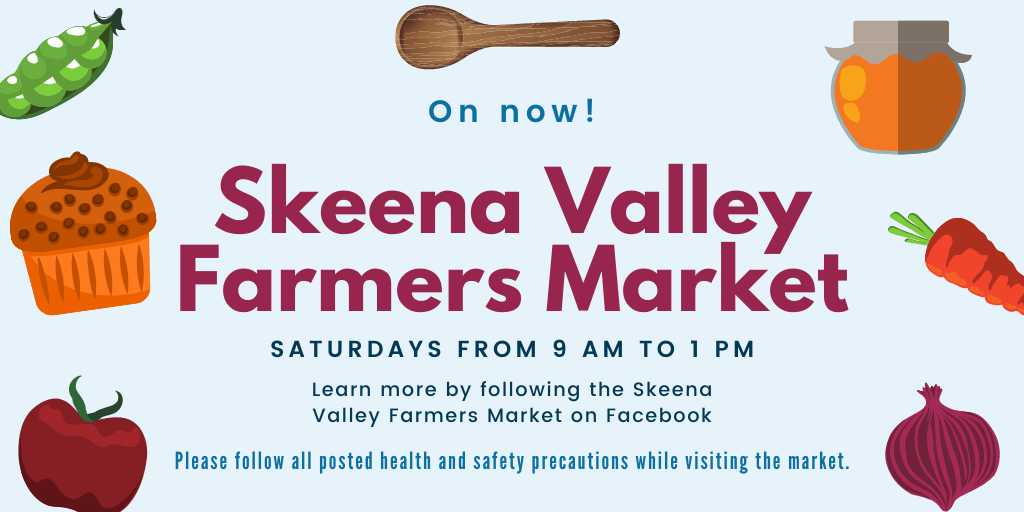 ---
The Skeena Valley Farmers' Market has been in operation for over 20 years, and has really grown in the last 10 years. Terrace is the furthest point north in BC where fruit trees can be grown, and the wares of the 70+ vendors aptly reflect the products of the fertile Skeena Valley. Everything at this market is home-grown, homemade, and home-baked. Coming here on a Saturday morning is the social thing to do—think of it as a community living room!
Open from May 1 to October 31
Saturdays 9:00 am–1:00 pm 
Our Farmers Market Products:
fresh veggies
breads
ethnic foods from local multicultural residents
fresh fish
canned foods
artworks
crafts
and much more
One regular vendor is an organic farmer, another has a greenhouse, and in the fall there's lots of garden produce. Unique heritage-type bedding plants are available in spring. The artisans make very distinctive products and the Market promotes local musicians—buskers often entertain. There are community tables for fundraising and/or community information, and kids' activities are sometimes offered as well.
The Farmers Market is comfortable and welcoming to seniors, and a few of the vendors are seniors themselves. Interestingly, many market vendors have moved on from here to start their own successful businesses.
New in 2019: Winter Farmers Market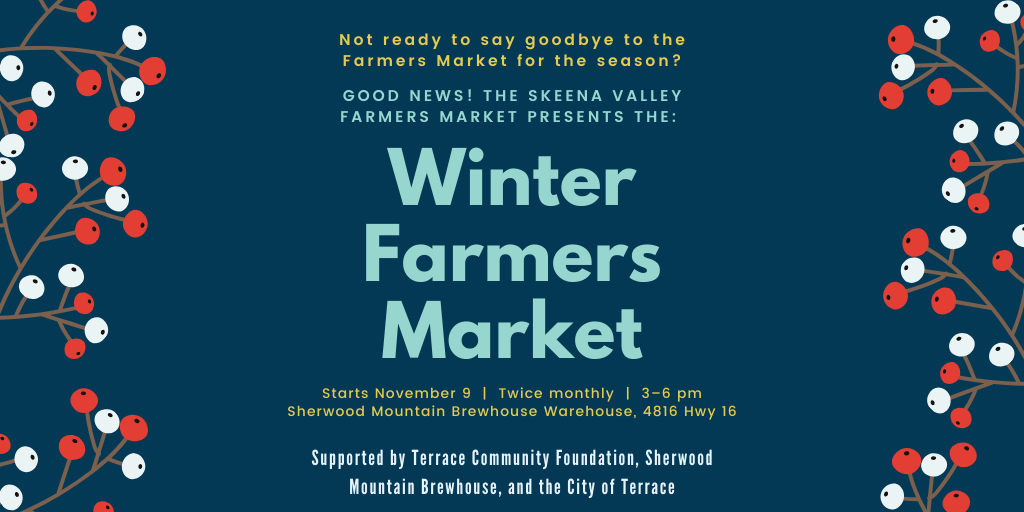 The Skeena Valley Farmers Market is pleased to present the Winter Farmers Market!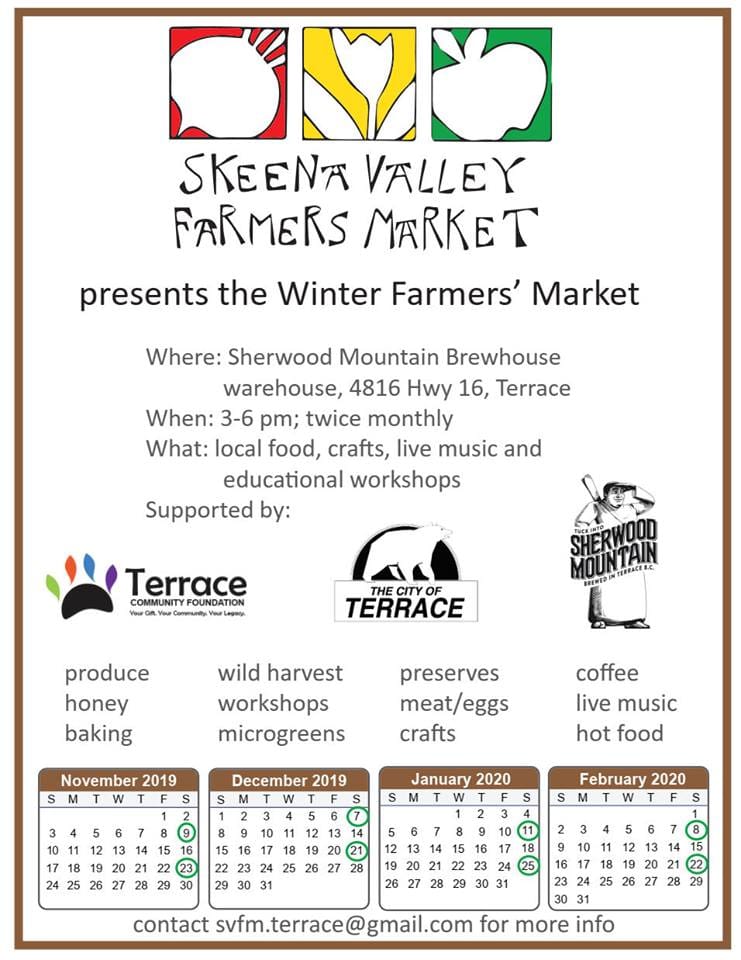 Fresh produce
Honey
Baking
Wild harvest
Workshops
Microgreens
Preserves
Meat & eggs
Crafts 
Coffee
Live music
Hot food
Supported by Terrace Community Foundation, Sherwood Mountain Brewhouse Ltd., and the City of Terrace, this market will be held twice a month, all winter long.
November 9 and 23
December 7 and 21
January 11 and 25
February 8 and 22
Find it at the Sherwood Mountain Brewhouse Warehouse, 4816 Hwy 16 (behind the brewery), from 3–6 pm.
Christmas Craft Sale
The Christmas Craft Sale in November is always a big draw, featuring many regular market wares along with lots of Christmassy selections (baking, crafts, etc.) This sale takes place indoors at the Terrace Sportsplex.
Contact Info:
Margo
Phone: 250-631-9631
​Email: svfm.terrace@gmail.com