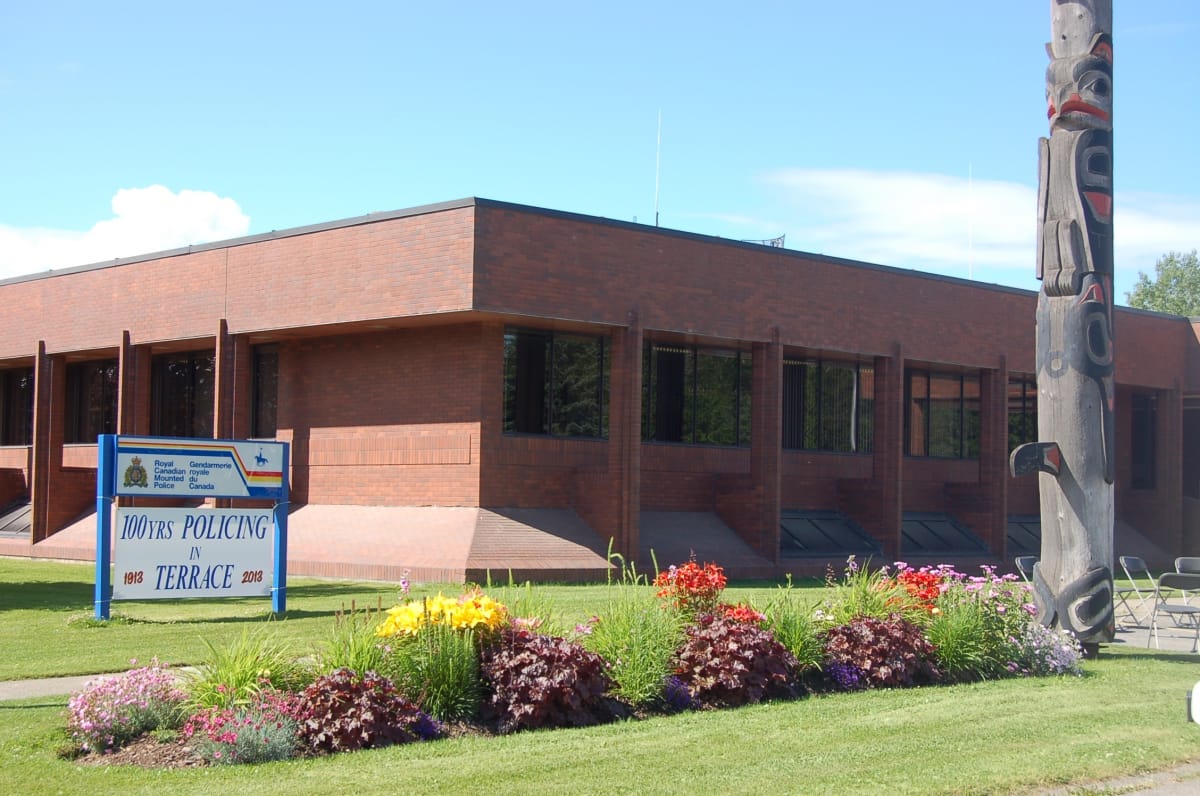 The population of Terrace and surrounding district is approximately 20,000, with our total Detachment strength at 60 personnel. This includes 45 regular members, 10 municipal employees, 5 public service employees, and 2 Victim Service employees. The Detachment area extends approximately 50 km north on Highway 113, 24 km south on Highway 37, 70 km east on Highway 16, and 70 km west on Highway 16.
Online Crime Reporting
For immediate police assistance, please call 9-1-1.
The RCMP's Online Crime Reporting is a platform for the public to report non-emergency crimes to the RCMP. 
Currently, these are the types of non-emergency crimes that can be reported in Terrace:
Lost Property
Theft of Bicycle Under $5,000
Theft Under $5,000
Theft Under $5,000 from Vehicle
Damage/Mischief Under $5,000 to Property
Damage/Mischief Under $5,000 to Vehicle
Driving Complaints
Hit and Run to Unoccupied Vehicle or Property
Lost or Stolen Licence Plates or Decals
You cannot use Online Crime Reporting if:
There is a witness or suspect (this restriction does not apply to Driving Complaints)
There are lost or stolen items involving personal identity or firearms
This new, efficient way to report less serious crimes provides citizens with the file numbers they may need in circumstances of lost or stolen property and allows RCMP front-line staff to focus on higher-priority issues to ultimately improve response times, which will improve the safety of our community. Meanwhile, it also allows police to capture information about non-emergency crimes that may otherwise go unreported. 
Report Now
For immediate police assistance, please call 9-1-1.
To report a crime through the online tool, you will need to provide:
address
phone number
valid email address
The process typically takes less than 15 minutes to complete. For those who don't have access to a computer or a valid email address, reporting in person is still available.
The Terrace RCMP and Services Available
Officer in Charge (OIC)
An Inspector is the OIC of the Detachment. Under his/her direction the policing responsibilities fall into two main divisions—Operations and Administration—with the Operations NCO, Operations Support NCO, and Executive Assistant/Municipal Supervisor reporting directly to the OIC. In addition to core policing functions, the detachment supports proactive and intelligence-led initiatives in all areas, including youth, traffic, and supervision.
Operations NCO
The second in command, a S/Sgt. is in charge of the operations of the detachment, which consists of 20 Regular Members on four General Duty Watches each headed by Senior Investigative Supervisors (Watch Commanders).
General Duty Police Services

Terrace has 24-hour police services. Watches work rotating 12-hour day shifts and 11-hour night shifts, 4 days on/4 days off. Each shift is supervised by a Corporal, who is in charge of 4 Constables and the day-to-day activities of one Municipal Guard. The Shift Supervisor monitors the work of those members under his/her direction and provides guidance as required.
Operations Support NCO
The Operations Support NCO, a Sergeant, is responsible for the administrative functions of Terrace Detachment, fleet maintenance, new member recruit field training, and ongoing regular member and auxiliary training. Reporting to the OIC, the Sergeant is also responsible for supervising the following sections:
G.I.S./Drug Section

The Corporal in charge of this Section is assisted by three Constables. It is a support section to General Duty, becoming involved in the complex time-consuming major cases, and is basically charged with day-to-day assistance matters of keeping criminal and drug activity in the community at a low level. Every effort is made to provide General Duty personnel who have an interest in plain clothes duty with some exposure to this unit, and personnel are appointed to special projects as required. All members are encouraged and expected to utilize human sources to assist in policing matters and are instructed in applicable policy by the Operations Support NCO.

Crime Reduction Unit (CRU)

Two constables make up this section. Their mandate is to reduce crime by targeting prolific offenders and having high visibility in the downtown core. 

Indigenous Policing Service

One Constable coordinates the Indigenous Policing for this detachment. Activities include regular patrols on traditional lands, police representation at cultural ceremonies, criminal investigations on reserve lands, and assisting other aboriginal enforcement agencies within the context of the tri-partied agreement. Both First Nations communities within the Terrace detachment service area are a part of the Tsimshian Nation.

Police Dog Section

One Corporal is stationed in Terrace and available to the Northwest for the training of the dog and work as required in that section. This section often gives a variety of public relations talks and demonstrations, especially to school-aged students.

Community Policing Services

One Constable co-ordinates the Community Policing (CP) activities for this detachment. Examples of some activities include school liaison, talks to service clubs, work in the business and residential communities, and liaising with various media. All members are expected to be involved in community prevention/victims services activities with some duties assigned by the CP coordinator. The CP member is the liaison with the Terrace Restorative Justice committee and the Terrace Crime Stoppers program and also supervises the Auxiliary Constable program.

Auxiliary Constable Program

We presently have 4 Auxiliary Constable positions at the Terrace Detachment. They provide community service and augment our regular Force, working a minimum of 160 hours per year.

Victim Services

Victim Services has two full-time co-coordinators, housed in Terrace Detachment, who provide direct service to clients who have experienced trauma in addition to recruiting and training new volunteers.

Public Service Employees

3 Public Service employees are responsible for modifications and subsequent additions to PRIME (records system), assisting with the flow of operational files through the records office, tallying of Motor Vehicle Violation tickets, intelligence gathering, and general office duties. Further, they are responsible for court liaison and exhibit handling for the detachment.
Executive Assistant/Municipal Supervisor
One municipal employee Office Supervisor is responsible for 6 municipal employee support staff, 4 full-time guards, and several casual guards and support staff. Three support staff fill the position of Front Counter/Reception responsible for receiving non-emergency complaints, directing telephone and walk-in inquiries, and administrative support for the detachment. One employee is the Canadian Police Information Centre system (CPIC) Coordinator, one is the Reader/Reviewer Analyst responsible for operational file quality control, and one is the Detachment Clerk responsible for the detachment's financial records.
Forensic Identification Section
One Sergeant and one Corporal based in Terrace and two Corporals based in Prince Rupert provide forensic identification services for detachments throughout northwestern BC. They attend to crime scenes, photograph any evidence found, and do forensic examinations with the hopes of locating fingerprints or other physical evidence that may relate a criminal to the scene.
BC Highway Patrol - Terrace
Reporting to the North District BC Highway Patrol in Prince George, one Sergeant in charge of two Corporals and 8 Constables responsible for highway patrols throughout the Northwest. The patrol and service area includes east to New Hazelton, north to Atlin, south to Kitimat, and west to Haida Gwaii (Queen Charlotte Islands). One Corporal and three Constables are based out of Smithers while the rest are based in Terrace. Two Traffic Collision Reconstructionalists (Corporals) are also based in Terrace.
North District Regional General Investigative Section (GIS)
North District GIS Terrace is a three-member unit composed of one Corporal and two Constables. The Corporal reports to the NCO i/c North District GIS in Prince George. Generally speaking the unit is mandated to assist outlying detachments in the investigation of serious criminal offences that by their nature and scope are unreasonable to investigate at the detachment level. The geographic area serviced by this unit is bordered by Haida Gwaii to the west, Houston to the east, Atlin to the north, and Bella Coola to the south.
Strategic Prevention Service
One Corporal heads this unit. This unit offers assistance and support to detachments in implementing the D.A.R.E. Keep'in it REAL (DARE Kir) program in the school at the Grade 5/6 level and in implementing the Community Prevention Education Continuum (CPEC) strategy by mobilizing your community to engage on youth prevention.
Radio Technologists
Three Radio Technologists for the Northwest are stationed in Terrace; however, they are directly responsible to the supervisor who is stationed at North District in Prince George. They are responsible for installing and servicing telecommunications systems, which involves flying to repeater sites and driving to detachments.
Liquor Special Event Permit
If you want to serve liquor in a public place or sell liquor anywhere in Terrace, you will need a licence to do so. Depending on your event, you will need either a private or public Liquor Special Event Permit. 
Private Functions such as a wedding or family celebration require a Private Liquor Special Event Permit, which is obtained from the Government of BC website.
Public Functions such as festivals or beer gardens require a Public Event Special Occasion Licence issued by the City of Terrace as well as a Liquor Special Event Permit from the Government of BC website. Please review the information below regarding applications for these licences.
Applications must be made on the Government of BC website. All fees are paid through the website. The applications will be sent directly to the Terrace RCMP for approval. 
B.C. Police Information Checks (PIC)
PICs are available and accepted at the front counter of the Terrace RCMP Detachment and may be processed in two to three weeks. There are circumstances where your PIC may take longer, i.e., if fingerprints are required to be submitted to Ottawa or we need to contact another police agency for information.
There are two types of Police Information Checks:
1.  PIC - for employment or volunteer services that do not involve children or vulnerable adults
It will be limited to criminal convictions, outstanding criminal charges, and warrants and other judicial orders.
It can be used for employment outside of Canada.
You can apply for a PIC when you are outside of Canada by getting fingerprints taken by a local police force or the nearest consulate.
2.  PIC-Vulnerable Sector (VS) - for employment or volunteer services that do involve children or vulnerable adults
It will include:
criminal convictions, outstanding criminal charges and warrants, and other judicial orders.
non-convictions and files in which you were a bona fide suspect in a founded substantiated offence.
It will not include unsubstantiated allegations.
If fingerprints are required to complete the check, there will be an additional fee of $25 to be paid in the form of a certified cheque or money order to the Receiver General of Canada to the detachment.  
To apply for a PIC or PIC-VS:
Contact your local RCMP detachment or police agency.
Bring two pieces of government issued ID, one with a photo.
The fee for a PIC is $50 payable at City Hall prior to submitting application. Bring receipt with you to the detachment for proof of payment.
If you are a volunteer for an organization that requires a PIC, the $50 fee and the $25 fee is waived. In order to have this fee waived, you will be required to present a letter from the organization confirming your volunteer status.
The BC Ministry of Justice also provides an online application service.
Electronic Fingerprinting
The RCMP administers Civil Prints by appointment only on Tuesday and Wednesday mornings from 8:30 am until 11 am.
Appointments can be booked by calling the detachment at 250-638-7400, Monday to Friday, between 8:00 am and 4:00 pm.
---
You may need a fingerprint-verified criminal record check for various purposes, including: employment, adoption, international travel, volunteer work, citizenship, name change, student placement, or to obtain a record suspension (formerly known as a pardon).
To obtain electronic fingerprints, you may need to pay a $50 charge, payable at Terrace City Hall, and provide proof of payment at the detachment. Not all prints require a $50 charge (e.g., volunteers). There may be an additional $25 fee depending on the purpose of the application.  
Record Suspension or Visa Waiver
To apply for a Record Suspension (formerly known as a pardon) or Visa Waiver, go to RCMP Record Suspension or obtain an application at the Terrace Detachment front counter.  A PIC will be required with associated processes and fees. 
If you have not lost any money and have not provided personal or financial information (relating to a fraud or scam), and you simply want to inform the appropriate organizations, report it to the Canadian Anti-fraud Centre (CAFC) by calling 1-888-495-8501.
Crime Prevention Through Environmental Design (CPTED)
CPTED is an approach to planning and development that reduces opportunities for crime.
Communities, neighbourhoods, individual homes, and other buildings, streets, and parks can all be made safer through the application of design principles that make it more difficult to carry out inappropriate activities.
If you would like a free CPTED assessment of your business or home, contact your Terrace RCMP. 
Contact the RCMP
For immediate police assistance, please call 9-1-1.
Location and hours:
3205 Eby St
Terrace BC V8G 2X7
Telephone: 250-638-7400
Fax: 250-638-7448
General services available Monday to Friday, 8 am to 4:30 pm
Report non-emergency crimes online: Online Crime Reporting
Twitter: @TerraceRCMP