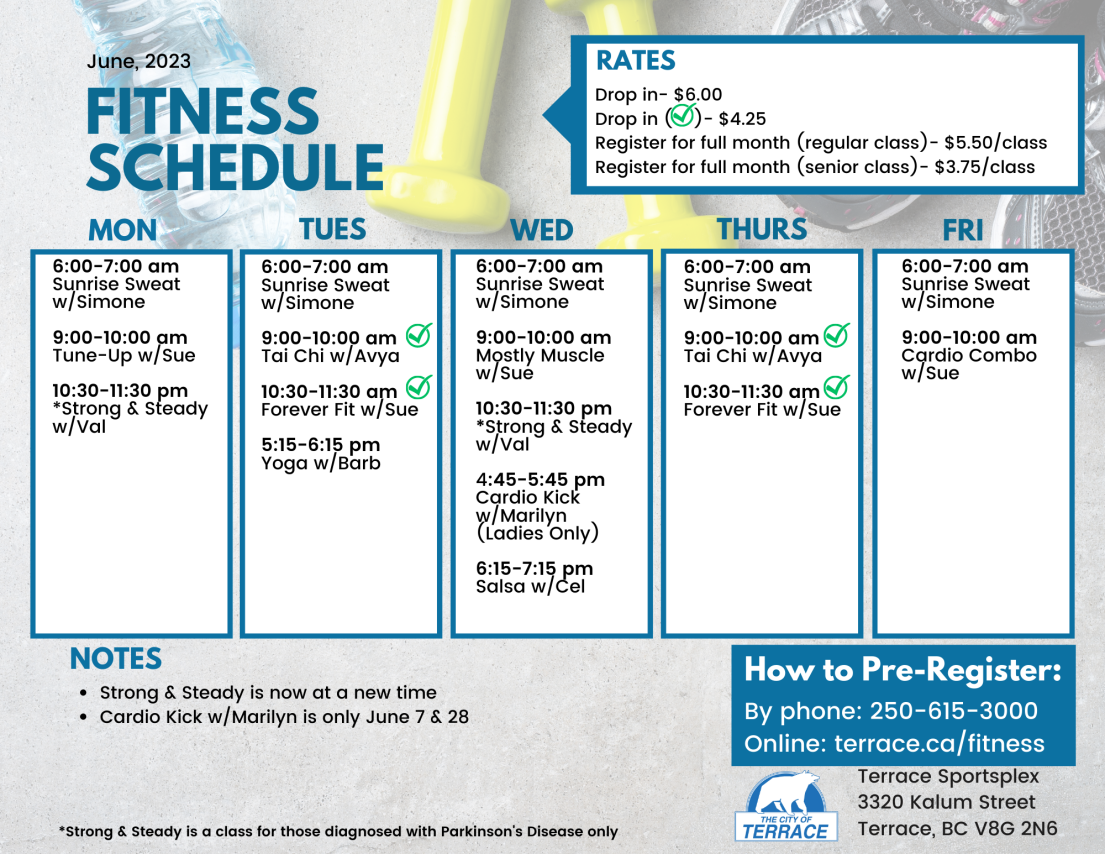 *Check Schedule for Availability*

From morning cardio and body weight classes to lunch hour burn sessions and evening yoga classes, we have plenty of fitness options to choose from. We offer special senior rates for select classes.

Barre  Barre is a full body conditioning class that is low impact and incorporates lower, upper, and core exercises. This ballet-inspired workout focuses on flexibility, balance, and strength! Don't let the low impact fool you—this class can be high intensity and can be modified for any skill level.

Cardio Blast With a ton of experience and a ton of energy, Donna will offer a different format each Monday. The benefits of this cross training will be found in interval, hight/low cardio, step, and circuits. Classes can be modified for all levels of fitness.

Cardio Combo  Want to change up your workout routine? Try this high-energy class, which combines aerobic moves on the floor or step with intervals of upper-body strength moves using free weights. Follow these fun sequences with a brief Bender ball routine for your abs and release the week's tension with deep relaxation techniques to end the class feeling invigorate and energized for the weekend.

Chair Yoga  A dynamic class to improve strength and freedom of movement using gentle exercises to warm up the whole body from a seated or standing position using the chair for stability.

Forever Fit  Turn back the clock with this light-hearted, fun-filled class and improve your fitness level while socializing with others who value a healthy lifestyle. Designed to promote joint mobility, full range of motion, and increased cardiovascular health, this class will combine gentle aerobics with strength and flexibility exercises. Enjoy a relaxing cooldown and leave the class feeling positive about yourself and the day ahead!

High-Intensity Interval Training  HIIT is a full-body workout. The class is a rigourous interval training sequence with high-intensity exercises. It builds cardiovascular fitness while improving muscular strength and endurance. People are challenged to push to their limits and walk out feeling strong. This class is great for any fitness level; every exercise can be modified!

Low-Impact Strength  Low impact strength is a great strength workout without using any plyometrics (jumping). This is a great class for cross-training because of the use of different muscle groups, balance exercises, and flexibility training. This class will allow you to build strength and endurance without injuring yourself, putting less strain on joints. Great for all fitness levels.

Mostly Muscle  Like variety? Enjoy a smorgasbord of strength exercises designed to tone all of the major muscle groups with a variety of small equipment including free weights, dyno bands, weighted balls, and gliders. Tone your abdominals with Bender balls and improve your flexibility with a comprehensive stretching routine to end this class feeling strong and healthy.

Muscle Mix  Wake up your body with this midweek workout that will focus on toning all the major muscle groups. After an energetic warmup, you will alternate between upper and lower body exercise patterns using resistance equipment such as weights, balls, bands, and gliders. The class will conclude with a thorough and relaxing stretching routine.

Pound  Burn up to 900 calories per hour, strengthen and sculpt infrequently used muscles, and drum your way to a leaner, slimmer physique—all while rocking out to your favourite music. Pound is for everyone at all fitness levels. The workout is easily modifiable and the alternative vibe and welcome philosophy appeals to men and women of all ages and ablilites.

(Kids) Generation Pound  This youth-oriented program fuses movement and music to improve focus, coordination, physical fitness, and teamwork skills. By combining exercise and interactive activites, kids will learn new way to explore movement, embrace their creativity and ROCK OUT—ultimately building strength, confidence, and self-awareness.

Tai Chi  Everyone is welcome to this class, a self-paced system of gentle exercises and stretching that aids in the reduction of stress and anxiety. A regular practice helps increase flexibility and balance.

Total Body Tabata  Get fitter faster and change your body by pushing through time with this scientifically proven and popular Tabata formula. The Total Body Tabata (TBT) team has meshed group fitness and Tabata HiiT (hight intensity interval training), two growing trends in the fitness industry, with our unique Tabata-style recipe to bring you the ULTIMATE workout. Total Body Tabata classes are adaptable for every fitness level and appeal to both men and women! There is no choreography to remember and exercise modifications are provided by TBT trainers throughout the class.

Tune-Up  A high-energy class that focuses on a variety of low-impact cardio moves for fun and fitness. Abdominal and stretching routines complete this workout to ensure maintenance of strength and flexibility.

Yoga  A variety of yoga styles and mindful movements will be demonstrated for all skill levels, with the use of props provided and breath. Come and enjoy an hour dedicated to your health and growth.