Explore Training Opportunities Offered Through the City of Terrace
From time to time, the City of Terrace offers training programs to the public. Browse the current opportunities below to learn more about what's available.
Department: Leisure Services, 250-615-3030
Deadline: June 5, 2021
---
COURSE DESCRIPTION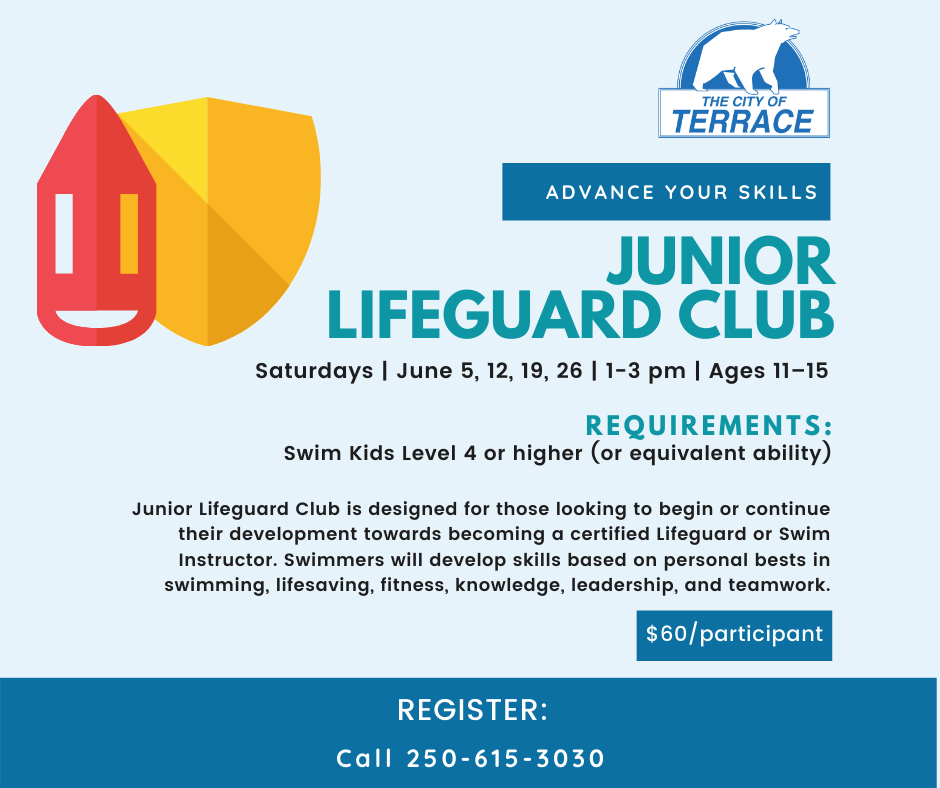 Junior Lifeguard Club is designed for those looking to begin or continue their development towards becoming a certified Lifeguard or Swim Instructor. Swimmers will develop skills based on personal bests in swimming, lifesaving, fitness, knowledge, leadership, and teamwork.
Dates: Saturdays, June 5, 12, 19, 26
Time: 1:00–3:00 pm
Location: Terrace & District Aquatic Centre
Ages: 11–15
Cost: $60/participant
10 spaces available
Pre-Requisites:
Swim Kids Level 4 or equivalent ability
Reminders:
COVID-19 safety protocols in place. Please do not attend if you are feeling unwell. Learn more about visiting the aquatic centre here.
---
LEARN MORE
See the course description on ActiveNet here.
---
HOW TO REGISTER
Contact the Terrace & District Aquatic Centre at 250-615-3030.
Past Opportunities
These training courses and programs are no longer available, but may be again in the future. Please contact us for further details if desired.