News
January 14, 2022: UPDATE: Road Conditions for Friday, January 14
January 13, 2022: UPDATE: Road Conditions for Thursday, January 13
January 12, 2022: UPDATE: Icy Road Conditions Continue to Improve
January 11, 2022: UPDATE: Icy Road Conditions Continue
January 10, 2022: ALERT: Icy Road Conditions
January 6, 2022: Check here for the latest update on snow clearing underway.

Snow removal: No parking on streets
From November 15 to April 1
Under Street and Traffic Bylaw No. 1313-1993, every street, boulevard, alley, and highway in the City of Terrace is designated as a snow removal route, and parking on them is prohibited during the winter months, from November 15 to April 1. Any vehicle that impedes snow removal and/or road maintenance work on any snow removal route may be towed.
Plowing in residential areas can occur at any time of the day or night.
Snow clearing operations in the downtown area are typically carried out between 10:00 pm and 6:00 am.
In addition, it is illegal for anyone to place ice or snow from any private property, parking lot, or entrance way onto City right-of-way as it impedes traffic, creates drainage problems, buries fire hydrants, and interferes with routine snow plowing. Under this bylaw, you may be fined for doing so.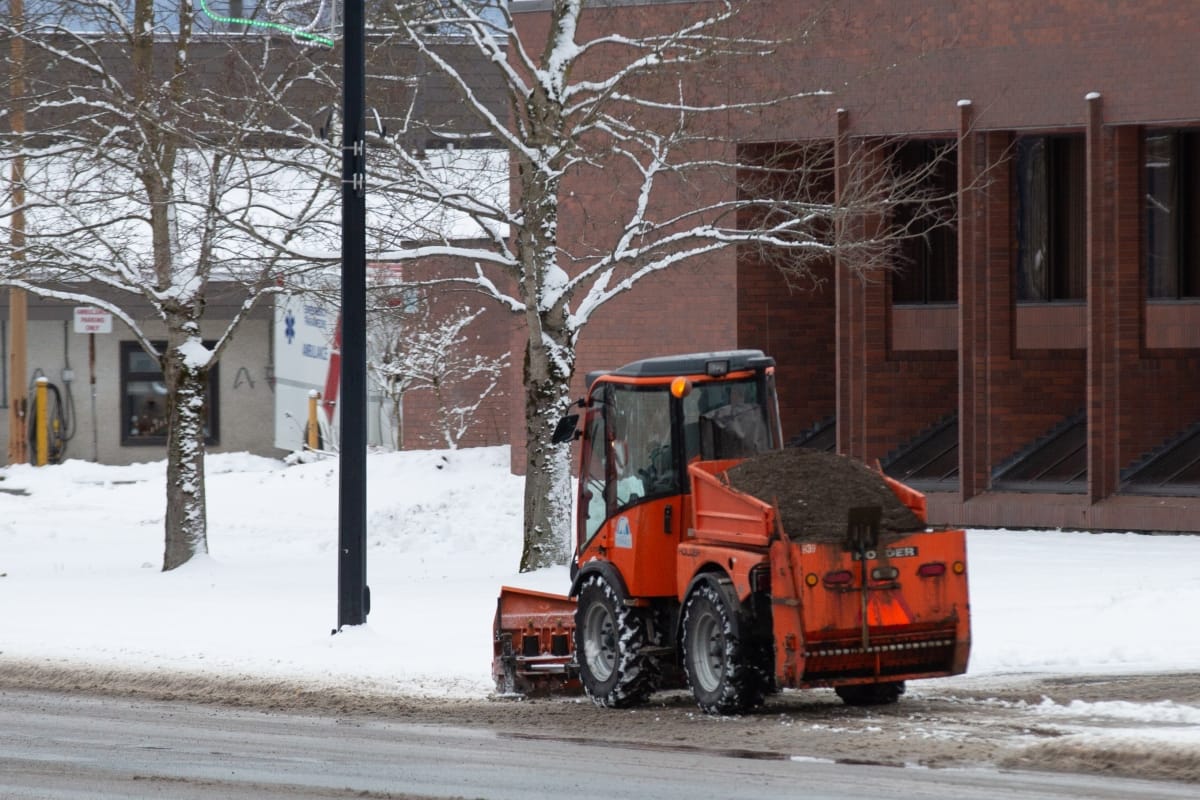 Thank you in advance for your cooperation.
- Public Works and Development Services
Snow Removal Financial Assistance Program
Snow Removal Program For Seniors or Physically Challenged Citizens
QUALIFICATIONS
City of Terrace Council has authorized a windrow and driveway snow removal program for senior citizens and physically disabled homeowners with costs incurred from hiring a service provider to remove snow from their driveways.
To qualify, the applicant must meet the following criteria:
Own and occupy the property on which the application is made.
Be 65 years of age or more at the date of application OR be permanently confined to a wheelchair, restricted to the permanent use of crutches or braces, or otherwise be permanently disabled in such a way as to restrict physical mobility.
Not have any able bodied persons under the age of 65 residing at this property.
Not have claimed a credit on any other property for the same winter season.
Not live in a condominium dwelling whereby all snow removal is the direct responsibility of the condominium corporation.
Medical Information
The physically disabled applicant (under 65) must provide one of the following:
Medical proof from a Canadian Regulated Health Practitioner using the attached medical form, or
A copy of the Accessible Parking Permit issued by SPARC.
Qualifying applicants of a residential property can receive a rebate of 50% up to a maximum of $250.00 per winter (subject to demand).
Applicant must submit the completed Application Form to the City before being eligible for this program. 
To receive a rebate, the applicant must fill out the Reimbursement Form and ensure signatures and/or receipts are obtained from their service provider.
If you meet all five (5) criteria listed above, fill out the application form and send it to the City of Terrace, Public Works Department.
Snow Removal FAQs
Click below for frequently asked questions about snow removal in the City of Terrace.
What kind of snow clearing equipment does the City use?
Our fleet consists of:
3 plow trucks
1 2-ton pick-up plow
2 loaders (1 with snowblower attachment)
2 graders
2 sidewalk plows
Our Roads and Drainage crew of 15 people completes winter road maintenance activities. They are scheduled strategically during winter months to provide as close to 24/7 coverage as possible. 
Why can't the City remove the snow from my driveway entrance?
It would be very expensive to remove the windrow from the ends of the City's several thousand driveways. Our equipment plows snow to the right-hand side of the road, which is the most economical way to clear the streets.
Assistance for removing the windrow left across driveways is available to seniors. Details are available above, or click below for the application form.
Why can't the snow be plowed to the other side of the street if there are no houses there?
The snowplows are designed to plow snow to the right-hand side. In order to plow all the snow to one side, the equipment would have to drive on the wrong side of the road, creating an unsafe traffic situation. This would take more time to clear, which means the streets not serviced yet would have to wait longer.
Can I push the snow from my driveway out on to the street?
The placing of snow from driveways on to the street is prohibited by Bylaw to help ensure that potentially dangerous situations for motorists and pedestrians are avoided.
Why aren't grader gates used like in other communities to keep the windrow out of my driveway?
Grader gates can only be attached to the main blade of a grader and not to the wing, which we use to widen the road. Although grader gates can be effective in rural areas with occasional driveways, they are not practical in areas with frequent driveways, and when dealing with heavier snowfalls. Their reduced speed of operation also means higher costs.
What is the priority order of plowing streets?
Hills are the first priority, followed by hospital and school zones, downtown streets, arterial streets, residential streets, and finally cul-de-sacs. If snowstorm conditions persist, it may be some time before crews can leave higher priority routes to attend to residential streets.
How are our sidewalks cleared?
Our level of service has increased in recent years, but roads are still our number 1 priority. Ideally, we would have sidewalk plows coordinating with plow trucks to ensure they aren't working against one another, but due to the differing speeds of these pieces of equipment (plow trucks typically 30 km/h, sidewalk plows 10-15 km/h) it would not be efficient.
Since sidewalk equipment is slower and lighter than plow trucks and graders, it results in more time required and more compact snow left on the sidewalks than on streets.
Who is responsible for clearing the highway and Sande overpass?
The Ministry of Transportation and Infrastructure (MOTI)'s maintenance contractor is responsible for plowing the arterial highway that passes through Terrace (highway 16), including the Sande Overpass. City of Terrace crews maintain the sidewalks along this route. This does create a challenge with coordinating our efforts. We do our best to monitor the arterial highway condition and send our sidewalk machine out after the highway has been cleared. 
The Sande overpass is narrow and difficult for our machines to access. If snow or ice builds up along the railings, it becomes unsafe for our sidewalk plow; instead, we send the grader to clear the sidewalk with its wing during the night.
Why is the downtown cleaned at night instead of during the day?
In order to clean the downtown streets and parking lanes, the streets need to be empty of parked cars and traffic. Because graders only plow to the right, they must plow against traffic to pull the snow from the curb to the centre of the street, effectively blocking the street during that operation. The large windrows of snow left in the middle of the street are later hauled away (again at night) by loaders and trucks to snow dumps.
Why do the graders come through again after the street has been plowed and widen so much?
Plow trucks are used to open up streets quickly but can only plow a narrow path. Graders will follow behind later and widen to help with drainage and provide more room for pedestrians.
Why aren't all the bus stops plowed out right away?
Bus stops are not part of our normal routine but we do respond to requests from the bus company as they come in.
I am a senior citizen and have trouble shoveling my driveway and the windrow. What can I do?
The City of Terrace provides a windrow and driveway snow removal program for senior citizens and physically disabled homeowners. Details are available above, or click below for the application form.