Refuse, Recycling & Waste Management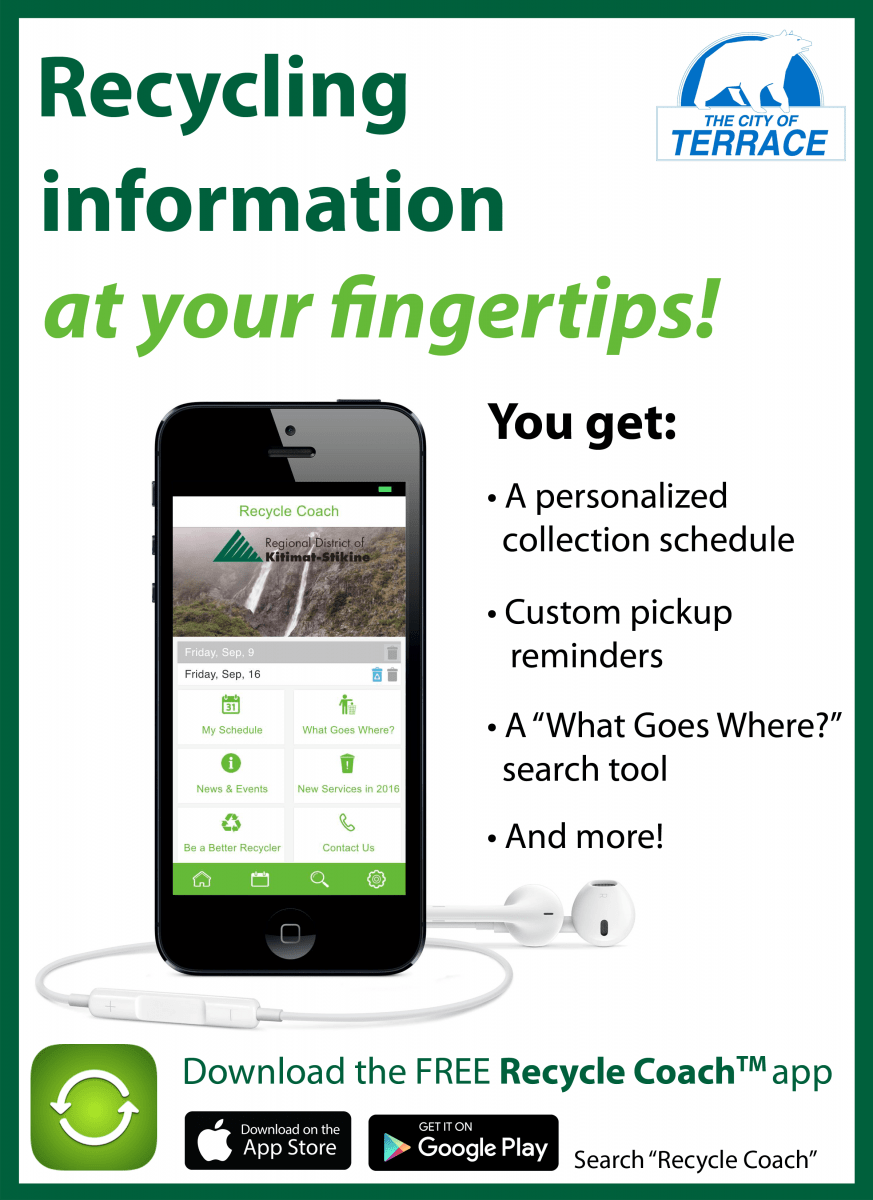 QUICK LINKS: 2022 Refuse and Recycling Collection Information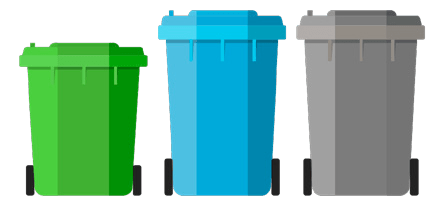 When is my refuse/recycling pickup day?
Use Recycle Coach to find your pickup day or check the Solid Waste Collection Route Map.
See Collection Schedule for a full 2022 calendar. Carts must be out by 8:00 am on your collection day. Carts must be at curbside, within 2 metres (6 feet) of the travelled portion of the road. Position cart with arrow pointing to centre of road with at least 1 metre of clearance around the cart.
There is no garbage or recycling collection on statutory holidays. The missed pickup day will be collected on the date indicated on the Collection Schedule. We will also send out reminders on social media.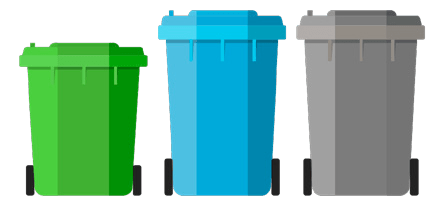 Curbside Refuse
One (1) cart per household every second week for residential garbage is being enforced. Should you have more refuse than will fit inside the City-issued cart, "garbage tags" can be purchased and attached to garbage bags. Each additional bag of garbage must have a City of Terrace Garbage Tag, plainly visible and securely attached, for it to be collected. These "Garbage Tags" are available for $2.00 each at City Hall or Public Works. The maximum weight of any additional tagged refuse is 22 kg (50 lb) per bag. Oversized or overweight items that will not fit in your cart or in a tagged garbage bag (microwaves, snow shovels, broken chairs, etc) will not be permitted and should be taken to the Thornhill Transfer Station for disposal. Check the RDKS website for more information.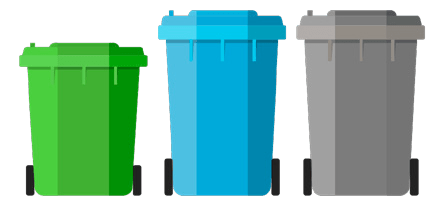 Curbside Recycling
Alternating weeks with garbage collection, the City of Terrace offers curbside recycling pickup. Materials for recycling should be placed loose (not bagged) inside the blue, City-issued recycling cart. Should you have more materials than will fit inside the cart, then the materials for recycling can be placed in a clear plastic bag at the curbside. Cardboard should be broken down and bundled no larger than 8" thick x 30" wide x 30" tall. There is no limit to the number of recycling bags that can be placed at curbside; however, the bags must be transparent. Please note that carts/bags containing unacceptable materials will be left at curbside.
What's accepted in curbside recycling?
Please see the Collection Schedule for common materials acceptable in the curbside recycling program. For other items, please check Recycle Coach.
Reminder: Glass cannot be accepted in the curbside recycling program. Read the Glass Recycling Fact Sheet & Update for details.
Reminder: Refundable beverage containers cannot be accepted in the curbside recycling program. Visit the Terrace Bottle Depot for drop-off.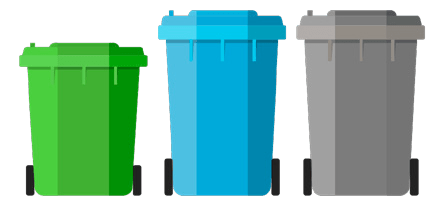 Curbside Organics
Organics collections will be picked up weekly on the same day as garbage and recycling collection. Acceptable materials can be placed in the green organics collection cart provided to residential customers by the City. Compostable bags are recommended to help keep the containers clean, reduce odour, and limit animal attraction—and please note that the only acceptable bags for compost bins are compostable ones.
Examples of acceptable items: vegetative matter, food processing waste, cooked or raw meat, fish, bones, garden waste, kitchen scraps and other organic wastes that can be composted, and includes food, tissues, paper towels, food soiled paper, waxed cardboard, leaves, grass, small twigs, chipped tree waste, tree branches less than 75 mm (3 inches) in diameter, and compostable structural wood waste.
Examples of items that are not acceptable: fecal matter, diapers, and plastics.
Do NOT place invasive plants in your curbside yard waste or green organics cart! Learn what to do with invasive species here.
Please see the Collection Schedule for a detailed list of materials acceptable in the organics collection. The Organics FAQ also lists common questions and answers.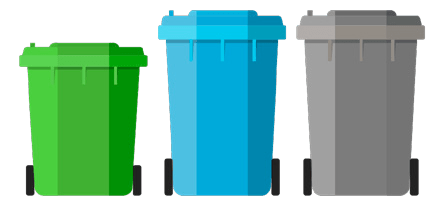 Curbside Yard Waste
Yard waste will be picked up only on Mondays (Spring to Fall). The first day in 2023 is April 17. The decision to start curbside collection of yard waste in April is our best prediction of when our winter maintenance activities will be completed—that's tasks like downtown sweeping, water valve maintenance, and downtown sewer cleaning. Once these tasks are checked off the list, our roads crew is brought back to the summer day shift, and yard waste pickup begins. With the staff resources we have available, we simply can't complete everything at once—even though good weather makes us all want to get outside for a spring cleanup right away!
Acceptable: leaves, lawn clippings, garden trimmings, flowers, weeds, and small branches less than 12 mm (1/2 inch) in diameter and less than 1 metre (3 feet) in length. 
Not Acceptable: organics such as cooked food, oil, meat, fish, bones, animal wastes, or any household refuse.
There is no bag limit on yard waste collection, but it must be in compostable paper bags for collection. Compostable paper bags are to be filled in such a way that they can be easily picked up by one person—maximum weight 22 kg (50 lb).
Do NOT place invasive plants in your curbside yard waste or green organics cart! Learn what to do with invasive species here.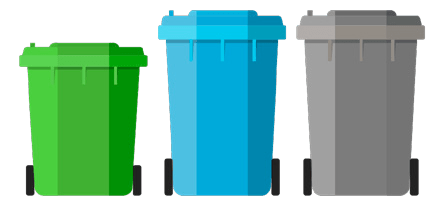 Depot Recycling in the Greater Terrace Area
Items that are not accepted in the curbside recycling program can often be returned to Extended Producer Responsibility (EPR) Depots, which are available locally to help you recycle.
Visit the Do Your Part Recycling Depot website
Learn about the Do Your Part Recycling Depot
Get a list of local EPR Depots and accepted items
Visit the Return-It website for information on the Terrace Bottle Depot
Contact Us
250-615-4019