FireSmart is a shared responsibility. It is about living in a fire-prone ecosystem and taking the necessary steps to protect your family, property, and community from wildfire.
Over time, FireSmart principles have shown that they are effective at reducing the risk related to losses in the most extreme wildfire conditions. With a few simple steps, you can contribute to increasing your property, neighbourhood, and community resiliency to wildfire.
---
Local FireSmart News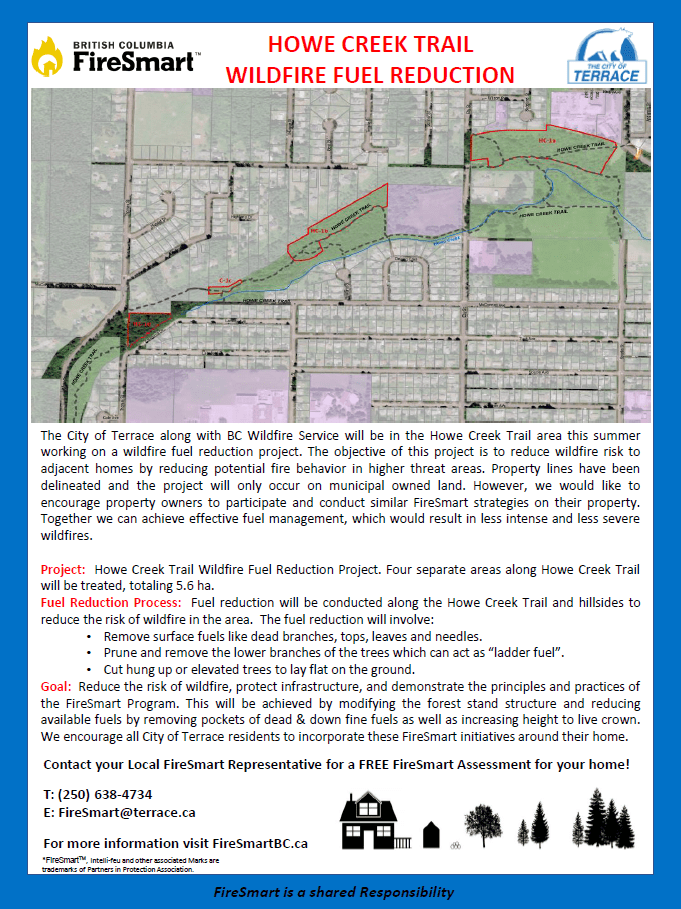 Upcoming Howe Creek Trail work starting soon: 
The City of Terrace and BC Wildfire Service are going to be hard at work this summer in the Howe Creek Trail area to help reduce the wildfire risk to adjacent homes. The project will only occur on municipal-owned land along the Howe Creek Trail and hillsides. No trails will be closed unless a danger tree needs to be felled, in which case only temporary, short-term closures will be necessary. 
Workers will:
Remove dead branches, leaves, and needles
Prune and remove lower branches on trees
Cut hung up or elevated trees to lay flat on the ground
Removing these hazards will help reduce the risk of wildfire, protect infrastructure, and demonstrate the principles and practices of the FireSmart program.
Like what you see? Residents like you are encouraged to incorporate these FireSmart initiatives around your home, as well. If you need some assistance, FREE FireSmart Assessments are available for homes in the area! Contact FireSmart@terrace.ca or call 250-638-4734.