Careers with the City of Terrace
Featured Opportunity: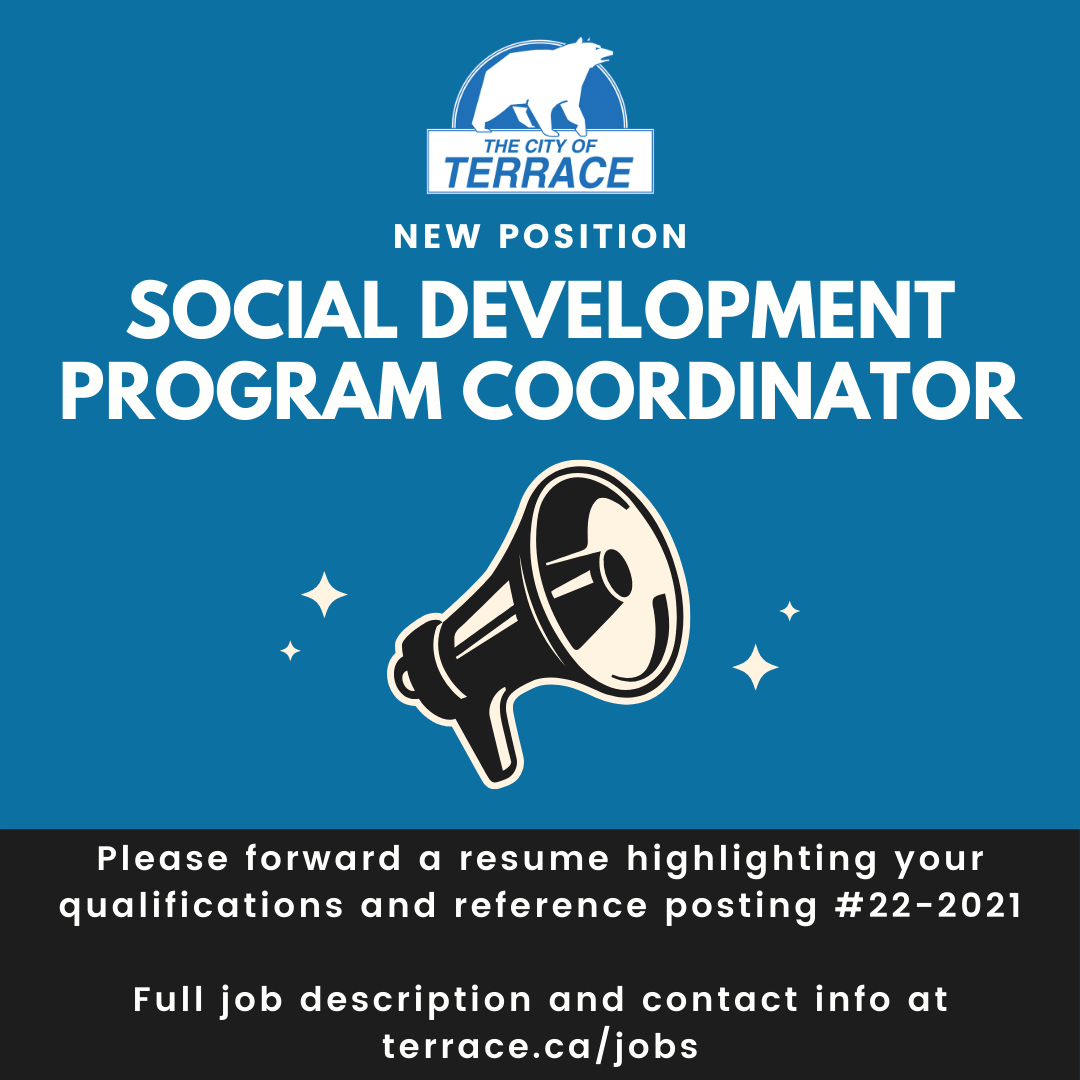 Social Development Program Coordinator – 3-year term with possible extension
The City of Terrace is looking for a Social Development Program Coordinator who is responsible for the coordination of policy development and implementation of activities to address priorities associated with social equity, community health and safety, and well-being in the City of Terrace. The Social Development Coordinator works collaboratively across City departments with other levels of government, first Nations, community-based organization, social agencies, and residents, including those who lived experience of mental health, addictions, and poverty.
Qualifications and experience include a degree in social policy, social work, community development, human geography, public health, urban planning, or related discipline with extensive and progressive experience at a professional level (minimum of 10 years' experience) and minimum 3 years' extensive and progressive experience in related discipline or an equivalent combination of education and experience. Follow the link below for a full list of qualifications.
This is an exempt position which offers an excellent benefits package. The salary for this position will be commensurate with qualifications and experience. The City of Terrace thanks all applicants for their interest but only those being considered for an interview will be contacted. This posting will remain open until a candidate has been selected.
If you are interested in joining our team, please forward a resume highlighting your qualifications referencing Posting #22-2021 to:
City of Terrace
3215 Eby Street
Terrace, BC V8G 2X8
Attention: Terri Williamson, Human Resources Manager
Phone: 250-638-4723  |  Fax: 250-638-4777
or email hr@terrace.ca
Explore other opportunities
---
Training
Looking to expand your skills? We also have training programs and courses available from time to time.
---
Volunteering
Want to share your time and expertise with us? We have volunteer opportunities available from time to time.
---
See what makes Terrace a place to belong
jobs, careers, employment