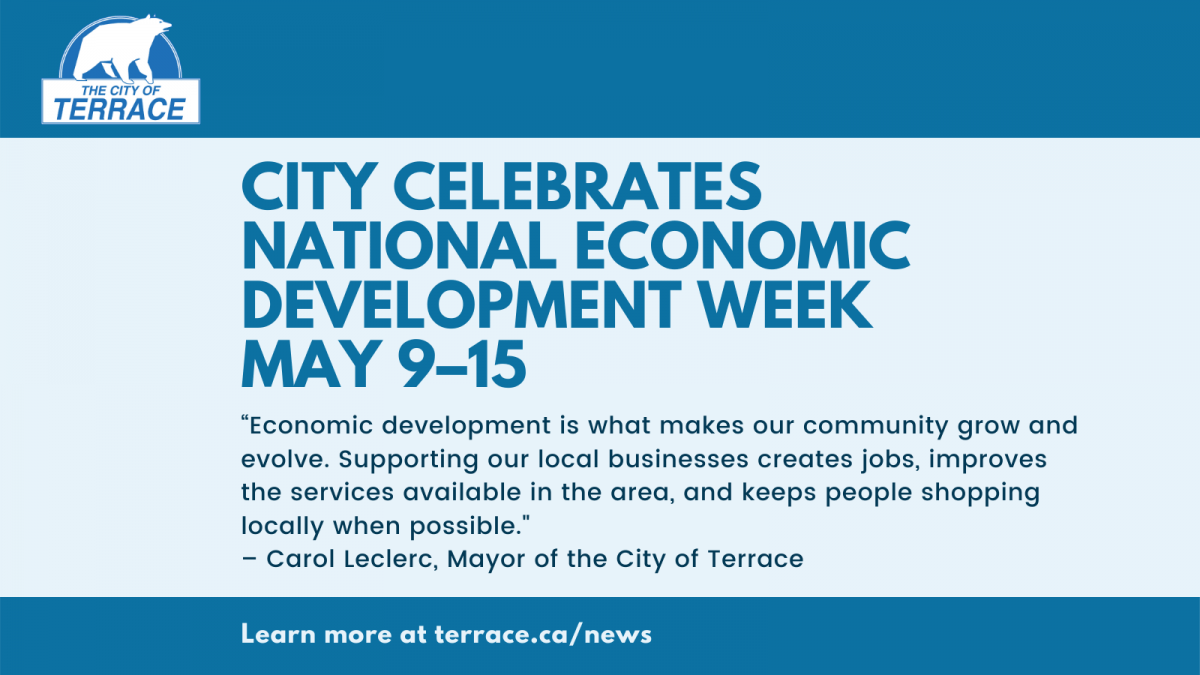 The City of Terrace is marking National Economic Development Week from May 9–15, 2021, to celebrate the contributions of positive economic development and explain the role of the profession.
Economic development is important for governments and organizations at all levels. Each level focuses on different objectives:
National: policies that government undertakes to meet broad economic objectives including inflation control, high employment, and sustainable growth.
Provincial: policies and programs to provide services such as building highways, managing parks, and providing medical access to the disadvantaged.
Local: policies and programs explicitly directed at improving the business climate through specific efforts, business finance, marketing, neighbourhood development, business retention and expansion, technology transfer, real estate development, and others.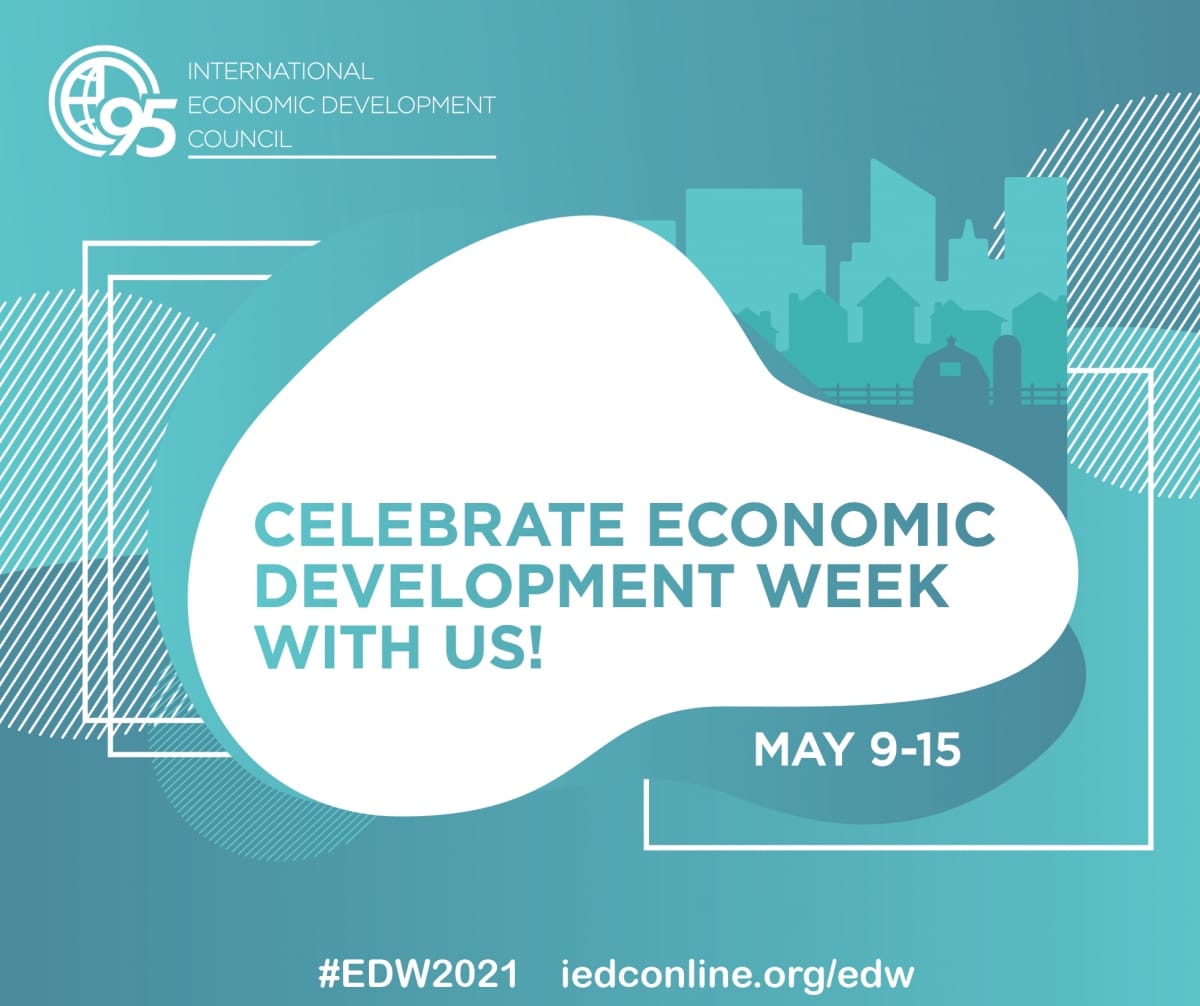 "Economic development is what makes our community grow and evolve. Supporting our local businesses creates jobs, improves the services available in the area, and keeps people shopping locally when possible. Last year was unprecedented in the challenges the pandemic created for our businesses, but the economic development leaders in our community responded quickly to form the Terrace & District Economic Response Team. It was inspiring to see the way everyone rallied to adapt to the ever-changing circumstances," said Carol Leclerc, Mayor of the City of Terrace.
Now in its sixth year, National Economic Development Week was created by the International Economic Development Council, the largest professional membership organization for economic developers, to recognize the unique role that economic development has in creating vibrant communities with strong economies.
Here at the City of Terrace, National Economic Development Week will be celebrated each day with an example of how economic development positively enhances the community, with features on local partners, business support agencies, and our own efforts to retain, expand, and attract businesses to contribute to the sustainability and vibrancy of our amazing community. Scroll down on this page for those stories starting on Monday!
"We have lots to celebrate this year. In 2020, we had to respond quickly to mitigate the effects of the COVID-19 pandemic. The Terrace & District Economic Response Team and our COVID-19 business recovery page were two ways we pulled together the various local, provincial, and federal business supports for the benefit of our business community. Our award-winning Shop Local Passport program gave people a fun incentive to support local businesses over the holiday season and was a huge success—it generated $330,000 in economic impact. It was incredible to see big wins during such a challenging time," said Deklan Corstanje, Economic Development Manager for the City of Terrace.  
To learn more about economic development in Terrace, visit terrace.ca/ecdev.
---
Economic Development Stories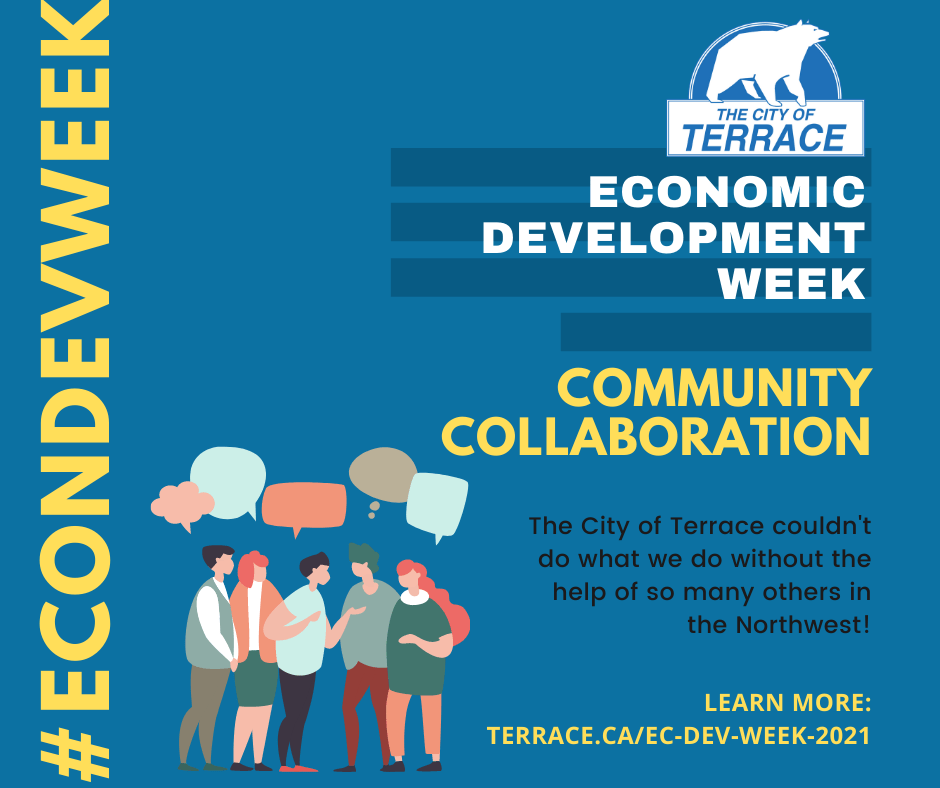 Monday, May 10: How we collaborate with others
Economic development assists in the development and implementation of projects, programs, and policies that assist with the stimulation of the local economy through business attraction, retention, and expansion. At the City of Terrace, we couldn't do this without the help of so many other groups in the Northwest.
Here are just a few examples:
Northern Development Initiative Trust: A non-profit corporation, NDIT is the catalyst to stimulate economic growth by investing in grassroots, community-led projects. NDIT also works with municipalities; for example, the City of Terrace's Grant Writing Support pilot program was administered with financial support from NDIT.
Love Northern BC: A supporter of local businesses across northern BC, Love Northern BC is the umbrella organization that includes our local Love Terrace, which saw a 30% increase in participating businesses in 2020.
Terrace & District Economic Response Team: Formed in response to the COVID-19 pandemic, the response team includes the Terrace and District Chamber of Commerce, Community Futures 16/37, Kermodei Tourism, and the Regional District of Kitimat-Stikine. On top of that, the TDERT hosted 8+ webinars featuring more than 25 agencies that came together to provide expert information on how to respond to the pandemic!
We are so grateful for all our partners in the northwest!
---
Tuesday, May 11: How we responded to the pandemic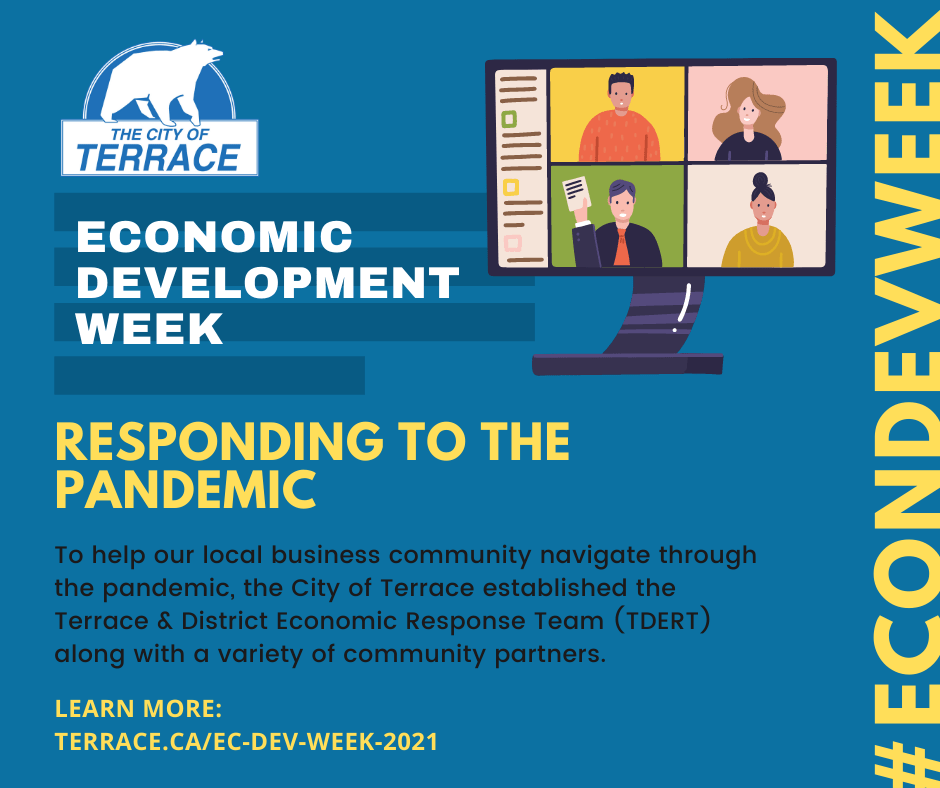 When the pandemic hit, businesses were faced with unprecedented challenges—and even now, more than a year later, COVID-19 continues to affect businesses of all types. No business is immune to the new challenges we are all facing.
On the federal, provincial, and community level, a variety of supports were established to assist businesses in these complicated times. To help our local business community navigate through and make use of these opportunities, the City of Terrace established the Terrace & District Economic Response Team (TDERT) along with a variety of community partners, including the Terrace and District Chamber of Commerce, Community Futures 16/37, Kermodei Tourism, and the Regional District of Kitimat-Stikine.
Throughout the pandemic, TDERT has conducted surveys to see what supports businesses needed, held webinars to help navigate challenges, and provided a database of resources to help businesses with staffing, financial supports, planning and pivoting, and communications.
Find COVID-19–related business resources at https: https://www.terrace.ca/covid19/biz
---
Wednesday, May 12: How we support businesses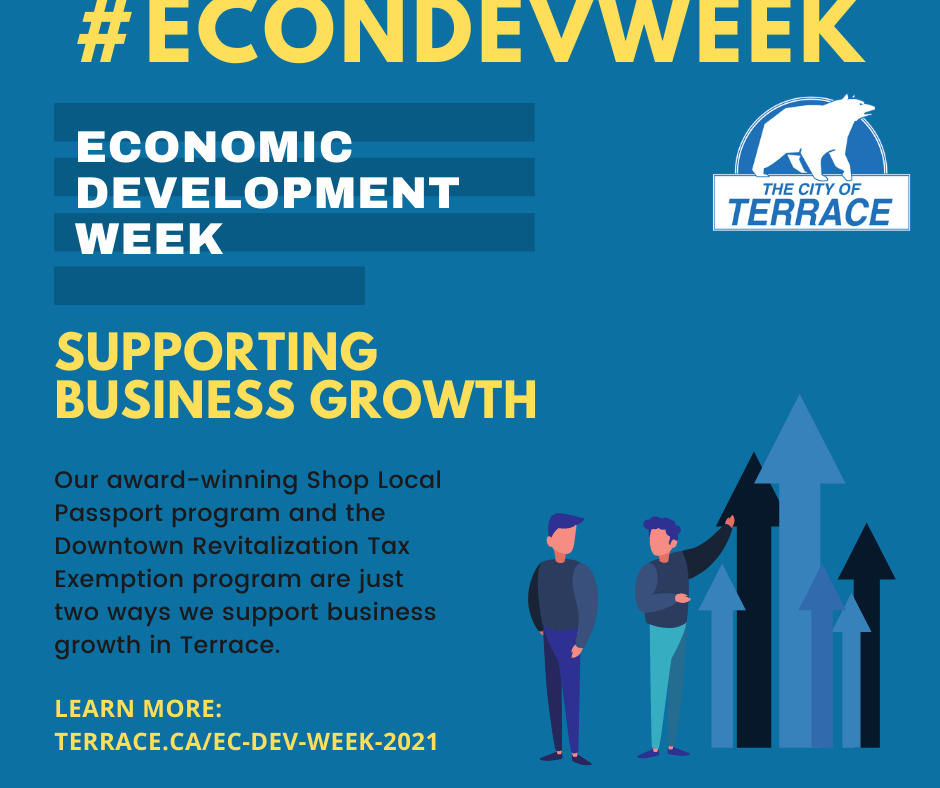 The City of Terrace provides a variety of programs that support business growth, like our award-winning Shop Local Passport program, which we held in the December 2020 holiday season. People could pick up a passport booklet and get stamps at local participating businesses as they shopped. Once participants had 10 stamps, they earned an entry into a draw. At the end of the event, thousands of dollars in prizes were given out to the lucky winners. The Shop Local Passport was created and sponsored by the City of Terrace, Terrace and District Chamber of Commerce, Community Futures 16/37, Kermodei Tourism, and the Regional District of Kitimat-Stikine—and their efforts paid off when the program received an Economic Recovery and Resiliency Award from the BC Economic Development Association. Way to go!
Another example is the Downtown Revitalization Tax Exemption (DTRE) program, which provides an incentive for new commercial and residential projects or significant re-development of existing buildings and property in our downtown. Eligible projects have received a 5-year tax exemption for all, or a portion, of the municipal property taxes following completion of works specified in a Development Permit and/or Building Permit. This program helps support ongoing redevelopment and revitalization of the downtown to secure the future economic and social health of the City of Terrace. It helps rejuvenate the downtown core, ensure success of the local economy, and help achieve Council's objectives related to downtown revitalization in the Official Community Plan and Downtown Plan.
Find the bylaw here: https://www.terrace.ca/city-hall/bylaws/downtown-revitalization-tax-exemption-program
---
Thursday, May 13: Looking toward the future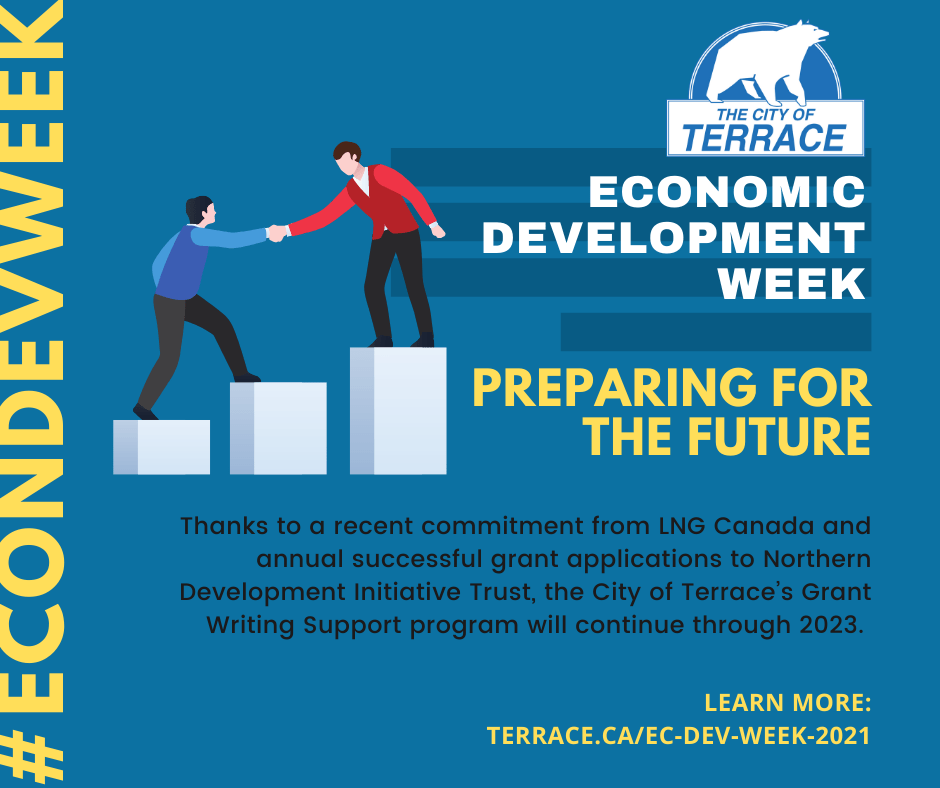 Today, it's all about the future! We are excited to announce that thanks to a recent commitment from LNG Canada and annual successful grant applications to Northern Development Initiative Trust, the City of Terrace's Grant Writing Support program will continue through 2023.
Started as a pilot program in 2020, it has provided the services of a professional grant writer to City staff and local community groups. It was administered throughout the year, with assistance from the Terrace Community Foundation and financial support from Northern Development Initiative Trust and LNG Canada. In addition to the City, 10 local non-profits were assisted, and grant applications totalled over $6.5 million in 2020.
We love that this program supports the City's grants for projects that benefit the community while also supporting other community groups' grants for projects that benefit the community. It's a win-win-win!
A new intake for local non-profit organizations has just opened and will close June 10. Head to our grants page to find the application forms and more information.
---
Friday, May 14: Making pandemic life better today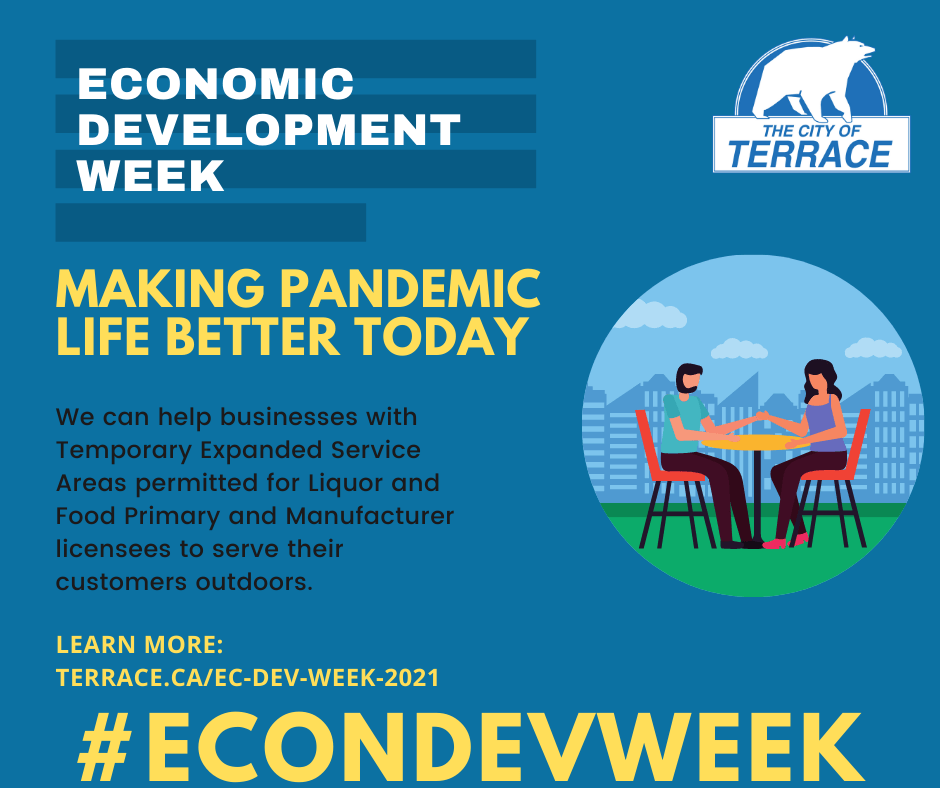 How can we make pandemic life better today? Well, one way the City can help our community is by assisting with the Temporary Expanded Service Areas (TESAs) permitted for Liquor and Food Primary and Manufacturer licensees to serve their customers.
All it takes is a basic site plan for a business to have a temporary short-term outdoor space until October 31, 2021. Businesses can also make it permanent by going through the regular approval processes.
This program helps more businesses operate despite the current PHO orders and helps our community enjoy visiting those businesses!
Check out the infographic for details (click to view PDF):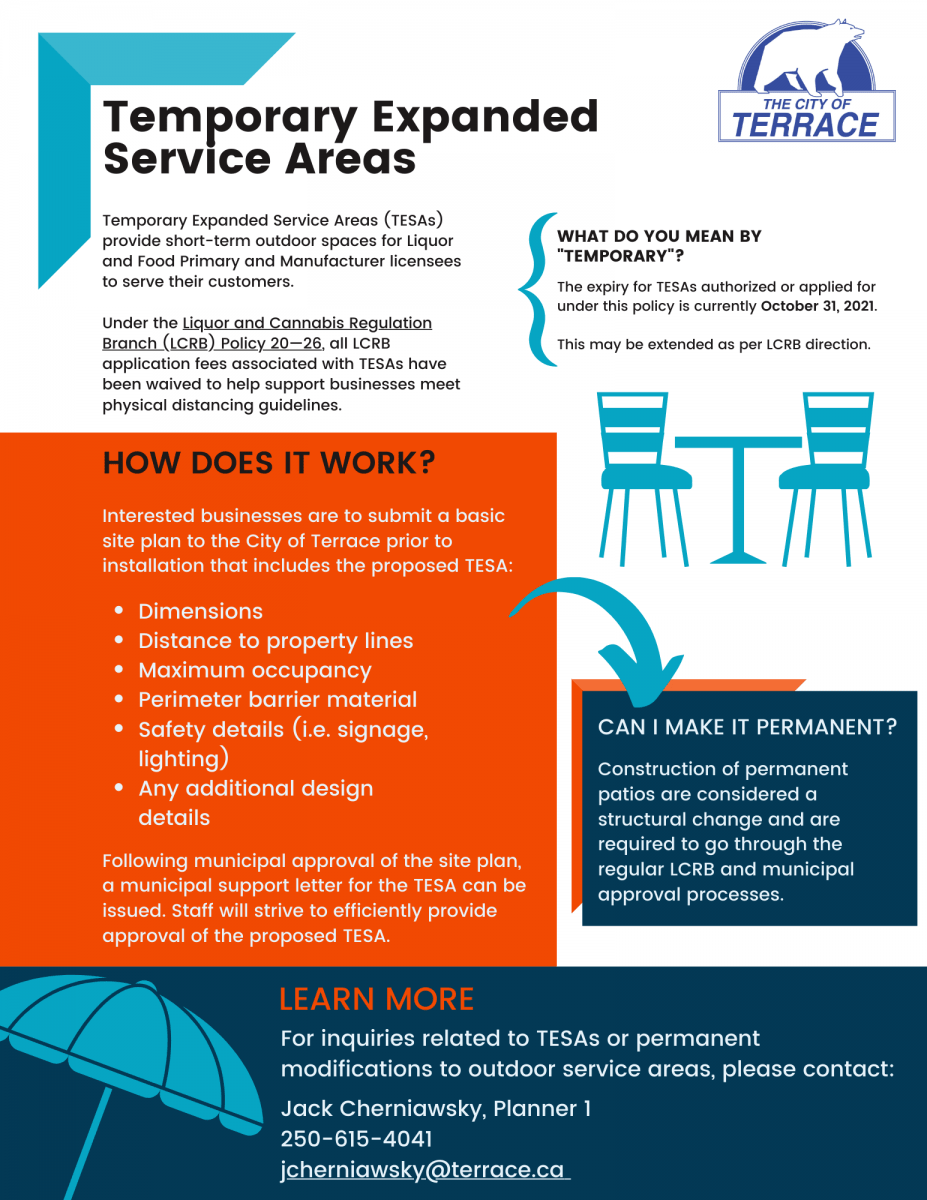 Need more info?
Reach out to jcherniawsky@terrace.ca or 250-615-4041
---
Thanks for celebrating Economic Development Week with us!