Update - October 8, 11:30 am: the agenda for the Committee of the Whole meeting on Friday, October 9, is now available and linked below.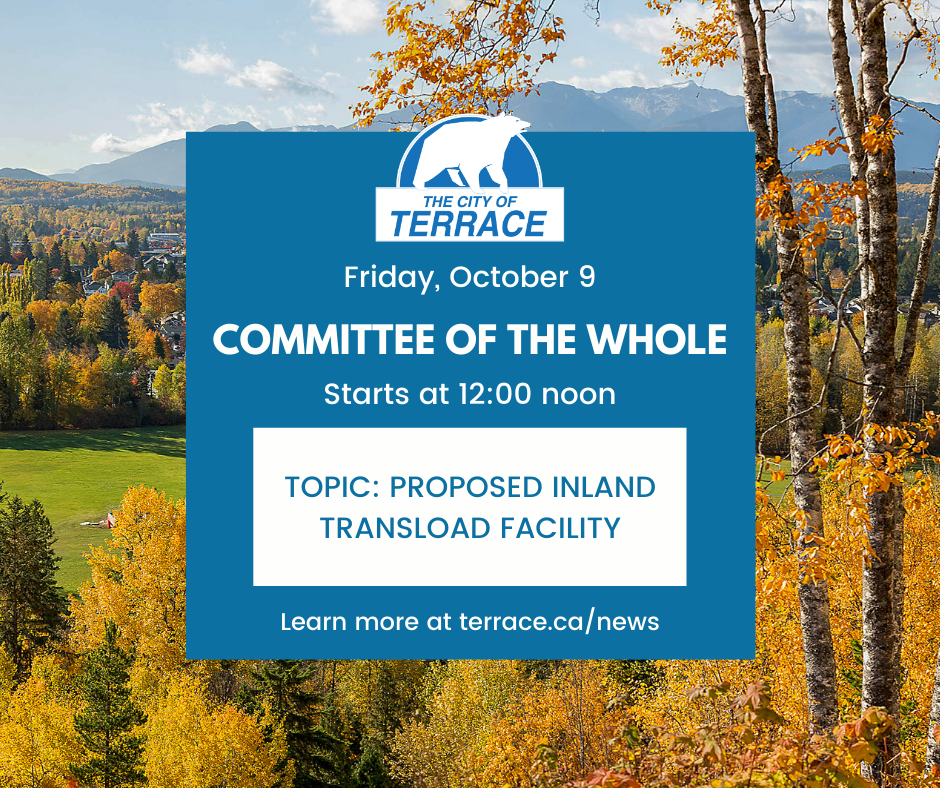 The City of Terrace will hold a Committee of the Whole meeting on Friday, October 9, at 12:00 noon, to provide Council with an update on the proposed NSD Inland Port and Developments project, a transload facility and mixed use commercial and light industrial service centre proposed by NSD Development Corporation (Progressive Ventures).
Proposed bylaw amendments related to this project first came before Council for First and Second Readings at the Regular Council Meeting on July 13, 2020. The amendments passed First and Second Readings, meaning Council agreed this discussion should move to the Public Hearing phase for further input from the community before any further Readings of the Bylaws or final decisions were made. This is the standard process followed when Council is considering Zoning or Official Community Plan (OCP) Bylaw amendments.
The Zoning Bylaw and OCP Bylaw amendments proposed for this project are significant, and Council has already received significant interest and public feedback on this project. Staff has determined a Committee of the Whole meeting will be a beneficial next step, as the proposed amendments are not ready for Public Hearing.
The Committee of the Whole meeting will provide:
An update and discussion on the proposed next steps in the bylaw amendment process, including a rough timeline;
An overview of opportunities for public input on this application as the formal process moves forward; and
Information related to the City-commissioned Terrace Transloading Facility Feasibility Study (released February 24, 2020).
View the Friday, October 9, Committee of the Whole meeting agenda now
Since Friday's meeting is not a Public Hearing, the City is not seeking public input at this stage. Committee of the Whole meetings allow Council to discuss a subject in a detailed, less formal manner than a regular Council meeting. Questions from the audience are permitted following Council's discussion, but there is no open floor for audience participation. The public may watch online or in person through our usual channels. Learn more about Committee of the Whole meetings on our City Council 101 page.
Following the Committee of the Whole on Friday, we will provide an update on the results of this meeting and post that information on our website and social media channels.