Feature
Emergency Services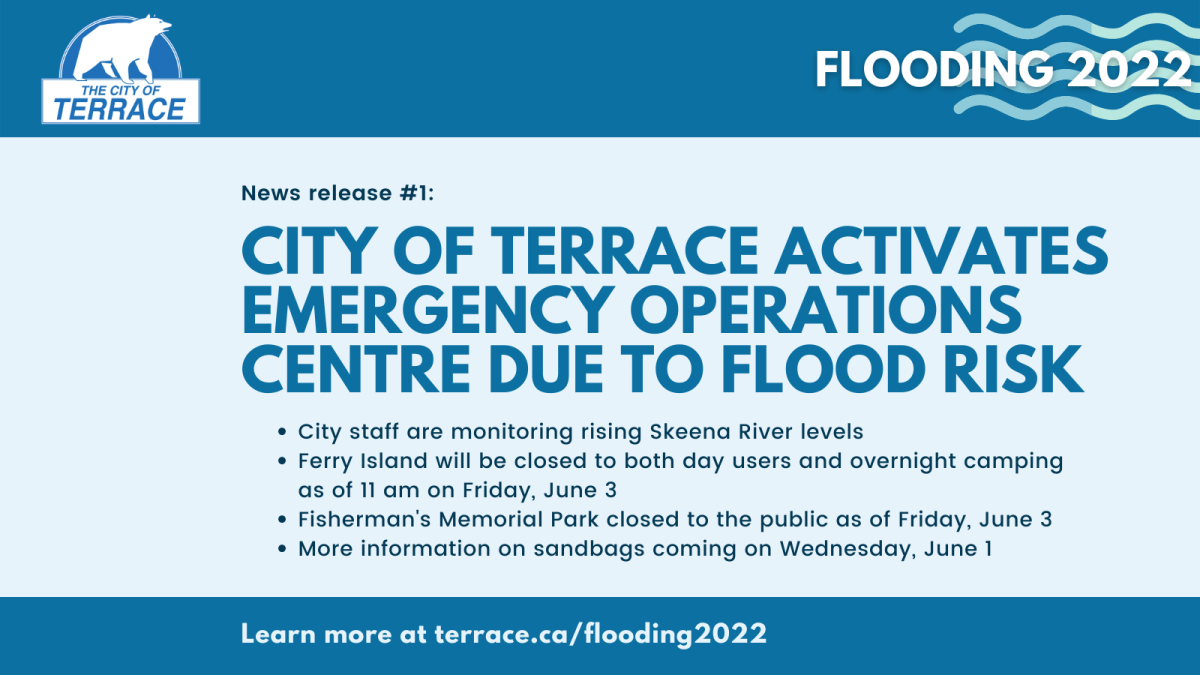 The City of Terrace has activated its Emergency Operations Centre (EOC) due to the current flood risk caused by rising Skeena River levels. City staff will be physically monitoring the areas of the community that are prone to flooding over the next several days. They are also watching the River Forecast Centre's CLEVER modelling, which currently shows water levels could potentially reach 100-year flows by Sunday, according to the latest data on the Skeena River at Usk.
Out of an abundance of caution and in anticipation of the projected rising water levels, Ferry Island will be closed to both day users and overnight camping as of 11 am on Friday, June 3, or sooner, if required. The campsite operator will be contacting those with weekend reservations directly. Fisherman's Memorial Park will also be closed to the public as of Friday, June 3, or sooner, depending on changing conditions.
It is important to note that opening the EOC does not mean a declaration of a local state of emergency; however, it does prepare the City in the event that one is required. The EOC is a group of staff dedicated to managing a potential emergency by prioritizing activities and allocating available resources, as well as communicating to the public, among other tasks.
The City is working on sandbag availability for residents of Terrace who may be affected by rising water levels. More information on acquiring sandbags will be available on Wednesday, June 1.
Members of the public are strongly reminded not to drive through areas near the river that may be experiencing rising waters nearby if they are not residents of the area. If there is an emergency, crews need to be able to access the area and additional unnecessary traffic will hamper their ability to do so. A rising river is very dangerous—please stay safe and do not approach the riverbank.
All information, updates, and resources will be provided at https://www.terrace.ca/flooding2022 and shared through the City's Facebook and Twitter accounts. Our next update will be on June 1.