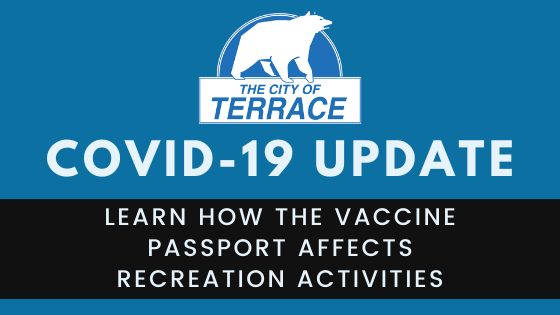 UPDATED SEPTEMBER 14: Thank you to everyone who has inquired about the Vaccine Card and its impact on our recreation activities at the City of Terrace. We are taking direction from the BC Recreation and Parks Association and the provincial government, and as best practices emerge, some refinement of the orders will be needed to ensure we are consistent with other communities across the province. We have made slight adjustments to the wording below to improve clarity.
An updated Public Health Order (PHO) related to Gatherings & Events was released on Saturday, September 11. 
This PHO gives direction on the requirement for the BC Vaccine Card ("Vax passport") in City of Terrace recreation facilities. 
As we have throughout the COVID-19 pandemic, the City continues to follow the direction of the Provincial Health Officer and Northern Health. Implementing the BC Vaccine Card is required to comply with legislation.
Starting Monday, September 13, the City of Terrace will be requiring proof of vaccination (i.e. first shot received) with the BC Vaccine Card for certain discretionary activities in our Sportsplex, arenas, and Terrace & District Aquatic Centre.
Please note: We do not currently have the ability to scan QR codes. For the time being, we will rely on visual confirmation of Vaccine Cards (or vaccination records and personal ID). We expect we will have the scanning ability early this week.
Age Groups
Adults: 22 years or older
Children and youth: 21 years or younger
A note about the difference between regulations for ages 12+ and ages 22+: When speaking about sport and recreation for youth, youth is defined as 21 and under. The Vaccine Card is NOT required for youth activities. However, when speaking about organized events (with 50+ people), which have mixed attendance, the Vaccine Card applies to those 12+.
How will this affect your activities at City of Terrace facilities?
Proof of Vaccination is not needed for:
Children and youth activities of any kind aimed at those under 22 years, as well as those directly supporting youth sport (coaches, volunteers, parents attending to children)

Examples: ringette, most public skating, dance classes being held in our facilities 

General pool use (applies to all ages)

Examples: public swims, aquafit, length swims, leisure swims, etc.

Most public skating (applies to all ages)

Public Skate, Parent & Tot, Sticks & Pucks

Services to those in need (applies to all ages) 

Example: warming/cooling centres in our recreation facilities
Any and all outdoor recreation (applies to all ages)

Example: Outdoor basketball courts
Proof of Vaccination is required for: 
An organized event of more than 50 people (Vaccine Card required for ages 12+) 

Examples: Weddings held at Sportsplex banquet room, River Kings game, swim meet held at pool

Any physical activity that adults 22+ do in our facilities (Vaccine Card required for ages 22+)

Examples: Gym use (at Terrace & District Aquatic Centre), adult drop-in hockey, adult volleyball, adult pickleball, fitness classes at Sportsplex
Important reminders
The details in the PHO have changed since the news of the BC Vaccine Card was first released. 
Municipalities, including ours, are working hard to interpret the orders and implement the changes, but we ask for patience as we fully implement procedures at our facilities.
We will continue directly communicating with our organized sport groups and facility user groups so they can be fully prepared for what this means for their specific activities. 
Learn more
If you have questions about how this public health order may affect an activity you or your family participates in, please contact us: 
250-615-3000