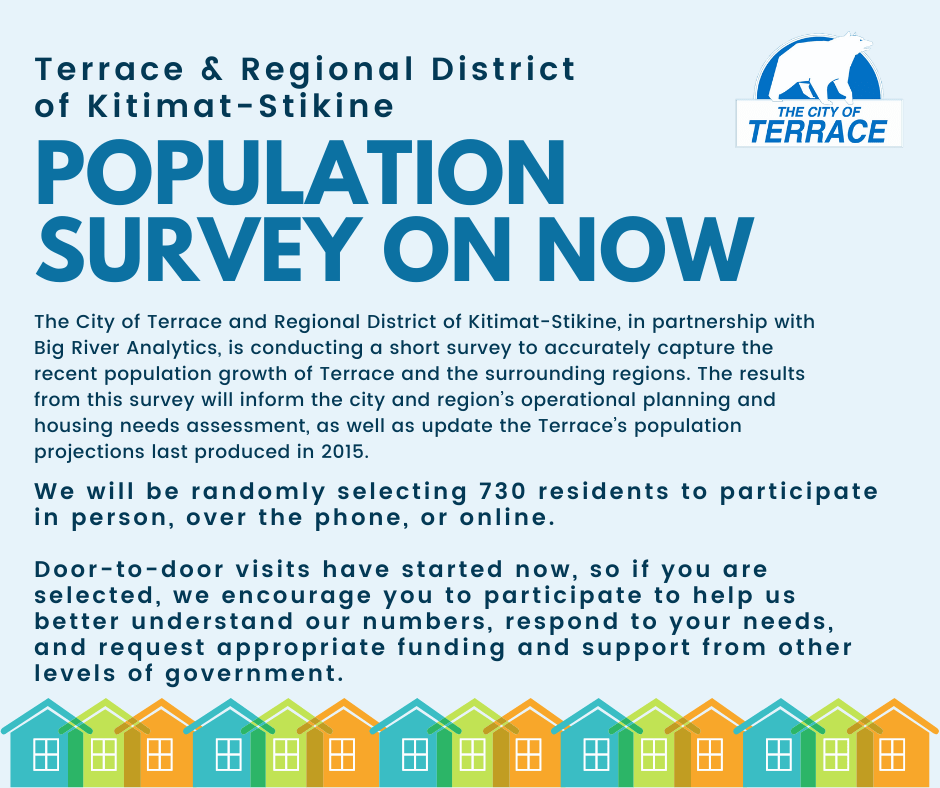 The City of Terrace and Regional District of Kitimat-Stikine (RDKS), in partnership with Big River Analytics, is conducting a short survey to accurately capture the recent population growth of Terrace and the surrounding regions, specifically Electoral Areas C and E. The results from this survey will inform the city and region's operational planning and housing needs assessment, as well as update the Terrace's population projections that were last produced in 2015.
We will be randomly selecting 730 residents to participate in person, over the phone, or online. All information is confidential and no individual data or identifiable data will be reported as results will be grouped by location.
To ensure the safety of all in-person survey participants, we are abiding by the BCCDC and Northern Health Authority recommendations and procedures with regard to COVID-19. Enumerators will be wearing masks and will have sanitizer. They will respect physical distancing and remain a minimum of 6 ft away from the survey participant. If you are selected and are uncomfortable with the in-person survey, you will have the opportunity to take the survey online or over the phone.
In addition, door-to-door surveying will not be conducted in vulnerable communities such as First Nations communities, long-term care facilities, or assisted living facilities. These communities will be contacted through a housing authority and have the opportunity to participate online or over the phone.
Door-to-door visits have started now, so if you are selected, we encourage you to participate to help us better understand our numbers, respond to your needs, and request appropriate funding and support from other levels of government.