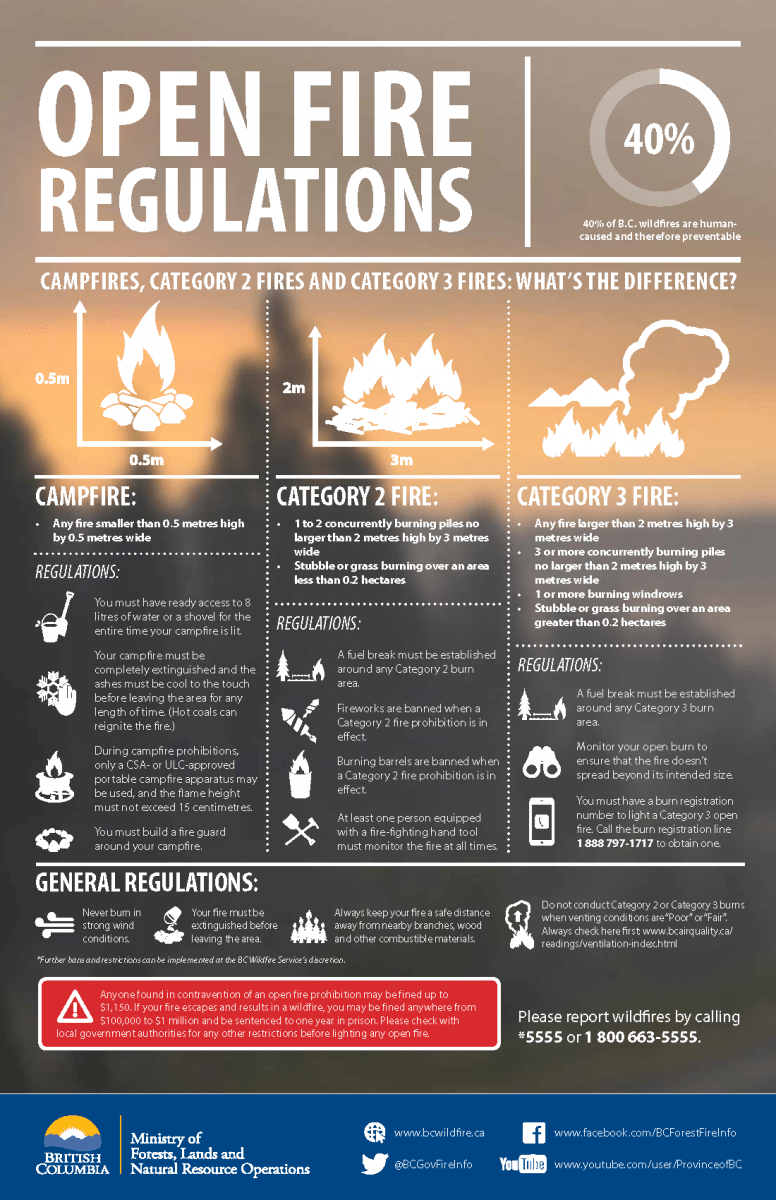 Effective at noon on Thursday, April 16, 2020, most open burning activities are prohibited throughout British Columbia to reduce the likelihood of human-caused wildfires.
These prohibitions apply to all public and private land within British Columbia (unless specified otherwise by a local government bylaw) and affect the following activities:
Category 2 open fires;
Category 3 open fires;
Resource Management open fires;
the use of fireworks;
the use of sky lanterns; and
the use of burn barrels or burn cages of any size or description (except when used for a campfire).
How does this work with our existing bylaws? In the Terrace city limits, yard waste burning is not permitted at any time, so these provincial regulations bolster our existing regulations. Fire pits in the backyard are for the purpose of cooking food only and must be contained within a non-combustible receptacle made of cement, brick, or metal, and no more than 3 feet in diameter. Only cut, seasoned wood or charcoal is to be burned. Small propane fire pits are also permitted. Please be considerate of neighbours and do not light fires if weather conditions could cause smoke to be a nuisance to others. See https://www.terrace.ca/fire for more information on backyard burning in Terrace.
For more information on these province-wide prohibitions, please review the graphic shown here (click on it for a larger version) or view the Information Bulletin: http://bcfireinfo.for.gov.bc.ca/hprScripts/WildfireNews/DisplayArticle.asp?ID=3183&fbclid=IwAR1fh5ZWvHdsKlpF_RBvUAymBbEw7cenNwAo5ftKtMXgvneOCLeVXqul2zo
Questions? Contact the Terrace Fire Department at 250-638-4734.