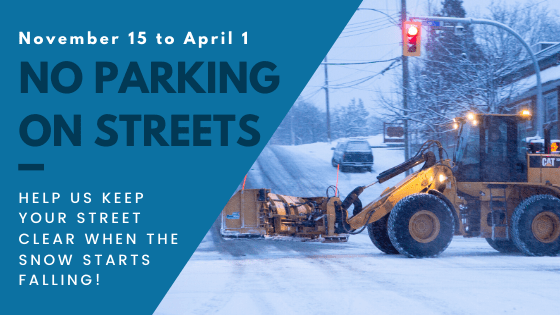 Under Street and Traffic Bylaw No. 1313-1993, every street, boulevard, alley and high­way in the City of Terrace is designated as a snow removal route, and parking on them is prohibited during the winter months, from November 15 to April 1.
Any vehicle that impedes snow removal and/or road mainten­ance work on any snow removal route may be towed. Plowing in residential areas can occur at any time of the day or night. Snow clearing operations in the downtown area are typically carried out between 10:00 pm and 6:00 am.
In addition, it is illegal for anyone to place ice or snow from any private property, parking lot, or entrance way on to City right-of-way as it impedes traffic, creates drainage problems, buries fire hydrants, and interferes with routine snow plowing. Under this bylaw, you may be fined for doing so.
Thank you in advance for your cooperation.
Learn more
To learn more about our snow removal bylaws, our snow removal financial assistance program, and more, see our Snow Removal page.