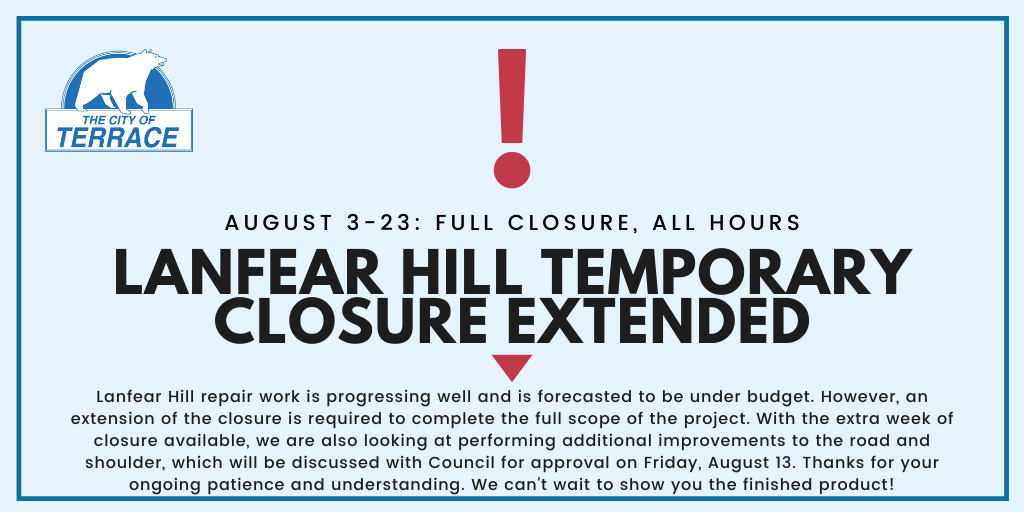 What's the latest on Lanfear Hill?
Lanfear Hill has been closed to all traffic since August 3, and the repair work is progressing well. We have been using City crews to perform these repairs, which has resulted in significant cost savings. The result: we have forecasted to be under budget after the repairs are completed. However, an extension of our current Lanfear Hill closure to August 23 (instead of August 15) will be required to complete the full scope of this project.
During this additional week of construction, the City will also be contemplating the opportunity to perform additional improvements to the road and shoulder. A Special Council Meeting is scheduled for this Friday, August 13, at 12 noon for Council to consider this. Their approval is required because these additional improvements were not listed in the original project scope. Tune in to the meeting on Friday to hear more about these updates! Learn more about the meeting here.
Our goal is to utilize this closure to complete as many repairs and improvements as possible to limit the need for closures and resulting disruptions to the public in the future. Thanks for your patience and understanding. We can't wait to show you the finished product.