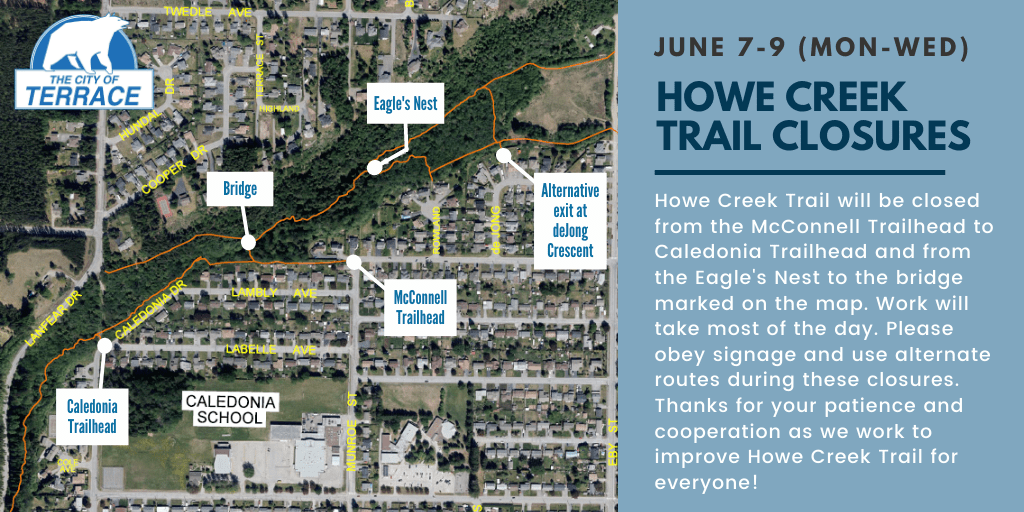 ALERT: Howe Creek Trail closures next week
We're working hard to improve Howe Creek Trail! From Monday, June 7, to Wednesday, June 9, Howe Creek Trail will be closed from the McConnell Trailhead to the Caledonia Trailhead and from the Eagle's Nest to the bridge marked on the map. Since these routes are frequently used by students, contractors will be working hard to finish the day's work before school lets out. However, portions of the trails will be closed for most of the day on each of these three days.
Please obey signs and use alternate routes during these closures. Signage will be posted at the top of Lanfear Hill and along the trail to let users know that works are in progress. An alternative routing for those that use Howe Creek to access schools is to go past the bridge and exit out at deJong and loop back to the schools.
A notice will be posted if work is completed early. Thanks for your patience and cooperation as we work to improve Howe Creek Trail for everyone!