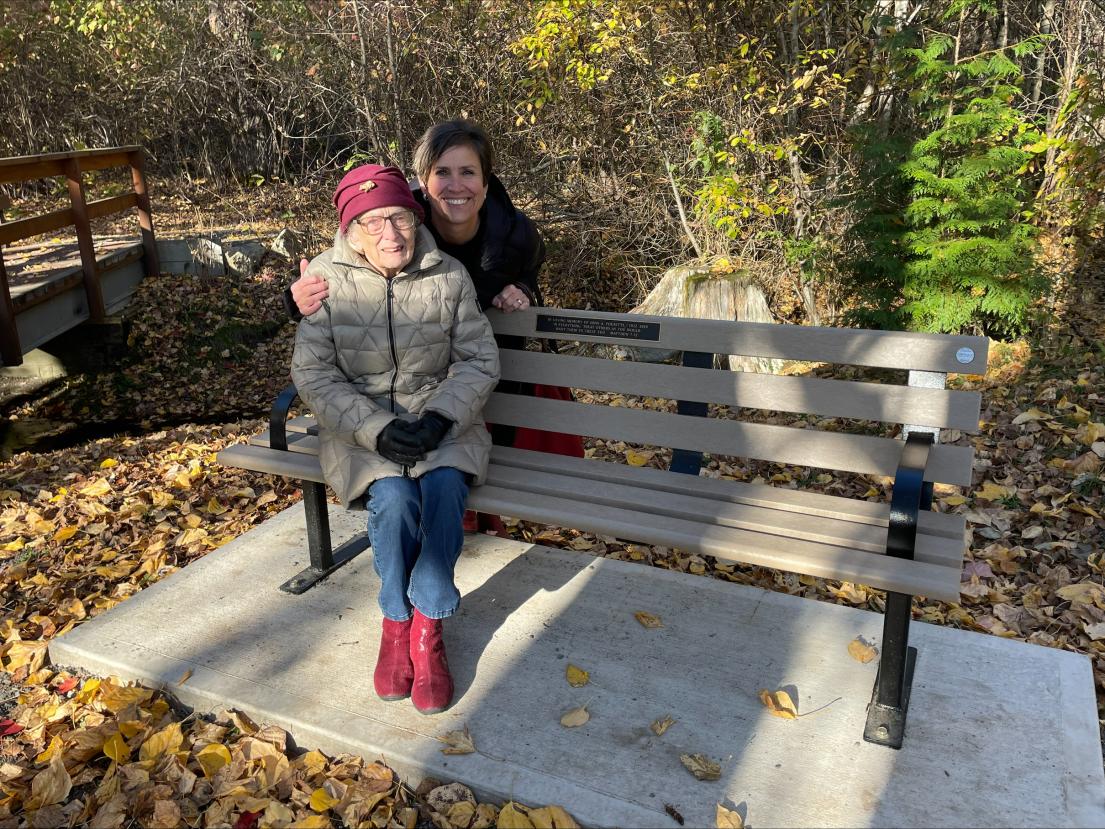 Development Services
Feature
On October 14, 2023, the City of Terrace finalized and recognized a generous land donation from the Pousette family by holding a brief event at a new memorial bench placed in John Pousette's honour. The land donation was for a parcel on the escarpment slope between Skeenaview Drive and Howe Creek. The memorial bench is located on the Howe Creek Trail, next to Parkside School at the northwest corner of Christie Park.
The reason the family owned this unusual piece of land is part of the story of John Pousette and his family's rich ties to the Terrace community.
John Pousette grew up in Blind River, in northern Ontario. He was a WWII veteran who served with the 48th Highlanders. After graduating from UBC with a law degree, he articled as a lawyer in Prince Rupert. John's wife, Evelyn, also attended UBC. After graduating, she worked as a schoolteacher in Prince Rupert, where she and John met.
In 1954, the Pousettes moved to Kitimat where John worked for Alcan as their corporate lawyer. The land the family has donated to the City was a 3.5-acre property encompassing mainly a steep slope. John bought the land while still living in Kitimat so he could vote in Terrace municipal elections, as he had to own property in the community to do so.
The family (John, Evelyn, and their three children) moved to Terrace in 1962 where John first worked for the Murdoch (Doc) Robertson law firm before becoming the administrator for the municipality of Terrace. When the Regional District of Kitimat-Stikine was created in 1968/69, John became its first administrator and worked there until he retired. Evelyn worked for many years as a schoolteacher and librarian in Terrace.
On this sunny October day, City of Terrace staff accompanied Evelyn, now 93, and her daughter Ruth on a walk to the memorial bench. Evelyn was touched by the tribute to her late husband, who passed away in 2018.
The City of Terrace thanks the Pousette family for their contributions to the community, including this land donation. Please enjoy the bench the next time you're walking Howe Creek Trail!