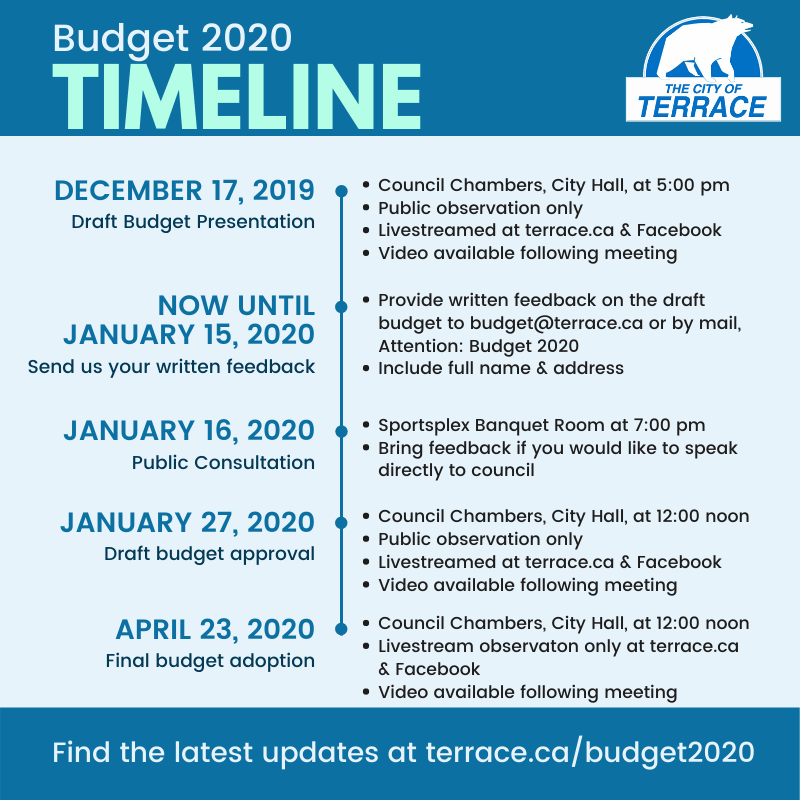 Our final 2020 budget meeting is scheduled for 12:00 noon this Thursday, April 23. City staff have been reviewing the 2020 provisional budget to adjust for losses in revenue as well as provide reductions to both our operational and capital ​budgets to provide relief where we can in the face of the new reality created by the COVID-19 pandemic​. Council has a lot to consider given the global changes that have occurred since we first announced our budget 2020 plans last December. They will be reviewing the budget with staff for finalization and approval.
Join us to hear all the details:
Thursday, April 23
12:00 noon
Livestream only
If you've Liked our Facebook page, you'll be notified that we're live. Prefer to watch on the website? Visit https://www.terrace.ca/city-hall/council-webcasts for the livestream. You can also use that link to find the video later on (usually posted within 48 hours of a meeting).
We hope you'll tune in, and if you can't make it, we'll be sharing the final budget details on our Facebook page and website following the meeting.