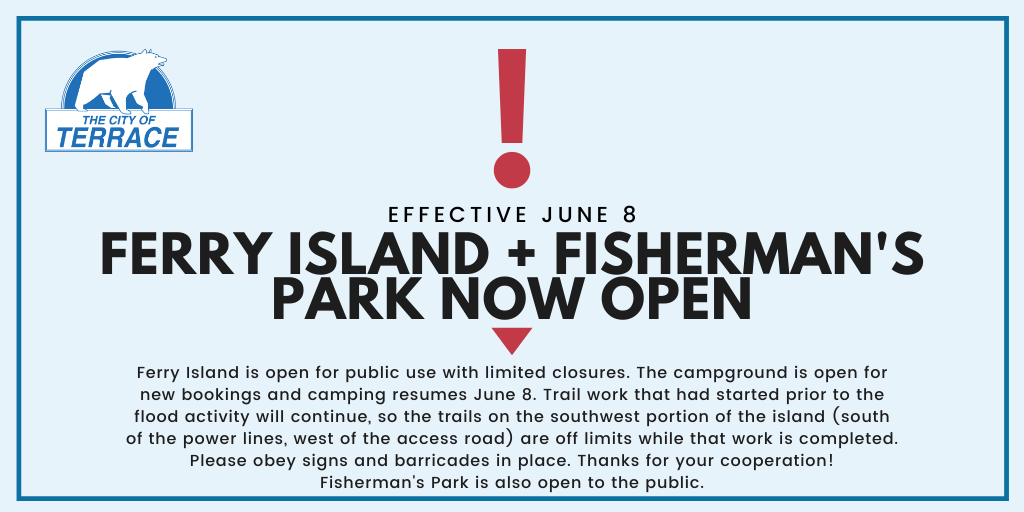 UPDATES for FERRY ISLAND and FISHERMAN'S PARK
Ferry Island
The water has now receded, and we are pleased to announce there was limited damage to the trail network on Ferry Island. Crews are working hard to clear remaining debris.
The campground will be open for new bookings and camping is back open starting today, Tuesday, June 8. To book a campsite, head to the Ferry Island page.
Due to the limited damage, and ongoing trail improvement work that started prior to the flood activity, there will be limited trail access for a two-week period. Specifically, the trails on the southwest portion of the Island (south of the power lines, west of the access road) are off limits.
Closed sections of trail will be clearly marked with signs and barricades. Thanks for your cooperation!
---
Fisherman's Park
Fisherman's Park is open to the public effective Tuesday, June 8.
The flood waters deposited a large amount of sand, but the park is safe to visit.
---
Thanks for your patience while we assessed these recently flooded areas!