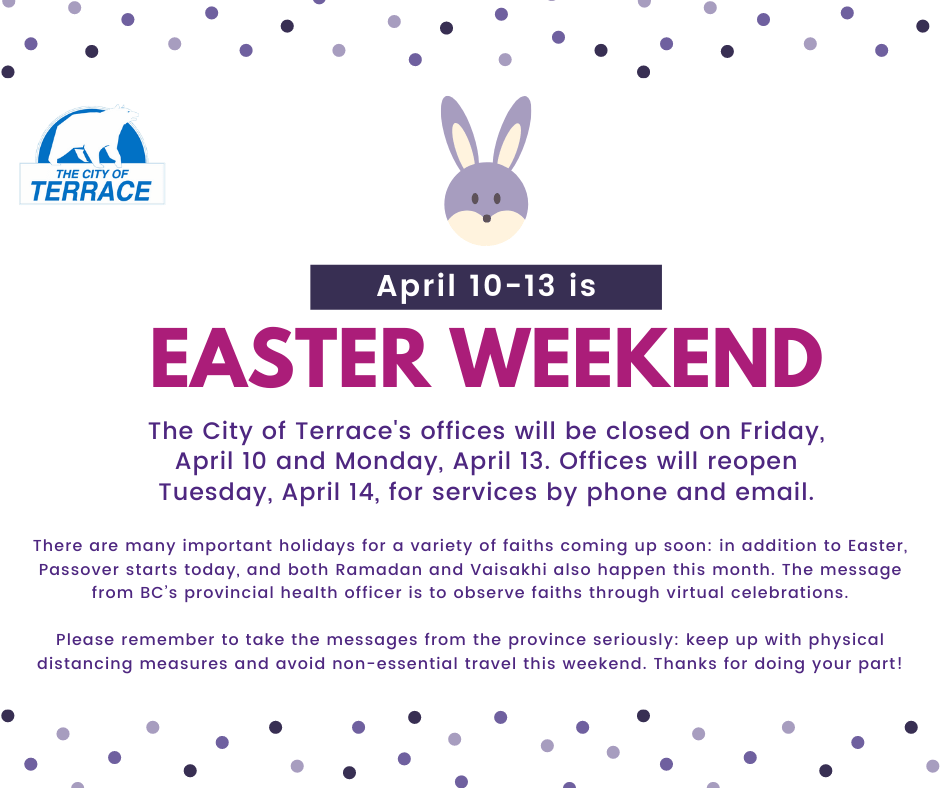 Please note the City of Terrace offices will be closed for the Easter weekend, so staff will not be accessible by phone or email from April 10–13.
There are many important holidays for a variety of faiths coming up soon: in addition to Easter, Passover starts today, and both Ramadan and Vaisakhi also happen this month. The message from BC's provincial health officer, Dr. Bonnie Henry, is to observe faiths through virtual celebrations. "Please, now is the time to pay attention to our seniors and our elders," Henry said during Tuesday's press conference. "We protect them by connecting safely from a distance."
The Province is also advising people that now is not the time to travel to seasonal cabins or vacation homes. Health Minister Adrian Dix says, "Let's bend the curve, not bend the rules this weekend."
We've also heard the World Health Organization has deemed the Easter Bunny an essential service and since he is not a COVID-19 carrier, he is cleared to deliver Easter eggs as usual this year.
Please stay safe and enjoy virtual time with family and friends this weekend and on all upcoming holidays!
GARBAGE AND ORGANICS PICKUP
Due to the Good Friday holiday, if your regular garbage and organics pickup day is FRIDAYS, your pickup this week is tomorrow—THURSDAY, April 9.
In addition, due to the Easter Monday holiday, yard waste will not be picked up on Monday, April 13, but will instead be collected throughout the week. Please put yard waste bags out on Tuesday morning.
*Please note! Our refuse truck operators will be very busy tomorrow. Pickup times are likely to vary, so be sure to have your refuse at the curb by 8:00 am.
Thank you in advance for your cooperation!