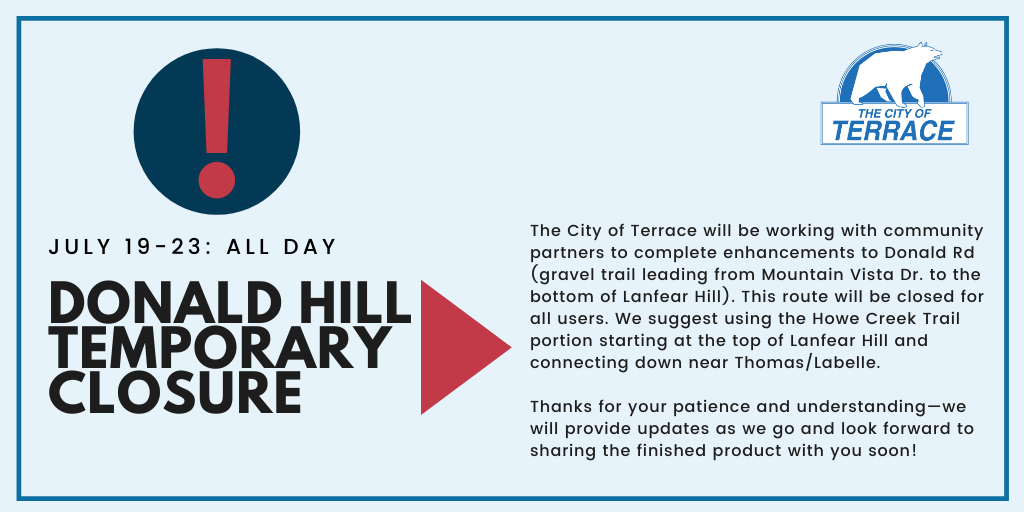 ALERT: Donald Road Temporary Closure
Beginning on Monday, July 19, the City of Terrace will be working with community partners to complete enhancements to Donald Road, also known as the trail leading from Mountain Vista Drive to the bottom of Lanfear Hill. We anticipate the work will be complete by Friday, July 23. 
During this time, Donald Road will be closed for all users. We will provide regular updates on our progress, with the intention of being able to open up access to this route in the evenings for the last half of the week.
We realize this work will create an inconvenience for those that use Donald Road, but we will be providing a safer, more easily accessible route connecting the Horseshoe to the Bench once the project is complete.
Looking for an alternative route during this closure? We suggest using the Howe Creek Trail portion starting at the top of Lanfear Hill and connecting down near Thomas St/Labelle Ave.
Thanks for your patience and understanding—we look forward to sharing the finished product with you soon!