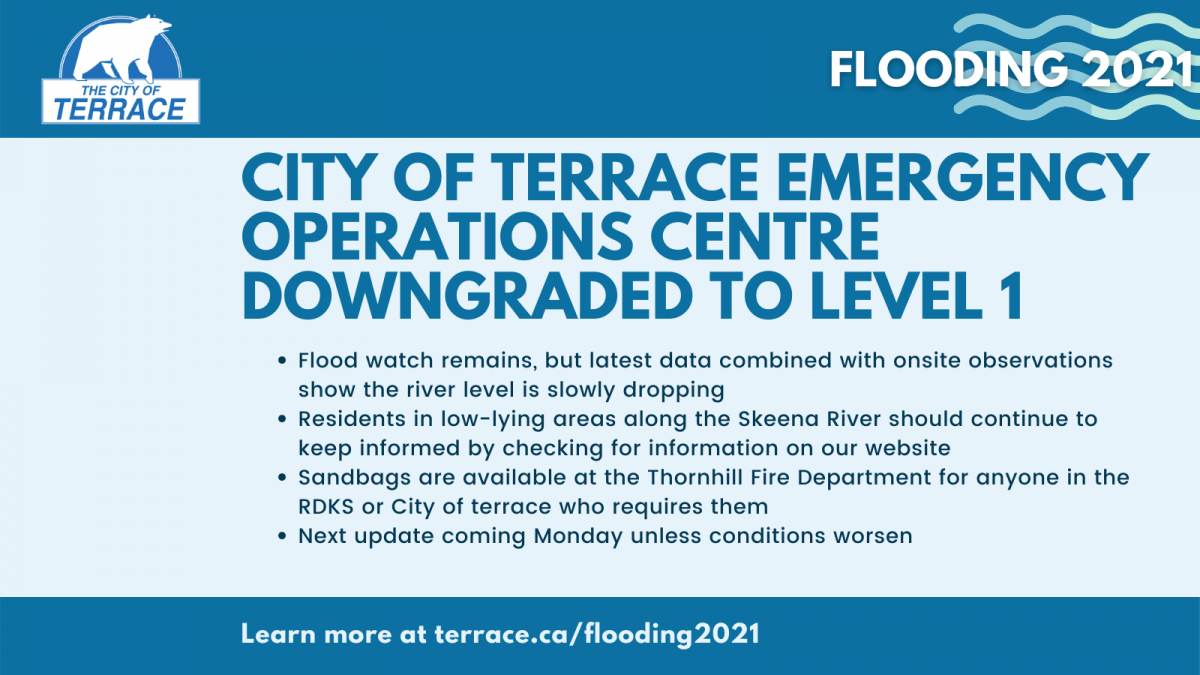 The City of Terrace has downgraded its Emergency Operations Centre (EOC) to Level 1, reduced from Level 2 operations in effect yesterday. The EOC is monitoring conditions along the Skeena River and will continue to do so over the weekend.
In addition, the River Forecast Centre has updated its Flood Watch, after the river peaked at a 10-year return period early this morning and is slowly dropping now. "Based on the current hydrological modelling, the rivers are expected to drop further today into the weekend, even though minor rises could be possible," the River Forecast Centre indicates.
City of Terrace residents who live in the low-lying areas along the Skeena River—those on lower Skeena Street in particular—should continue to keep informed by checking for information on the City's website in the event that anything changes. Residents of the Regional District of Kitimat-Stikine, including Braun's Island, should check for information on the RDKS website.
Should any RDKS and City of Terrace residents require sandbags, these are available at the Thornhill Volunteer Fire Department, located at 3128 Hwy 16 East.
The City will provide an update over the weekend if conditions worsen again; otherwise, we will provide our next update on Monday, June 7.
Members of the public can get more information from the City of Terrace through the following channels: