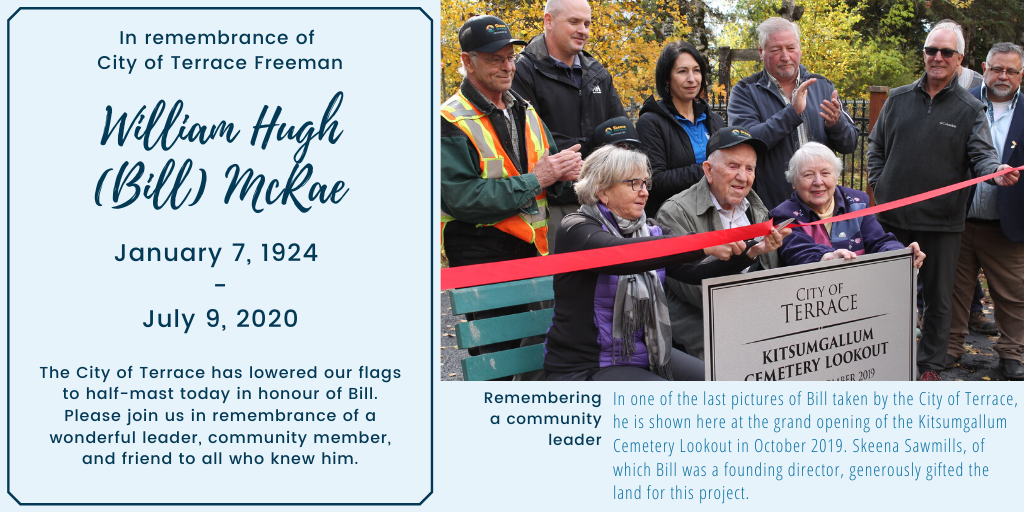 It is with heavy hearts that we announce that City Freeman Bill McRae passed away peacefully at Mills Memorial Hospital last night, July 9. Bill was 96 years old.
Born January 7, 1924, in a mining cabin on Hudson's Bay Mountain in Smithers, William Hugh (Bill) McRae was adopted at a young age. He started hauling equipment for a mine and then was employed as a drill helper at just 14 years old. He enlisted in the army at 19, which took him to France and Germany, then finally Holland for VE Day.
Upon his return to Canada, Bill held a variety of positions in forestry and mining before purchasing the post office and store in Usk, which he ran until it burned down in 1951. Bill married Helene Adams that year, and along with Helene's father Dick, formed Adams Lumber Co. Ltd in Usk, where he was managing director while Helene handled office work. Under Dick's mentorship, Bill was later able to become a founding director of Skeena Sawmills here in Terrace, and the managing director from 1960–1981. He would continue his work as a consultant to a number of sawmills, as well as the provincial government and the Alcan Aluminum Smelter in the 1980s. He remained a member of many organizations related to forestry throughout his life.
Beyond his work in the forestry industry, Bill was a leader in the development of the City of Terrace and the region, most notably in the construction of Mills Memorial Hospital. In the late 1950s, he was one of a group of locals who each contributed $4,000 to purchase and later donate the land on which the hospital currently stands. In 1960, they successfully lobbied the government to build it. In 1988, he was a founding board member of the Dr. REM Lee Hospital Foundation, established to purchase equipment for both Mills Memorial Hospital and residential care facility Terraceview Lodge. He continued to stay involved as an Honorary Board Member for the Mills Memorial Hospital Board well into his 90s.
It wasn't just the hospital that Bill helped develop. He was also involved with the establishment of both Terrace's first arena and the Northwest Community College. He was a City Alderman through much of the 1960s and was named Freeman of the City of Terrace in 1989.
This is just some of the rich life and legacy that Bill McRae leaves behind. We know he will be sorely missed by his wife Helene and their many generations of family in Terrace and beyond.
The City has lowered our flags to half-mast today in honour of Bill. Please join us in remembrance of a wonderful leader, community member, and friend to all who knew him.