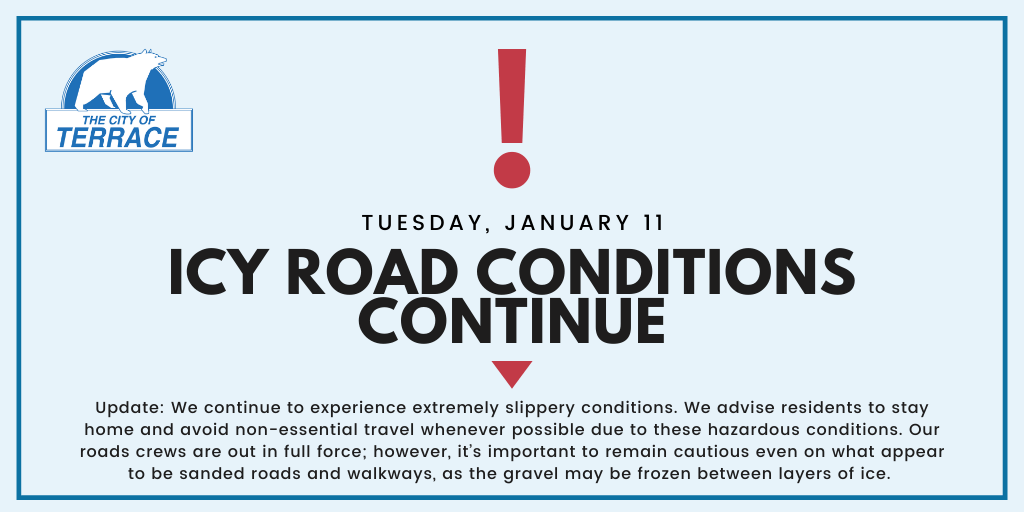 ALERT – TUESDAY, JANUARY 11: ICY ROAD CONDITIONS CONTINUE
Update: We continue to experience extremely slippery conditions on our roads, sidewalks, and pathways. We advise residents to stay home and avoid non-essential travel whenever possible due to these hazardous conditions.
Currently underway:
Operational efforts are being focused on salt/sanding all roadways. Plowing and road widening will start back up once good traction has been established.
The ice in certain intersections and main roads has begun to break up, but will not be plowed off until sanding in other areas of town has been completed.
Two sidewalk machines are out today sanding existing icy conditions and plowing any sidewalks that remain unplowed.
As noted yesterday, it's important to remain cautious even on what appear to be sanded roads and walkways as the gravel may be frozen between layers of ice. While the winter storm warning from Environment Canada is no longer in effect, more snow and rain is in the forecast, which may continue to cause challenges on our roads. Our crews will continue to distribute sand, gravel, and salt for traction until conditions improve.
We will continue to provide updates on conditions as they progress. In the meantime, please stay safe and stay home if you can! 
Questions? Reach out to Public Works at 250-615-4021 or visit our snow removal page.