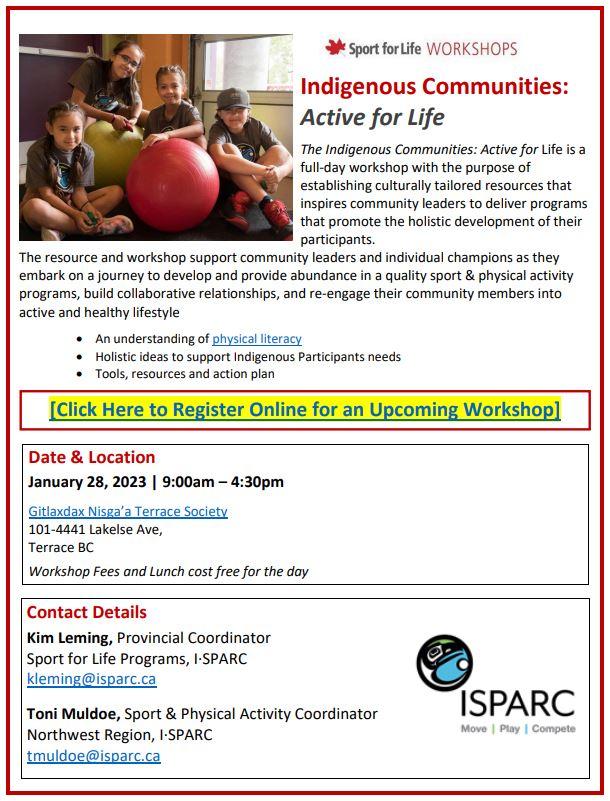 Indigenous Communities: Active for Life
Resource and accompanying full-day workshop were created through a national process involving Indigenous sport and physical activity leaders throughout Canada, with the purpose of establishing culturally tailored resources that inspires community leaders to deliver programs that promote the holistic development of their participants.  
The resource and workshop support community leaders and individual champions as they embark on a journey to develop and provide abundance in a quality sport & physical activity programs, build collaborative relationships, and re-engage their community members into active and healthy lifestyle
An understanding of physical literacy
Ideas to support participants' physical, mental/emotional, spiritual, and cultural needs
Tools, resources and action plan to further support your deliver of a community program
3 NCCP PD points available
What is Physical Literacy?  Watch this YouTube Link: https://youtu.be/Ryf3LeE3K1k?t=7
Although walk-ins are welcome we encourage participants to register at so we can ensure that there is enough food and resources available for everyone: Indigenous Communities: Active for Life (NW) (wufoo.com)
This interactive workshop is a cost free opportunity, with lunch provided.  This is open to all that volunteer and directly support Indigenous Youth and families. 
If you have any questions, please connect with Toni Muldoe: tmuldoe@isparc.ca or Kim Leming: kleming@isparc.ca