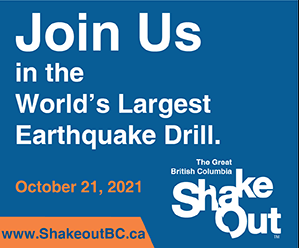 Are you prepared for an earthquake? The Great British Columbia ShakeOut is on Thursday, October 21, at 10:21 am. It's a great opportunity to practise how to protect yourself in a real earthquake: Drop, Cover, and Hold On. The City of Terrace is registered, and you too can be counted among the millions participating in similar events worldwide.
Drop to the ground, take cover under a table or desk, and hold on. Learn protective action for those with disabilities or mobility challenges.
Register your organization, school, or family now.
ShakeOut Video
The ShakeoutBC audio and video "drill broadcast" recordings are customized for BC, with instructions and sound effects to help make your drill more interesting and educational. Play them in your school, workplace, or home at 10:21 on October 21! Watch on YouTube here.