BACKGROUND
Municipalities own, maintain, and operate a wide range of infrastructure to support the provisions of needed and desired services for their communities. Examples of these assets include: 
police and fire stations 
roads and sidewalks 
street lighting 
pipes and facilities for disposal of sewer and storm water 
arenas, pools, sports fields, and playgrounds 
and more 
Growth in the community requires expansion to existing infrastructure to provide municipal services for new residents and businesses. Councils are continually challenged to maintain current infrastructure and services while also addressing the demand for enhanced and new services—and keeping it all within affordable levels for their communities. 
Whether your garbage is being collected, your street is being plowed, or you are visiting the splash park, you are witnessing your tax dollars at work. It is municipal budget decisions, at the direction of Mayor and Council, that set the funding levels for the programs and services that maintain your quality of life. Developing this budget involves making difficult decisions between essential programs, infrastructure demands, and the wants and needs of residents.  
The City of Terrace needs to ensure it is budgeting adequately to maintain long-term financial stability for the future of the community as well as focusing on the wants and needs of today.  
Take a look at our budget plan below.
---
PROPOSED BUDGET 2021
Click here for a PDF of this infographic

---
HOW TO PARTICIPATE
We welcome and appreciate public participation in our budget process. There are a number of ways to take part through each step.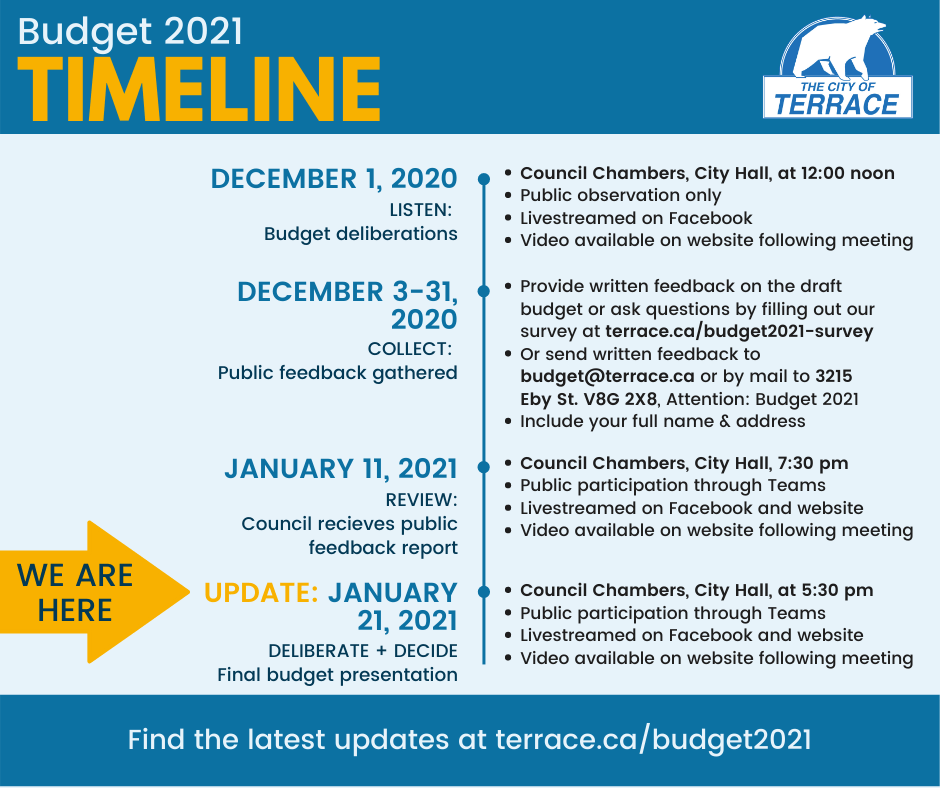 LISTEN: 2021 Budget Deliberations
December 1, 2020
12:00 noon
On December 1 at 12:00 noon in Council Chambers at City Hall, staff will be presenting recommendations to Council in order to get their direction on the proposed tax rates for 2021, operational budget changes, the use of the COVID-19 Safe Restart Grant Funds, the Northern Capital and Planning Grant funds, and more. It's been a challenging year for everyone, and Council will have many issues to consider.
Take Part: This meeting is open to the public for observation but public feedback will not be taken during the meeting. Space is limited in Council Chambers so the meeting will also be livestreamed on our Facebook page. The video will be available on our website following the meeting.
More Information:
Watch the Meeting:
COLLECT: Send Us Your Written Feedback
Revised: December 3–31, 2020
After Council had a chance for discussion, we posted a budget overview for your feedback. The public was given until December 31 to review the ​budget overview and the agenda materials and tell us what they think and ask questions.
The public could also send feedback by mail or email:
3215 Eby St, Terrace, BC V8G 2X8
THE SURVEY IS NOW CLOSED. Thanks for participating!
More information:
REVIEW: Budget Survey Report Provided to Council
January 11, 2021 - 7:30 pm
During the regular Council meeting on January 11, Council received a copy of all survey results collected.
Take Part: This regular Council meeting is open to the public and livestreamed on our Facebook page and website. Video will also be available on our website following the meeting.
More Information:
DELIBERATE + DECIDE: 2021–2026 Final Adoption
Revised: January 21, 2021 - 5:30–8:30 pm
In this step, Council will deliberate the 2021 draft budget and 2021–2025 Financial Plan. Council will then adopt the final budget for 2021 and 2021–2025 Financial Plan. From the previous meetings until now, staff have been using the time to finalize the plan, make tweaks as required, and prepare the plan for final approval. Meanwhile, Council has been reviewing the budget survey feedback provided in the previous Council meeting.
Take Part: This meeting is open to the public for observation and participation, at the end, for those who have questions. Find the Microsoft Teams meeting link and learn more about participation here. The meeting will also be livestreamed on our Facebook page and website for those who wish to observe the meeting without contributing.
More Information:
Meeting Summary: 
Staff and Council discussed the 2021 budget and 5-year financial plan for approximately 3.5 hours. Council has heard the concerns from residents and business owners still dealing with financial challenges due to COVID-19 and searched for ways to reduce this year's proposed tax increase. Ultimately, Council decided to postpone starting the 1% Asset Management fund until 2022. They also agreed to hire an RCMP officer halfway through the year in order to reduce the cost of this new member. With these changes in place, the proposed 6.92% tax increase has been reduced to 5.48% for 2021.
Since the full losses of 2020 are yet to be fully calculated, Council agreed to hang on to approximately $500,000 of the $2.728 million granted to the City in the provincial COVID-19 Safe Restart Grant. This grant will help us offset revenue losses in 2020, 2021 and 2022. In the budget for 2021 we are projecting revenue losses of $1.23 million due to the continued limited operations in facilities and the continued closure of casinos and gaming centres across the province. 
Watch the Meeting:
KEY DOCUMENTS
We will post more documents as they become available.