The Terrace & District Aquatic Centre is closed as of Monday, March 16, until further notice. This includes the weight room and all swimming lessons and classes.
Current pool and weight room passes will be extended based on the length of the closure. Children registered in swimming lessons will be automatically placed in the next session. If there are changes to this plan, we will provide updates here:
Thank you.
Swimming Lesson Registration
Swimming Lesson Registration will open on Monday, March 9 at 10:00 am. If your child is currently enrolled in swimming lessons, you must wait until after they have recieved their report card before registering in the next lesson set. This will be an open registration to the public. Register at the facility or over the phone with a credit card.
Monday/Wednesday Evenings - March 30 to April 29
4:00pm – 4:30pm

Swim Kids 1 - 5805 FULL

Salamander - 5807 FULL

Sea Otter - 5806 FULL

Swim Kids 3 - 5808

4:30pm – 5:00pm

Swim Kids 2 - 5809 FULL

Sea Otter - 5811 FULL

Starfish/Duck (P/P) - 5810

Swim Kids 4 - 5812

5:00pm – 5:30pm

*5:00pm – 5:45pm

Salamander - 5813 FULL

Swim Kids 1 - 5815 FULL

Swim Kids 6/7* - 5814

Sea Turtle (P/P) - 5816
Tuesday/Thursday Mornings - March 31 to April 30
| | | |
| --- | --- | --- |
| 10:00am – 10:30am | Sea Turtle (P/P) - 5817 | Sea Otter - 5818 |
| 10:30am – 11:00am | Salamander - 5819 FULL | Starfish/Duck (P/P) - 5820 |
| 11:00am – 11:30am | Sunfish - 5821 | Sea Otter - 5822 FULL |
Tuesday/Thursday Evenings - March 31 to April 30
5:00pm – 5:30pm

Sunfish - 5823 FULL

Swim Kids 1 - 5825 FULL

Swim Kids 2 - 5824 FULL

Sea Otter - 5826 FULL

5:30pm – 6:00pm

*5:30pm - 6:15pm

Swim Kids 3 - 5827 FULL

Sea Otter - 5829 FULL

Swim Kids 5* - 5828

Salamander - 5830 FULL

6:00pm – 6:30pm

Swim Kids 4 - 5831

Swim Kids 2 - 5833 FULL

Crocodile - 5832
The Leisure Pool and Main Pool will not be available to the public during swimming lessons
Last official photo of the Terrace & District Aquatic Centre before closure in March 2017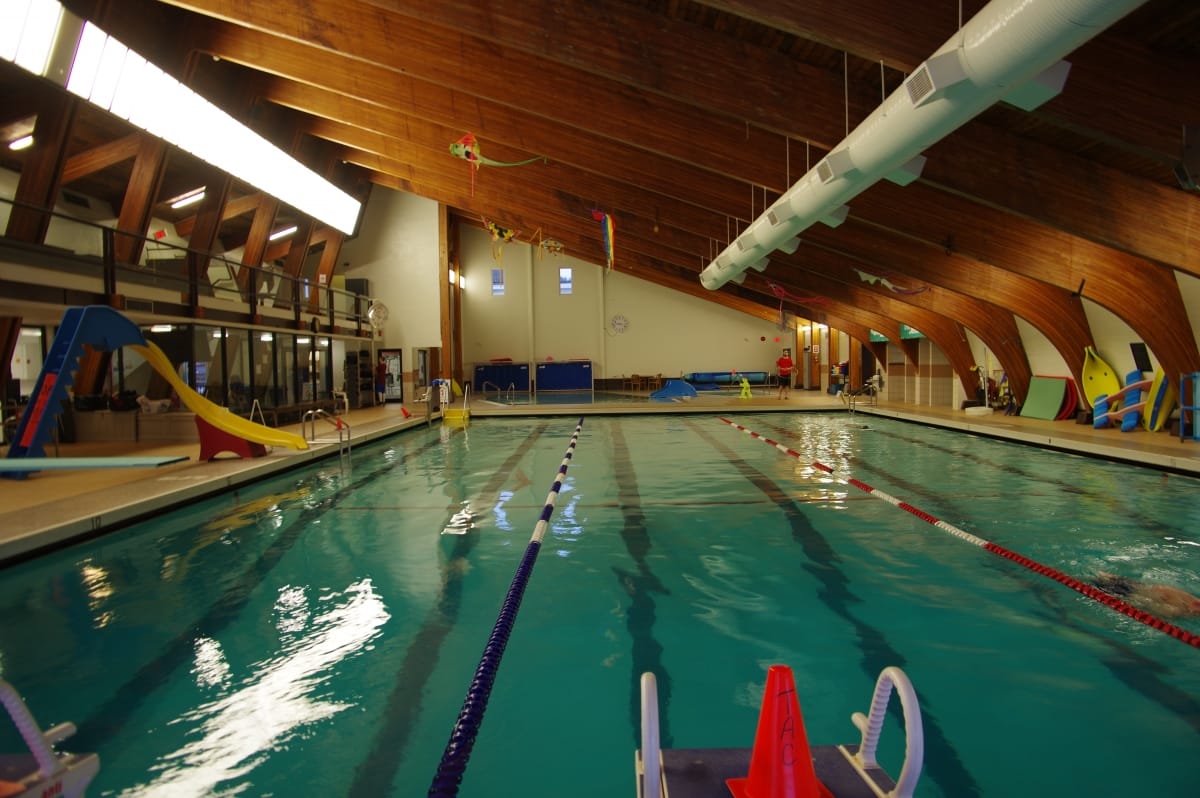 Same photo Nov 2018