City of Terrace Fire Deparment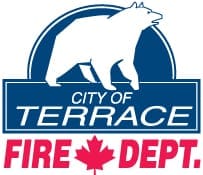 The Fire Department consist of eight full time firefighters, two Chief Officers and a Clerk/Dispatcher. To complement the career staff, there are 28 Volunteer Firefighters that train and work alongside the paid staff to provide fire prevention, fire suppression, rescue, pre-hospital care and hazards mitigation.
Apply to be a Volunteer Firefighter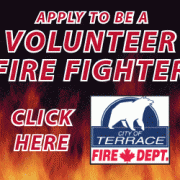 Sign up to be a volunteer firefighter, you'll become a part of an elite group of professionals who help save lives!  You'll receive the training to help develop your team-building and leaderships skills.
---
Terrace Fire Department
3-3215 Eby Street Terrace, BC V8G 2X8
Phone: 250.638.4734 (Non-Emergency Number)
Fax: 250.635.4933 E-mail: firehall@terrace.ca