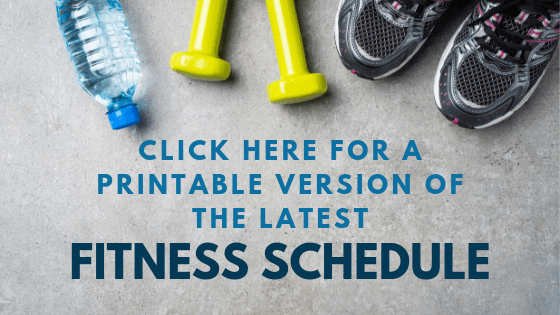 Regular Class Descriptions
Body Blast  What's happening 5:15pm on Wednesday?  Well you will have to come and find out as each Wednesday Donna will change the format.  The emphasis of this class is strength and you will be challenged with many props (gliders, fit ball, bender ball, weights to name a few).
Cardio Blast With a ton of experience and a ton of energy, Donna will offer a different format each Monday, the benefits of this cross training will be found in interval, hight/low cardio, step and circuits.  Classes can be modified for all levels of fitness.
Chair Yoga The benefits of these gentle chair yoga classes are amazing for us aging sentient beings.  It helps us loosen of aging joint, stimulates the lymphatic system, can help bring down high blood pressure, eases anxiety, depression, and chronic fatigue.  Just some of the things that aging can bring on.  Chair yoga accommodates for those in wheelchairs, using walkers, canes, a healing process for those recovering from surgery and also for those who are first time practitioners of yoga.
Cardio Combo  Fridays with Sue, want to change up your workout routine?  Try this hight energy class which combines aerobic moves on the floor or step with intervals of upper body strength moves using free weights.  Follow these fun sequences with a brief Bender ball routine for your abs and release the week's tension with deep relaxation techniques to end the class feeling invigorate and energized for the weekend.
Forever Fit  Tuesdays and Thursdays with Sue, Turn back the clock with this light-hearted, fun-filled class ind improved your fitness level while socializing with other who value a healthy life-style.  Designed to promote joint mobility, full range of motion, and increased cardio vascular health, this class will combine gentle aerobics with strength and flexibility exercises.  Enjoy a relaxing cool down and leave the class feeling positive about yourself and the day ahead!
Mostly Muscle  Like a variety?  Enjoy a smorgasbord of strength exercised designed to tone all of the major muscle groups with a variety of small equipment including free weights, dyno bands, weighted balls and gliders.  Tone your abdominals with Bender balls and improve your flexibility with a comprehensive stretching routine to end this class feeling strong and healthy.
Yoga  A variety of yoga styles and mindful movements will be demonstrated for all skill levels, with the use of props provided and breath.  Come and enjoy an hour dedicated to your health and growth.
Pound Burn up to 900+ calories per hour, strengthen and sculpt infrequently use muscles, and drum your way to a leaner, slimmer physique - all while rocking out to your favourite music.  Pound is for everyone at all fitness levels.  The workout is easily modifiable and the alternative vibe and welcome philosophy appeals to men and women of all ages and ablilites.
(Kids) Generation Pound  Is a youth-oriented program that fuses movement and music to improve focus, coordination, physical fitness and teamwork skills.  By combining exercise and interactive activites, kids will learn new way to explore movement, embrace their creativity and ROCK OUT - ultimately building strength, confidence and self-awareness.
Total Body Tabata Get fitter faster and change your body by pushing through time with this scientifically proven and popular Tabata formula.  The Total Body Tabata (TBT) team has meshed group fitness and Tabata HiiT (hight intensity interval training), two growing trends in the fitness industry with our unique Tabata-style recipe to bring you the ULTIMATE workout.
Meditation  Start your day off the right way at the early morning Mediation class.  All levels are welcome to the mediation practice.  Allow yourself to join in and options will be given.
Tai Chi  Everyone is welcome to this class.  A self-paced system of gentle exercises and stretching that aids in the reduction of stress and anxiety.  A regular practice helps increase flexibility and balance.
Tune-up Start your week off on the "right foot" with this high energy low impact
Zumba Is perfect for everbody, men and women of all ages.  We take the "work" out of workout by mixing low-intensity and high intensity move for an interval-style, calorie-burning dance fitness party!  A total workout , combining all elements of fitness-cardio, muscle conditioning, balance and flexibility, boosted energy and a serious dose of awsome each time you leave class.  You don't have to know how to dance just move your body and follow the instructor's lead.
Admission
Drop In
$6.00 per class
$3.25 per senior classes
10 Visit Pass
$48/10 classes 
Unlimited One Month Pass for Fitness Classes and Public Skating
$64/adult and $38.40/student or senior
Register for Fitness Class
Session registration is the most economical option - but there is limited flexibility. 
If you know you will attend all classes then register for the set and pay $4.50 regular classes or $2.75 for senior classes