In preparation for major emergencies or disasters, the City of Terrace works hard to understand and plan for the risks in our community.  When disaster strikes, the City of Terrace will offer leadership, support and keep the community informed through the local media and online resources.
It can take 72 hours or more to mobilize relief efforts during an emergency. The 72-hour preparedness message is used across North America by first responders (fire, police, paramedics), local governments, and relief organizations.
Residents of the Northwest are encouraged to be prepared to cope on their own for at least the first 72 hours. This will allow emergency workers focus on people in urgent need.  Being prepared to take care of yourself, will allow community resources to be used more effectively during an emergency.
Mitigation
The City of Terrace conducts an annual Hazard, Risk and Vulnerability Assessment that helps us focus our planning efforts. History is our most valuable tool for assessing the risks to our community.
Flooding
The City of Terrace mitigates the risk of flooding by monitoring the floodplain and by installing and maintaining erosion protection. The City works closely with Emergency Management BC and the Ministry of Environment each spring, monitoring the snow packs, stream flows, and weather patterns to ensure we are ready to support those most at risk.
Fire - Interface & Wildfire
The City of Terrace supports the Community Wildfire Protection Plan in conjunction with similar City plans and the Firesmart program.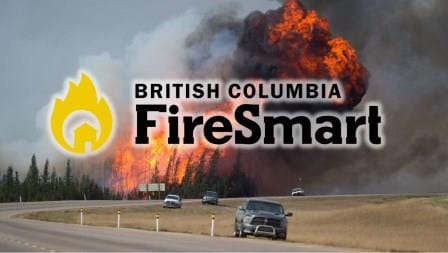 Fire Smart is a shared responsibility. It's about living in a fire-prone ecosystem and taking the necessary steps to protect your family, property, and community from wildfire.
​FireSmart Assessments are now available in Terrace! Is your property FireSmart and ready to stand up against a wildfire? Find out now by contacting your local FireSmart Coordinator at 250-638-4734 or FireSmart@terrace.ca to get your free FireSmart Assessment.
FireSmart Links:
Extreme Weather
Most power outages will be over almost as soon as they begin, but some can last much longer—up to days and even weeks in extreme situations. Power outages are often caused by snow storms and high winds.
During a power outage, you may be left without heating, lighting, hot water or even running water. Our ability to respond is limited, so personal preparedness in an extreme weather or blackout scenario is essential especially during the winter months.
Extreme Heat Preparedness Guide
Pandemic Planning
The City is assuming its role in supporting Northern Health by sharing information and helping with public health messaging.
For more information:
John Klie, Emergency Program Coordinator
City of Terrace
Phone: 250.638.4742
E-mail: jklie@terrace.ca